Happy holidays! I can't believe it is already mid-December! I hope you're staying warm, enjoying the festivities and not getting sick of Christmas music yet 😉
Whether that's chowing down on your dad's crispy latkes (in my case), eating tons of fresh-baked cookies, soaking up all the warm spiked cider, or enjoying a fun meal out with your closest friends, food brings us all together, especially during the holidays.
To celebrate the season, my foodie friends and I really kicked it up a notch with this quarter's Supper Club. At the new Feastly location in SE Portland, we got to experience the Twisted Filipino popup dinner hosted by Carlo Lamagna.
After about 3 years as the head chef at Clyde Common, Carlo is branching out on his own to open Portland's first Filipino restaurant called Magna. With the goal of opening in the spring of 2018, he's testing out some of his recipes at regular popups in the Feastly space.
What is Feastly? A beautiful, collaborative space open to chefs, bakers, and artisans who want to share their craft with the public but don't quite need their own dedicated place yet.
What's Feastly got in store? Some favorites I've been seeing include Noodle School! where you'll learn how to make ravioli from scratch, taught by an Ava Gene's chef. A Challah and Babka Class just in time for Hanukkah. A 4-course Filipino dinner by a talented home cook eager to share his family recipes. And of course dinners from Carlo like we got. Check out their full schedule here!
What'd we get at our Twisted Filipino dinner? Oh man, it was all so good. The highlight for me – because as Brice likes to say, I'm all about the rabbit food – was the salad. Don't be confused. This was no ordinary salad. This was a salad of my dreams with roasted delicata squash, fresh goat cheese, candied pepitas, arugula, and a creamy curried squash puree. So good. I would eat that every day.
The traditional Filipino Pancit Bihon came next. This stir-fried rice noodle dish is simple and light yet flavorful and unique. Even better, Carlo was using his mom's recipe. Like my friend and Supper Club companion said, Mom's recipes are always best.
The main course consisted of Lechon Manok, a roasted pork marinated in lemongrass and garlic, chantrelles foraged that morning (so Portland), garlic fried rice and grilled bok choy in spicy adobo sauce.
And don't let Carlo fool you into thinking he can't do dessert. His concoction of a yuzu creme over a brown butter cookie and topped with pomegranates and citrus offered a beautiful balance of sweet and tart. It was a fabulous ending to our meal.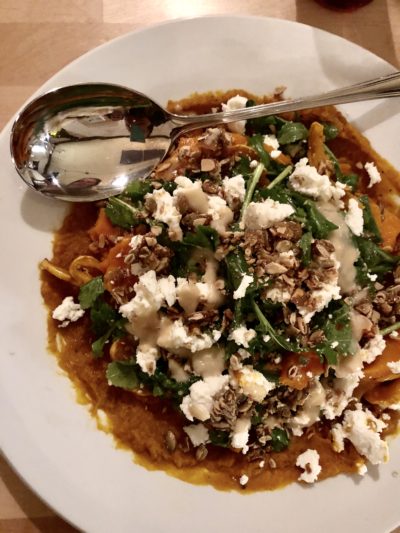 And what about Magna? Keep posted on their progress via Carlo's Instagram, @twistedfilipino. Plus he's got a Kickstarter campaign going for the next few days if you want to send a little love and support (and money) his way! His restaurant will surely be one of the best openings in 2018.