4759 NE Fremont St & 48th ● PipsOriginal.com ● 503.206.8692
Hours: Daily 8am-4pm
Do you ever have one of those weeks where you feel totally crazy person with way too much going on? I am definitely having one of those weeks right about now.
I recently got a new job – still at Intel, still doing accounting, but supporting a different business group. While exciting and nice to have a new challenge, boy is it also a tad overwhelming and definitely time consuming. I'm in the midst of training the person replacing me, trying to figure out what I'm doing in this new role and all the while making sure my current responsibilities are still being completed.
Not to mention, trying to keep some semblance of my non-work life like getting to Crossfit, working on this lovely blog, or just getting some sleep. I commented last night on Twitter that I have no idea how folks with kids do it. I am so impressed that parents are able to juggle everything plus having a little one who requires a lot of time and energy.
I loved this response from Dirk Marshall: "The human body & mind are capable of far more than we think. Just keep adding things into your life, it's crazy what you can do." It's going to be my new motto, especially when my alarm goes off bright and early in the morning.
One of my favorite ways to de-stress is hitting up a friendly bakery or café, grabbing a delicious treat, and just sitting there to read some blogs or a fun book (I'm still working my way through all of the Game of Thrones books like a total nerd) or chat with a friend. Really, there isn't much better than that in my mind.
Fortunately I was able to do just that a few days ago at a new-to-me place. I had been hearing forever about this little place in North Portland called Pip's Original. Conveniently it is just a few blocks from my friend Erika who just had a baby, so it was the perfect spot for us to get together so I could meet her adorable new son.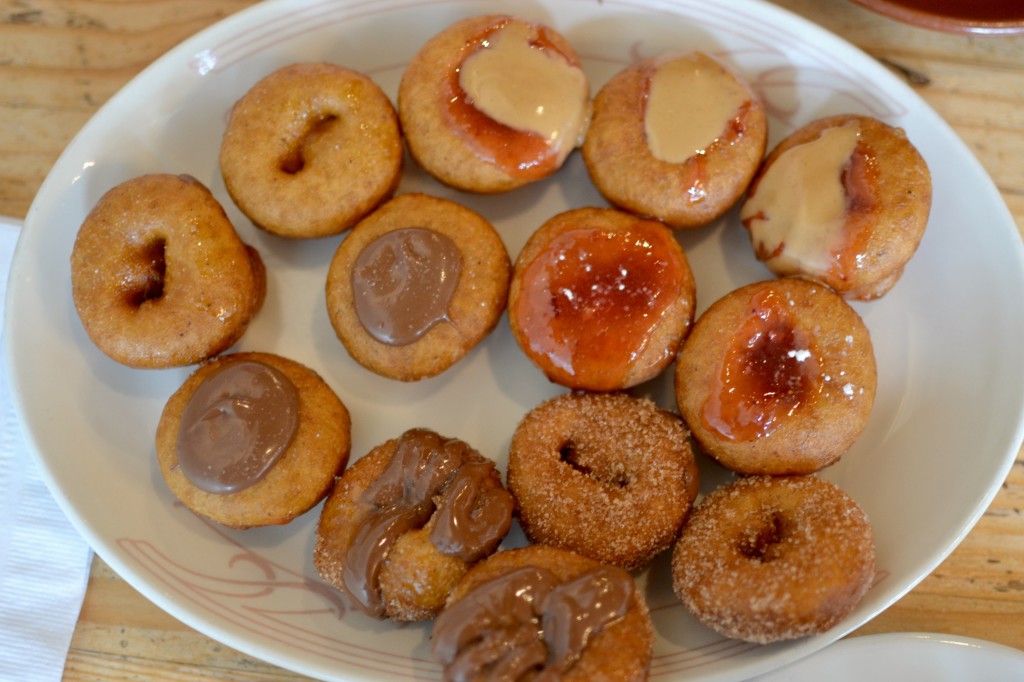 Pip's is making a name for itself for having some incredible mini doughnuts that are made to order. Admittedly, I am not really a doughnut fan. I don't know why, but the whole Dunkin Donuts and the like are just not my favorite. But these little fried masterpieces from Pip's are life changing.
We walked in and started checking out the menu that features their standing flavors plus a few daily specials. Erika encouraged that we order a dozen so we could try one of each. At first I was hesitant – twelve doughnuts between the two of us? While I have no doubt I can manage such a feat, I thought that seemed perhaps a bit excessive. "Don't worry about it, they are really little!" Erika replied, so of course I happily conceded.
I am pleased to report that it was a great decision. Our incredible flight of six doughnuts each included Raw Honey & Sea Salt, Cinnamon Sugar, and Strawberry-Rhubarb. My favorites were a tossup between the daily special Peanut Butter and Jelly and the Nutella with Sea Salt. Because the doughnuts are all served warm and fresh from the fryer, the Nutella was all melty and even more delicious. I'm pretty convinced you could put Nutella on anything and it would taste good, and this was no exception.
The Dirty Wu was the ultimate however – the "Everything Doughnut" topped with all the above toppings. It was a perfect blend of sweet and salty from the honey and sea salt, and of course topped with that decadent chocolate hazelnut spread.
For drinks, I was blown away by the Chai selection. I am a big lover of chai lattes, so I was eager to try the version from Pip's which had been advertised to me as some of the best in the city. They have six flavors that are all small batch crafted and made with your choice of milk. I tried The Heart of Gold which was made with Assam black tea, genmaicha green tea and coconut, then spiced with cardamom, clove and turmeric. Because it was so unique, it was hard to compare to a "traditional" chai, but I really liked it. It was creamy, full of flavor and not overly sweet.
Next time I go in, I definitely plan to order the "Chai Flight" with a 4-ounce cup of each. I'm particularly excited about the Ginger Rodgers with combines ginger, nutmeg, cinnamon, molasses, and Thai chiles to kick the Assam black tea up a notch.
The workers at Pip's were all super friendly and even gave us an extra doughnut on the house, which was not necessarily needed with having so many other doughnuts, but of course a welcome addition to our plate.
Pip's is such a great spot to just eat and drink some good quality, locally made treats. It was the perfect way to decompress and just what I needed.