As is probably no surprise if you follow this blog or my Instagram, I love trying new restaurants in Portland. Like any good accountant, I have a spreadsheet of all the restaurants I'm dying to try (plus reviews of places I've checked out and where I'd like to return). Our city's awesome Dining Month extravaganza is an awesome way to try the wonderful places Portland has to offer.
Don't know about Portland Dining Month? For just $29, you get to experience 3 courses at over 90 local restaurants for the whole month of March. It is definitely a great way to try a multitude of places without breaking the bank.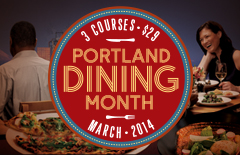 But if you don't want to eat a 3-course meal for every breakfast, lunch and dinner during the entire month, you'll have to narrow down the list. My suggestions on that include:
1) I highly recommend these incredible restaurants where $29 is a particular steal. There are a lot of really delicious restaurants on the list, but some of them you might not spend $29 for 3 courses on a normal night, so in my mind it might not be worth it.
2) Read through the menus of what's being offered. At most restaurants, there is a set menu selected for the Portland Dining Month experience, so you don't just get to choose whatever you'd like off their regular menu. So obviously if you really don't like pork, make sure you don't select the restaurant that is including that in 2 out of the 3 courses.
So with all that in mind, here are the places I'm really excited about (though I could keep the list going if you wanted me to keep going…):
When: The entire month of March; Where: All throughout Portland – check out DowntownPortland.org for participating restaurants; Cost: Just $29
Any places on your list? Have you tried any restaurants with Portland Dining Month yet? Share your thoughts!