Here we are, almost half way through the first month of 2016. Eesh, how'd that happen?! Didn't 2015 just fly by?
It was fun digging through photos and posts from this past year. From a non-food perspective, lots of domestic travels to Victoria, Boise and a girls trip to Southern Oregon topped the list in 2015, as did summiting Mt St Helens, my brother visiting Portland for the first time in years, lots of wine tasting, and competing in a team Crossift competition.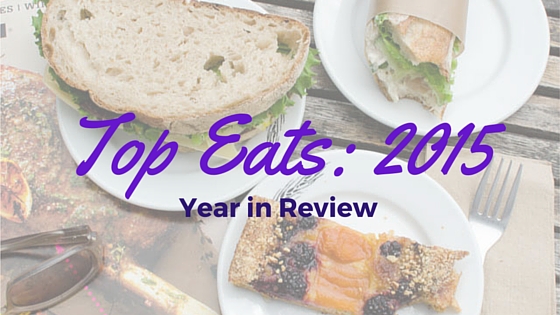 Bakery Bingo turned 4 in 2015 and what a year. I am so thrilled I got to be a photographer for Feast Portland again, participate in several amazing blogger events, be a guest on two episodes of the Right at the Fork podcast, and start up #ThursdayToursPDX with Meredith.
And now for food, boy, was it hard to narrow down my top eats. We are sure spoiled in this town so picking my favorites, whether a full meal or just a snack, was real hard. So here are the highlights, broken down by category (ok, that was really an excuse so I wouldn't have to narrow it down further…).
Did you have any real standout eats this year? Would love to hear your favorites!
New finds: There were a lot of excellent openings this year. I was especially impressed by these three.
Farm Spirit: the meal that impressed me the most all year was definitely from this place. And not because I became vegetarian mid-way through the year, but because their exquisite plating was stunning, the food was superb and seeing what chefs can do with only plant-based ingredients was truly impressive.
Seastar Bakery: if anywhere has won my heart in 2015, it is this place with their whole grain wood-fired breads and delicious "advanced toasts." No matter what I order, I'm impressed. But my favorite has been the sweet rosemary cornbread with fried egg and green chutney.
Tea Bar: just a few doors down from Seastar sits my favorite cafe. Their honey assam latte is creamy, velvety and perfect for that chilly morning.
Old favorites:
Ava Gene's: whenever people are heading to Portland and looking for restaurant recommendations, I always include Ava Gene's. So when we won the #100OpenTables contest for a multi-course dinner, I was needless to say pretty darn stoked. The kitchen does wonders with vegetables making you realize the level to which salads can rise.
Cheese + Crack: while I am a big fan of their cheese plates, it is their namesake sundae with vanilla soft serve ice cream, chocolate ganache, cinnamon butter cracker crumble, and torched housemade marshmallow… *swoon*
Sweedeedee: their fluffy whole wheat bread is so simple yet so perfect. Served alongside a large salad or over-easy eggs and my day is made. Then I take a bite of their salted honey pie and I'm over the moon.
The ones who got away (and are now sadly closed): A number of good places unfortunately closed down in Portland in 2015, I'm particularly bummed about these three, but look forward to seeing what these talented chefs cook up in the future.
Marmo: this was a standby choice for lunch or happy hour downtown. I loved their potato prawn salad, bruschetta and their housemade focaccia.
Racion: this had become our celebration spot, a place unlike really any other in Portland, where you could get dressed up and enjoy an elaborate meal of unique and fun modernist cuisine.
Frice Pastry: I didn't make it to Frice nearly as much as I wanted but they served up some of the most beautiful, creative and delicious desserts.
Eat, party, repeat (favorite 2015 events):
Feast: hands down, the most fun 4 days of the year. Those palmeni dumplings from Kachka were incredible. And that peanut butter ice cream sandwich from Departure still haunts my dreams. Can I have more?!
Bakery Tour with Forktown Food Tours: hosting a bakery crawl through the Pearl was like a dream come true. Biting into a warm, gooey yet flaky, fresh-out-of-the-oven chocolate croissant from Nuvrei? Life changing I tell you. And nothing says summer like the seasonal lemon cake from Palace Cakes.
When you need to get outta town (favorites outside of Portland): 2015 certainly didn't have the big travels that 2014 had, but I certainly had fun eating my way around the PNW and Atlanta.