Ok seriously Portland, you've got to lay off this heat. This is getting absurd. How are you all staying cool? For me, we are lucky to have AC but I also have been eating an unnecessary amount of Halo Top ice cream and experimenting making frosé. Having a frozen blended, boozy beverage really makes up for the furnace-like weather.
Speaking of booze, I recently received a bottle of Bull Run Distilling's Single Malt Whiskey and knew exactly what I wanted to do with it – Whiskey Butter Cake. As the name implies, it is a boozy, buttery and fluffy cake. So one of the few days when it wasn't 8000 degrees, I turned on my oven and got to baking.
While you could use any whiskey or bourbon for this recipe, I'm a big fan of supporting local. Bull Run Distilling is just a few blocks up the road from me in NW Portland (so real local!) and was started by Lee Medoff, a born-and-bred Oregonian. A few years after co-founding House Spirits Distillery (which makes the only gin I've ever liked – Aviation Gin), he got to work on making a pure Oregon Whiskey. And now we've got Bull Run, made with barley from the Klamath Basin!
Fingers crossed the weather cools down soon so you can bake this cake too. It's worth every extra degree of heat from the oven.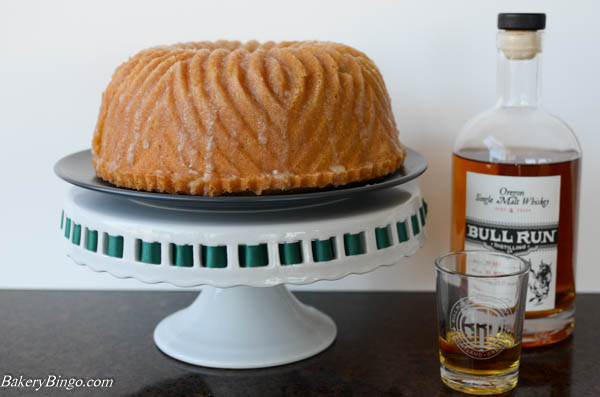 Whiskey Butter Cake
Recipe adapted from Vintage Cakes made by Julie Richardson of Portland's Baker & Spice
Yield: one 10-inch cake, about 10-14 servings depending on how generous you are
Ingredients:
Cake:
3 cups cake flour
1 teaspoon baking powder
1/2 teaspoon baking soda
1 1/4 teaspoons kosher salt
1 cup unsalted butter (one stick), at room temperature
1 1/2 cups granulated sugar
1/2 cup light brown sugar
4 eggs, at room temperature
1/4 cup whiskey (I used Bull Run's Oregon Single Malt Whiskey)
1 cup buttermilk, at room temperature
Note: Cake flour isn't always common in the pantry of the casual baker but it is important in this recipe as the lower protein content in cake flour will make the cake light and fluffy. 
Glaze:
4 tablespoons unsalted butter
1/2 cup granulated sugar
1/3 cup whiskey
DIRECTIONS:
Preheat oven to 350 degrees F. Grease and flour a 10-cup fluted Bundt pan; set aside.
Sift together the flour, baking powder and baking soda into a medium bowl. Add the salt and mix to combine; set aside.
Using an electric mixer, cream together the butter and both sugars on medium-high speed for 5 minutes, until fluffy. Scrape the sides of the bowl. Add the eggs one at a time, mixing well and scraping the sides of the bowl after each egg is added.
Whisk the buttermilk and whiskey together in a small bowl. Reduce the mixer speed to low and alternate adding the flour mixture and the whiskey mixture, starting and ending with the flour. Before all of the flour has been incorporated, turn off the mixer and finish mixing by hand using a spatula (to ensure you don't overmix and make the cake dense).
Pour the batter into the prepared pan and smooth so the top is even. Bake about 40-45 min, until the cake is golden brown and a toothpick comes out clean. Place the cake on a wire rack.
While the cake is cooling, prepare the glaze. Combine the butter, sugar and whiskey in a small saucepan over low heat until the butter melts and the sugar dissolves, whisking while it heats.
Using a toothpick, poke holes over the top of the cake (that will end up being the bottom of the cake). Pour 3/4 of the glaze slowly over the cake, making the inside soak up all the boozy glaze. Allow the cake to cool on the wire rack for another 30 minutes. Turn upside down onto a cake serving dish. Pour the remaining glaze over the top and sides of the cake.
Serve warm or at room temperature, by itself or with some fresh fruit.