Holy cow, how is it the last day of August? This summer has flown by, but it's not over yet (especially with the 100+ days we're still having! What is up with that?!). With a warm Labor Day weekend head, I plan to hit up the Farmers Market, cheer on my Ducks in their first football game of the season and get some more al fresco dining in while we have the nice weather.
What's on tap for you? If you don't have plans for Labor Day weekend yet, I've got you covered with 3 great wineries in 3 different parts of town!
Maysara • McMinnville, OR
If you had to describe Maysara in one word, it would be stunning. When you continue up their long drive, a bit off the beaten path of Highway 18, you will be blown away by how gorgeous their 532-acre property is, with the long rows of vines, the giant wood barn that houses the wine barrels and the flowering landscaping. Walking into their tasting room complete with stone walls and Persian artwork transports you to another time and place.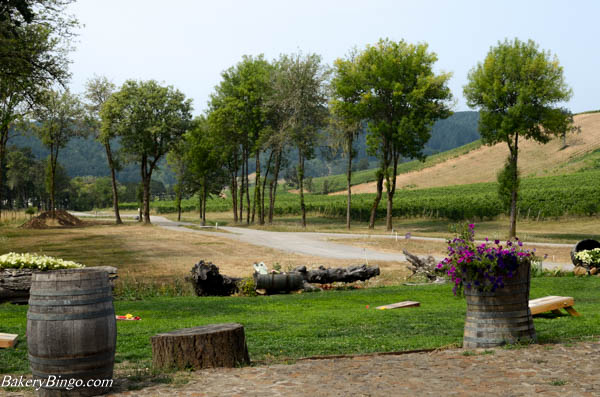 What I love even more is that the winery is a family-run operation, started back in 1997 by Moe and Flora Momtazi. Now their three daughters are all involved as well, making the wines, managing sales distribution, and coordinating the multitude of events and weddings that are hosted on-site. They have created a warm and welcoming atmosphere, with knowledgeable yet approachable staff and fabulous wines that are given Persian names to honor their home country of Iran.
From lovely whites like their Autees Pinot Blanc to rich pinot noirs, the wine won't let you down. Try your very best to attend on a day when Flora is cooking. Her tabbouleh is definitely the best I've ever had and the Shirini Napoleon cake made with rose water is light and balanced, and of course both go wonderfully with their wines.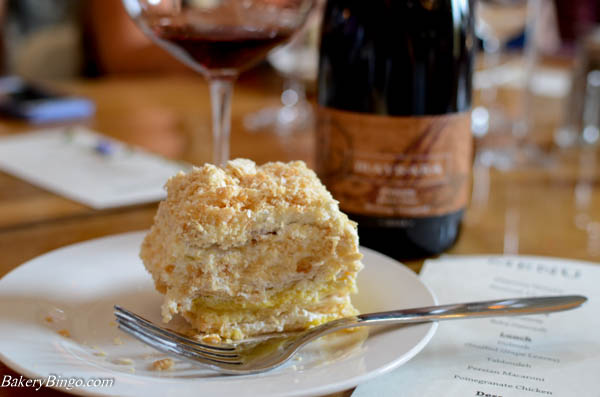 Warning in advance: if you're like me, you'll never want to leave.
Hawkins Cellars • Underwood, WA
The Columbia Gorge is rocketing up my list of preferred wine destinations. At the forefront is Hawkins Cellars, which is relatively new to the White Salmon area (you may have seen or visited their Dundee tasting room). They have a picture-perfect view of Mt Hood and delicious unique wines like their dry Viognier which you don't find at very many NW wineries.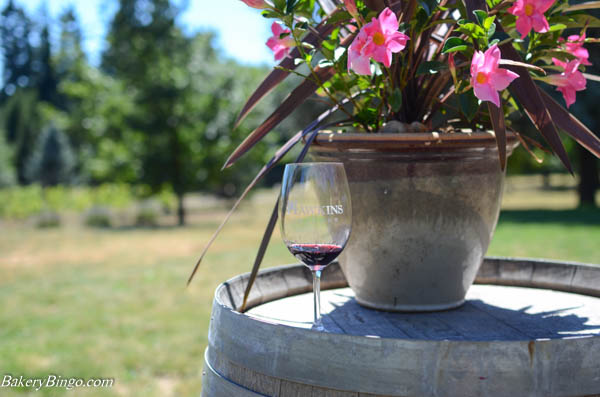 My suggestion for a lovely day? Go on a hike up in the Gorge before you start your day of wine tasting. With a ton of hiking options that direction, you've got lots to choose from but Dog Mountain and Wind Mountain are both close-by stops with gorgeous views and steep enough to make you really deserve that wine. Pack yourself a picnic or grab some incredible tacos on handmade tortillas at the Huck Truck on the way up to Hawkins.
After lunch and a few sips there, make a quick jaunt down the road to AniChe Cellars, where you'll get free tastings at if you're a Hawkins wine club member (win win!). Before heading home, don't forget to stop in Hood River to watch the kitesurfers, eat a delicious dinner and maybe even trade the wine for beer at any of the local breweries. That is how to live up a NW summer, am I right?
Hawks View Cellars • Sherwood, OR
Don't get me wrong, the McMinnville/Dundee area is lovely for wine tasting, sometimes that drive is just too much. That is reason #1 why I love Hawk's View. Located just off 99W in Sherwood, it is an easy 35 minute drive from downtown Portland.
Reason #2 I love this place, their beautiful views of the Willamette Valley, giant picnic tables, wooden Adirondack chairs, and cornhole boards just make you want to stay there forever. No need to get back in the car and head elsewhere. I'll just move in, thanks.
Reason #3 – their wines of course are great. If you like rosé, try to butter up the staff to let you try their White Pinot Noir, which is made from their 50-acre vineyard. It is light, crisp and just the right level of sweetness, the perfect wine to close out the summer.
Now, that is how to spend a holiday weekend!