2218 NE Broadway + 22nd • 180pdx.com • @180pdx
Hours: Daily 8am-4pm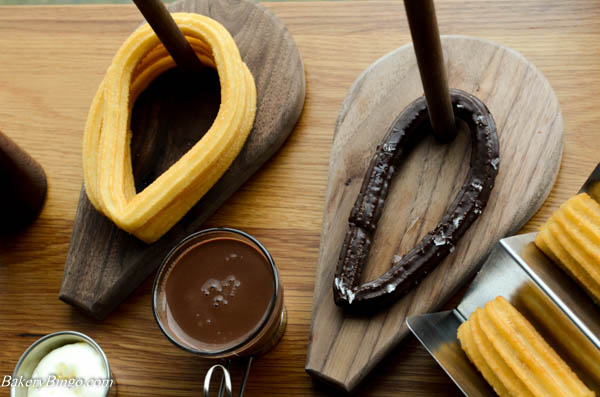 If you've been following the Portland 'Gram scene at all lately, you know there is something big going on with churros (like this or this). Yes, churros are those fried dough sticks you commonly see at the fair. But of course, these are not those greasy messes that make you regret what you ordered. At 180, these are super gourmet, authentic Spanish "xurros" (that's how the Catalans spell it). Fluffy dough that is fried to order in front of your eyes, then rolled in cinnamon and sugar or dipped rich chocolate, or even stuffed with the filling of your choice.
And if you're like me, these photos make you countdown the minutes until you can get yourself to this new hot spot on NE Broadway. I popped in on Saturday afternoon when I just couldn't stand the FOMO anymore.
180 was opened by Jose Chesa and Cristina Baez (who coincidentally just did #ThursdayToursPDX on Meredith's blog!), the power couple behind the Spanish restaurant Ataula in NW, and chef David Martin. While they've only been open a few weeks, 180 is certainly the place to be.
The one downside to their popularity is the limited seating. Somewhat similar to a Blue Star Donuts or other quick-serve bakery, you order at the counter, then mill around with the rest of the hungry patrons while your xurros are prepped. They've got window bar seating and a handful of small tables in the front entrance of their newly opened, Chesa (also added to my list!).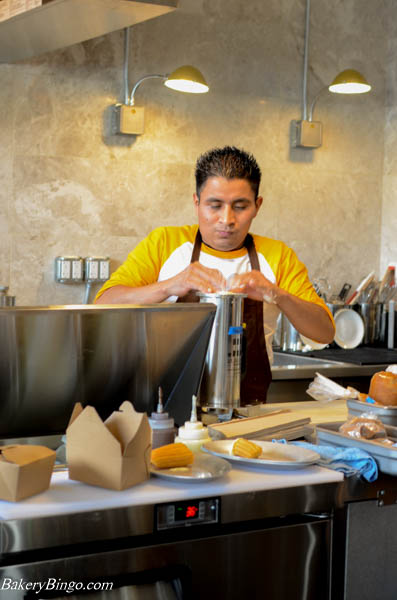 The menu is slightly confusing but the staff is super friendly and helpful in explaining the options. My recommendation is to just go for it and order nearly one of everything.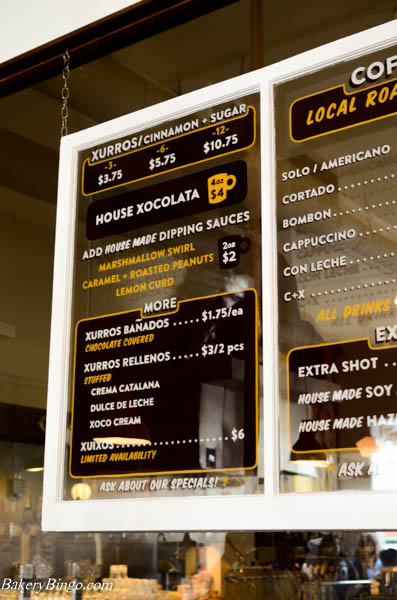 Here's my tip guide:
Select how many of your classic xurros covered in cinnamon and sugar you want – 3, 6 or 12. If you're only 2-3 people, the 3 is plenty.
Add on a housemade dipping sauce: orange-zested marshmallow swirl, caramel and roasted peanuts, or lemon curd.
Be sure to add on a Xurros Bañados, a xurro with a chocolate shell sprinkled with Jacobsen sea salt.
You must order a Xurros Rellenos, fluffy dough filled with your choice of either Dulce de Leche, Crema Catalana (a creamy caramely custard), or Xoco Cream (a rich chocolate filling).
If you get there early enough, grab a hold of the limited Xuixos. This Catalan dessert is similar to a croissant, stuffed with their Crema Catalana then fried to crispy deliciousness.
Pick out a drink to go along with your treats: house xocolata drinking chocolate is rich and decadent and a great add-on as a dipping sauce; or try one of their Spanish coffees or cappuccinos.
While many folks are big fans of the chocolate covered xurro, I thought they were a tad too crispy.
That being said, still get one to decide for yourself! The Rellenos won top prize in my book, served warm and ultra airy when you bite into them. I went with the Dulce de Leche but am eager to try the other two as well. They are served two to a tray and stuffed to order – so perhaps you can even ask them to do a mix-and-match.
Good news to those non-meat eaters out there, the xurros are VEGAN. Huzzah! (Note: sadly the fillings for the rellenos and the chocolate coating for the banados are not… but trust me, you'll still be in heaven with the xurros as is!)