Everywhere I look, I keep seeing tons of hotels popping up throughout the city. There's current construction of a Hampton Inn Suites just a few blocks from me in the Pearl District (the big plus of that is the block will also include a new restaurant by David Machado of Nel Centro, called Tanner Creek Tavern!).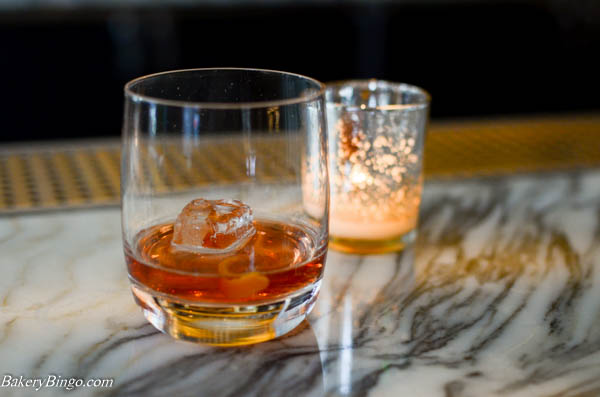 And just the other day, when wandering around downtown on SW Alder and Park, I of course stopped to review one of those City of Portland Notices (do you read those to or is that just me?!). Sure enough, that's going to be a new hotel by the Provenance Hotels folks who run The Sentinel and Hotel deLuxe. Just check out this crazy article by Travel Portland to find at least 12 other hotels in the works right now! That is bonkers!
But I say, if you're going to have tons of tourists coming in and checking out all the awesome things Portland has to offer, you've also gotta have cool places for to stay. I'm sure it's no surprise but I love giving people suggestions of what to do in the Rose City. I've got a ton of hometown pride and am all about bragging about our insanely good restaurants, spectacular wineries and breweries and beautiful views (when not doused in rain).
Last year, I even wrote up a 2-part series on the Best of Portland (which I'll be updating soon!) to detail out all of my favorites. The one thing missing was the hotel side. I mean, I live in this city so I don't know anything about what hotels people should stay at!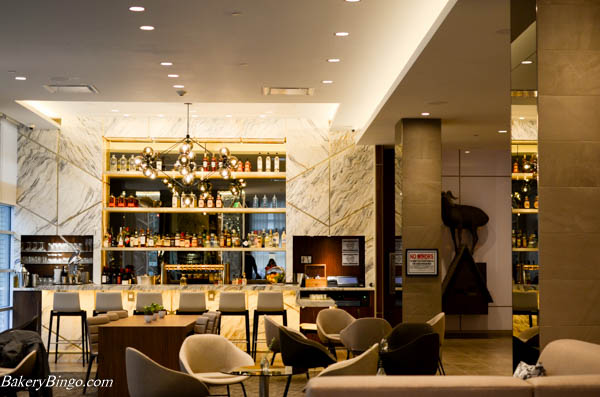 Now however I've got at least one to recommend. The brand-new AC Hotel, a boutique arm of Marriott, just opened up on SW 3rd and Taylor downtown. What was kind of a dodgy area at night is now becoming charming with Q Restaurant (read my latest post on Q here!), the Vietnamese late night staple Luc Lac, and the hip 40 LBS Coffee Bar.
Plus it's just blocks from the waterfront, Pioneer Place and all sorts of other downtown hotspots. Although part of an international brand, their décor brought in the Portland vibe, with artwork from local artists, the Toro Bravo cookbook on display and a coffee shop filled with Oregon products. That is always a win in my book.
As a total extrovert, I don't often do things solo. But occasionally it is nice to just have some one-on-one time with yourself, get a glass of wine, read a book, catch up on "you time." That's one thing I dig about hotel bars, where it doesn't seem weird to go by yourself. So when I got off work earlier than Brice a few weeks back, I figured why wait on him?! I got myself a seat at the bar of the AC Lounge, ordered up the day's specialty cocktail and a bowl of cilantro lime pistachios and pepitas. I loved the sleek and bright ambiance, super welcoming bartenders and of course the variety of tasty Spanish tapas.
I was also in luck as I showed up just before their signature "welcome drink" that takes place every day at 5pm. Taken after a Spanish tradition, they pour lounge guests a complimentary mini cocktail mixed in one of the biggest cocktail shakers I've ever seen. Fun, unique and a great way to kick off the evening.
As I wanted to spend some time researching my upcoming trip to Barcelona, it seemed almost obligatory to order another glass of Mencia red wine and a plate of manchego cheese with quince paste. Fortunately after all the drinks, I didn't have to go far. Just a quick flight up the elevator to my cozy bed and giant TV set up with Netflix and Hulu. I could get used to this.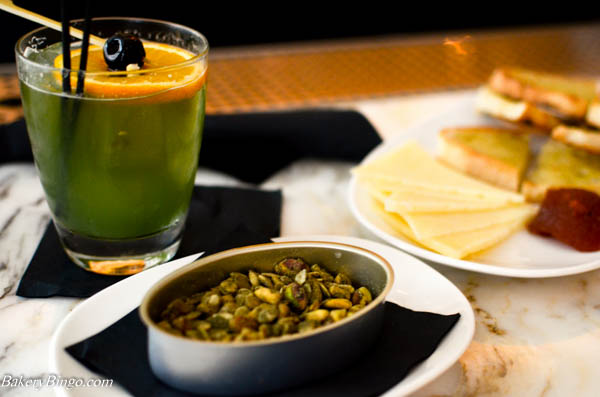 Disclaimer: The AC Hotel graciously invited me to check out their hotel and lounge. I was not required to write or paid for this post, I just truly enjoyed my time there. As always all thoughts are my own.