Last week, I got the fun opportunity to participate in an awesome "#DIYEVOO Olive Oil Virtual Tasting Party," organized by California Olive Ranch. Myself and other bloggers across the US and Canada got to host our own olive oil sampling and blind taste tests.
I set my tasting party up in conjunction with our monthly "Cook 'n Book" meeting. (Long story short, I really wanted to start a cooking club and my friend really wanted to start a book club, so we combined forces. Each month, we read a great book then when we get together to talk about it, our dinner's theme somehow relates to the book. It's a blast.)
I was in San Jose for work in the beginning of the week, so unfortunately my plans for making some savory olive oil muffins just didn't pan out.
So instead, I went with the easy route for olive oil tasting and bought some delicious fresh baked baguettes and a surprisingly really good frozen Udi's French Baguette for my gluten-free friends.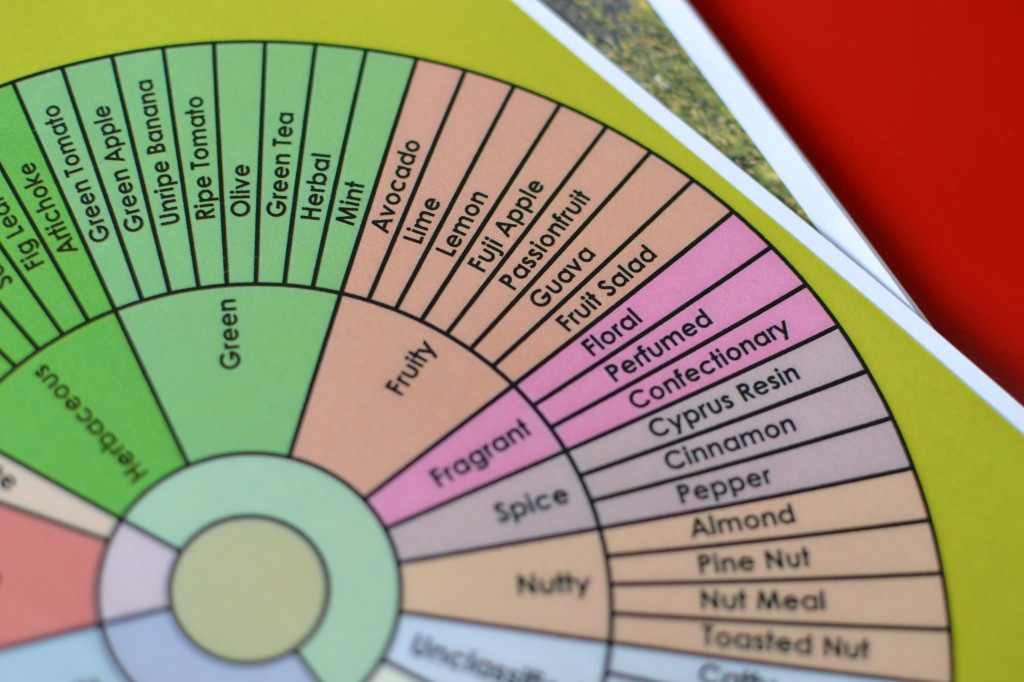 We had a selection of 5 different olive oils to try – California Olive Ranch provided their Everyday Extra Virgin Olive Oil, Miller's Blend and Arbequina. I also decided to include Oregon Olive Mill's Arbequina and just for fun, Trader Joe's "Trader Giotto's."
I wrote on the bottom of each dish which olive oil it was and then mixed them all up so even I didn't know which was which.
We either dipped some baguette into the olive oils or poured a tiny amount into little cups to sample and choose our favorites. It was really fun trying them all and hearing which ones we liked most.
The most interesting thing was that we didn't really agree with one another.
The winners were an even split between:
California Olive Ranch's Everyday
Oregon Olive Mill's Arbequina
and the surprising, contentious winner, Trader Giotto's.
Truly, people either loved it or completely hated it. Some quotes from this sample included "Definitely the best, it is the only one with flavor" to "Gross, it tastes rancid." So we had quite the discrepancy.
My personal favorite was the California Olive Ranch Everyday flavor. It was simple, buttery and smooth.
My second and third were the two Arbequinas by Oregon Olive Mill and California Olive Ranch. I thought both the TJ's and Miller's Blend were too peppery and spicy, with too much bite at the end.
It was also a lot of fun learning about the "proper way" to try olive oil. It was a lot like wine tasting.
For instance, there are the 4 "S's" of tasting olive oil:
Swirl: cover the container with one hand and swirl until the oil is close to body temperature.
Sniff: olive oils have aromas just like wine
Slurp: take a sip and hold it in your mouth.  Note the various taste and sensations.
Swallow: high-quality extra virgin olive oil should have no aftertaste.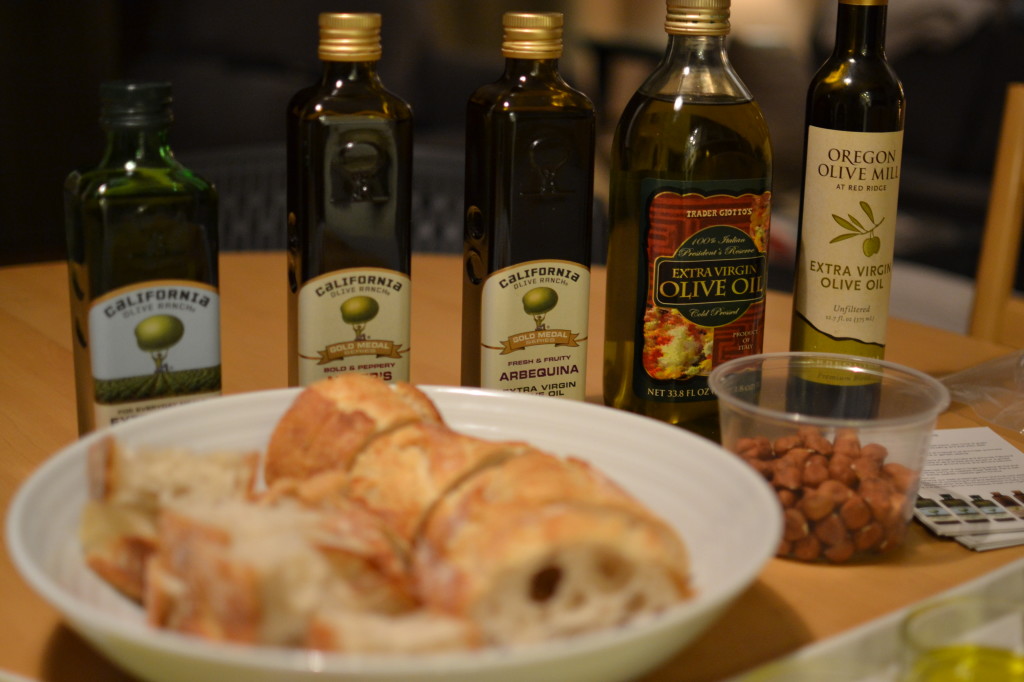 Olive oil is also used in a lot of dessert recipes, which I guess I knew was common but have rarely tried in my own baking.
I'm definitely interested in making this Chocolate Almond Torte, which uses Arbosana olive oil, known for its complex, nutty flavors. Chocolate, almond and sea salt – count me in. Lucky for you, the recipe is below.
The whole olive oil tasting event was interesting, educational and a lot of fun. Thanks to California Olive Ranch for putting it together!
Chocolate Almond Torte
Created by Dessert Chef and Chocolatier, Alice Medrich
Ingredients:
1/2C blanched almond flour
2T all-purpose flour
6oz 70% bittersweet chocolate, coursely chopped
1/2C Arbosana extra virgin olive oil
1/8t fine sea salt
4 large eggs, separated and at room temperature
3/4C sugar, divided
1/8t cream of tartar
Additional extra virgin olive oil for serving
Flakey sea salt for topping
Instructions:
Preheat oven to 375 degrees. Grease bottom and sides of 8×3″ springform pan with olive oil. Combine almond flour with flour. Set aside.
Place chocolate, olive oil and salt in a large heatproof bowl in a wide skillet of barely simmering water. Stir occasionally until the chocolate is nearly melted. Remove from heat and stir until smooth and melted. Whisk in the egg yolks and 1/2C sugar. Set aside.
In a clean dry bowl, with an electric mixer, beat egg whites and cream of tartar until soft peaks form when the beaters are lifted. Gradually sprinkle in remaining 1/4C sugar and beat at high speed until the egg whites are stiff, but not dry. Use a large rubber spatula to fold 1/4 of egg whites into chocolate mixture. Scrape remaining egg whites into bowl and pour almond mixture on top. Fold just until egg whites and almonds are evenly incorporated into batter. Scrape batter into the prepared pan and spread evenly.
Bake until a toothpick inserted in center comes out with moist crumbs, 25 to 30 minutes. Set the pan on a rack to cool.
To serve, slide a slim knife around inside of pan to loosen cake. Remove pan sides and transfer the cake to a platter. Serve slices with a drizzle of olive oil and a few flakes of sea salt on top.
Enjoy!
Disclosure: I was sent free bottles of California Olive Ranch olive oil for this event, but I am not required to write about them nor will I receive no compensation for doing so. These thoughts are my own and I am writing about it only because I truly enjoy the product.