Three locations: 1237 SW Washington • Hours: Mon-Fri 7am – out, Sat-Sun 8am-out; 3549 SE Hawthorne • Hours: Daily 8am – out;  3753 N Mississippi • Hours: Daily 9am – out
*4th location opening March 19th: 921 N.W. 23rd St & Lovejoy
Ok, it's time to get real with you all. I have a confession to make.
I have lived in downtown Portland for years, I obviously eat a lot of sweets and always try to get to the hot spots in town, and yet I never made it in there until just last weekend. You know what's worse? I actually even lived in the Indigo building, the same building as the first Blue Star Donuts!
People would always be raving about these small-batch, unique-flavored, brioche dough-based donuts. It has appeared on The Cooking Channel's Unique Sweets and in Sunset Magazine and USA Today, not to mention nearly every local publication.
But still, I never went in. I'm typically not really a donut person (I'd much rather eat a chocolatey cookie or flaky pastry). Plus, the thought of waiting in lines is just not my favorite thing. It seems like no matter the day, there are people lined up outside the small space, waiting to pick up a freshly fried donut. (Am I one of the only Portlanders who is not into lines, like Salt & Straw, Blue Star, brunch? They're everywhere!)
Last weekend, however I finally decided I needed to see what the fuss was all about for myself. I was up extra early for a Sunday and thought "this is the time!" It wasn't even 8:30, just thirty minutes after opening, and there was already 10+ people in line! Nonetheless, I was determined.
All of the beautiful options were staring at me. Which one to choose from their fun selections? Passion Fruit Cocoa Nib. Lemon Poppy Buttermilk. Meyer Lemon & Key Lime Curd. Blackberry Compote with Peanut Butter Powder. Serioulsy, I need friends who get up early so I could have tried more flavors.
Instead, I decided to pick up a Dulce de Leche with Hazelnuts donut that had just come out of the fryer and glazed moments earlier while I was standing in line, and the Matcha Cake as I have quickly become obsessed with matcha since my trip to Japan (side note: see my recent post about Tea Bar for more matcha goodness!).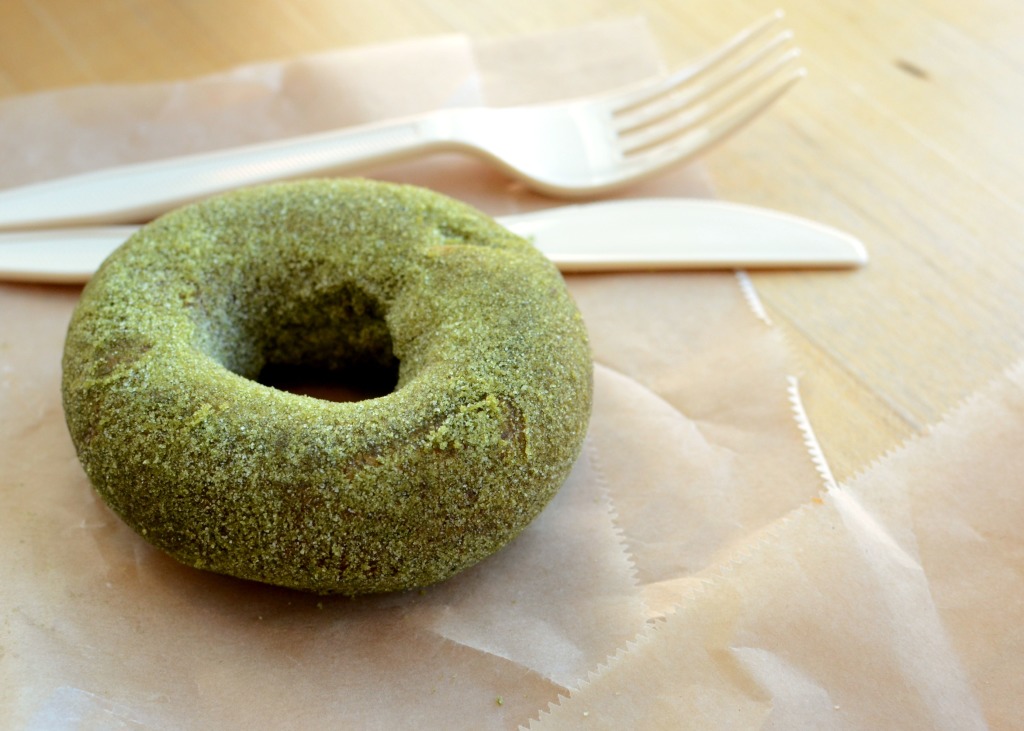 If you are also a big fan of this special green tea, you will love this one. The vibrant green cake dusted with powdered tea has an intense, slightly bitter matcha flavor, yet is balanced by a touch of sugar.
If you are looking for a sweeter start to your day, order up the Dulce de Leche. The dough is buttery and fluffy, then dipped in a rich, caramel sauce, then toasted with a nice crunch of hazelnuts.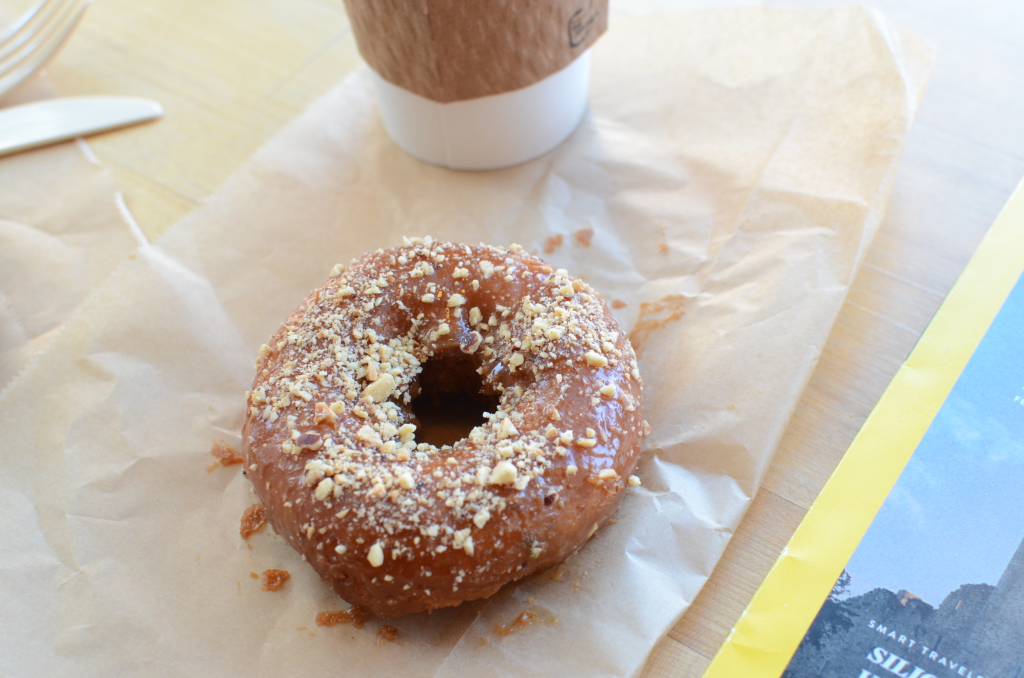 I think I get it now. Talk about a good Sunday morning breakfast.
Now as for the lines, yes obviously I just mentioned there can be quite the frenzy at any of their locations, especially as they can sell out – quality over quantity is their motto. But I was impressed that the line moves pretty quickly.
You'll almost appreciate the few minutes of waiting so you can decide which of their delicious flavors to choose from!
Want to know more about Blue Star's donut making process? Read this excellent article from Serious Eats.