A few weeks ago, way back in 2016, I attended the inaugural Buche de Noel cake competition at Ace Cleaners. It was such a fun, festive event planned by Clyde Common's pastry chef Kristen Napoleoni.
With delicious eggnog cocktails in hand, my friend Lauren and I wandered through the space, admiring the gorgeous nature-inspired cakes made by Portland's top pastry chefs. I was so impressed by their ability to create such beautiful and creative yuletide logs.
We of course got to sample the desserts as well, then vote for our favorite. We debated how best to decide – did we choose the most traditional or most unique? Best tasting or based on presentation? It was difficult to choose as they were all incredible. After thinking hard about this important decision, we cast our votes, as did the rest of the attendees.
While it was just a friendly competition that wasn't really all about who won, it did add to the fun of the night. Hearing the winner was the talented hostess herself seemed extra fitting. Congratulations to Kristen on the win and organizing such a fantastic event. But also a huge round of applause for all the pastry chefs who participated with all those gorgeous, delicious cakes and raising so much money for Partners for a Hunger Free Oregon.
Can't wait to make attending this a new holiday tradition!
Anja Spence of Miss Zumstein: Marzipan torte, preserved cherries, whipped cream and gingerbread
Tess Paterson and Mary Tanguay of Pearl Bakery: Black Forest Buche, cherry ganache, Kirsch buttercream, ginger-molasses cookies
Amelia Lane of Perfect Bake: Flourless chocolate sponge cake, white chocolate mousse, toasted meringue, cardamom meringue mushrooms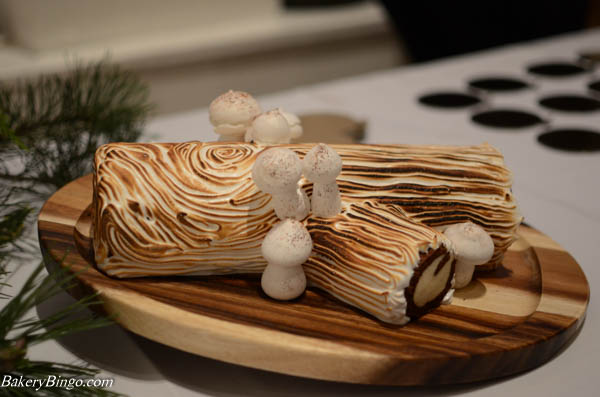 Kristen Napoleoni of Clyde Common: Chestnut sponge cake, chocolate caramel, ganache "dirt", candied chestnuts and matcha crumb
Lauren Breneman of Beast: Chocolate cake, candy cap cremeux, matcha moss and chicory buttercream (my personal favorite!)