bushelandpeckbakeshop.com • 3907 NE MLK Blvd & Failing St • 503.206.8953
Hours: Mon-Sat 7am-6pm; Sun 9am-3pm
A couple of my girlfriends and I have had season tickets to the Broadway shows that come to Portland for the past few years. We have a great time tapping our toes to the tunes and debating which were our favorite musicals to date (the unanimous winner is the old-timey musical with a big tap-dancing number, Anything Goes – amazing!). Last month, Guys & Dolls came to town. Now, while I wasn't a huge fan of it overall, I did find this one song, "A Bushel and a Peck," performed by the character Miss Adelaide and her Chick Chick Chickedies, catchy and fun.
That was all I could think about when Annie from Serious Crust asked if I wanted to do a co-working date over at Bushel & Peck Bakeshop in Northeast. Seriously, the squeaky voice belting out "I love you, a bushel and a peck" kept playing in my head.
Despite that, of course I was interested. Not only do I like working at cafes on occasion instead of at my kitchen table by myself, but I also have had this bakery on my list for a long time. I was even more inclined after Annie included it in a recent post on best coffee shops to work from.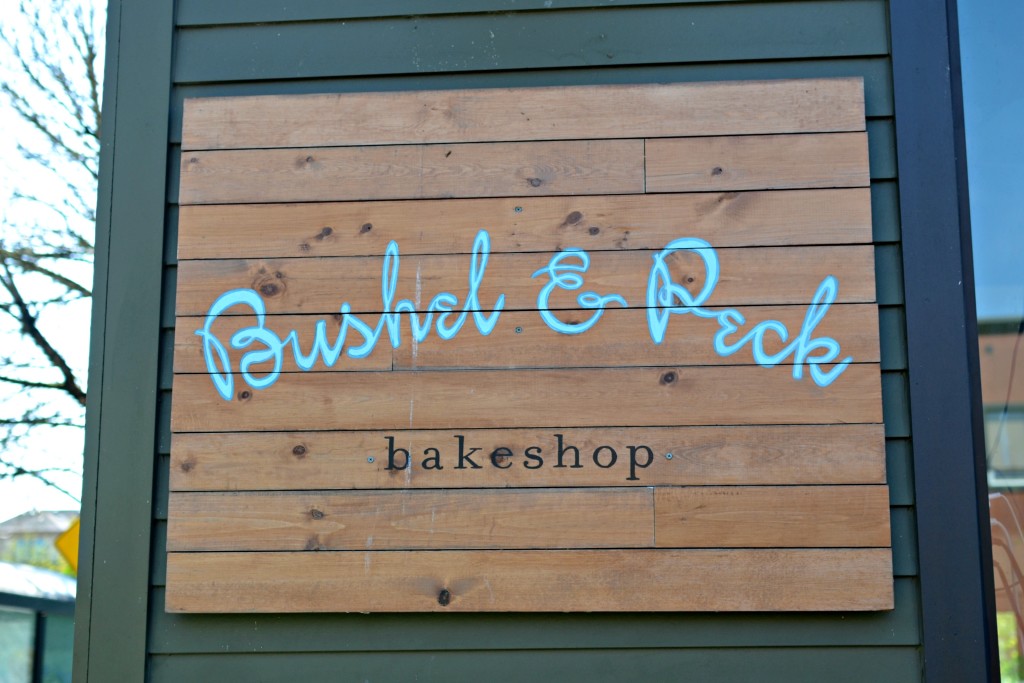 While Bushel & Peck is next door to Ned Ludd, it is also right on busy MLK, so it isn't the type of location where you'd just happen upon it. That being said, it should be added to your coffee shop/bakery rotation if it isn't already.
All of the pastries are made in house and they are excellent. The real star is the flaky, buttery buttermilk biscuit. Want to be even more impressed? Get it as a sandwich with a baked egg, peppered bacon, house made tomato-strawberry preserves, and parm cheese. Now that could get me to work every day.
On the sweet side, they've got creative and delicious creations like peanut butter curry cookies; coffee cake with banana, brown butter and dark chocolate; cinnamon rolls with luscious cream cheese frosting that they'll even heat up to be all warm and gooey for you; and strawberry and candied ginger muffins! Trust me, if you follow their Facebook feed, you will be dying of hunger and jumping in your car to head over there ASAP. I know that's my thought while I'm writing this post.
To quench your thirst, they've got a wide selection of local places like Trailhead Coffee, Townshend's Tea and DragonFly Chai.
And if you're like us, who stayed there for hours and hours, you can easily transition from breakfast to lunch and get a sandwich on their house made ciabatta, seasonal soup, or a slice of their ever-changing quiche.
The space is bright, welcoming and homey. The staff was exceptionally friendly. We weren't ready for biscuits when we arrived, but knew we didn't want to miss out on them. After gawking awkwardly and exclaiming loudly how good the biscuits looked, one of the employees generously set a couple aside for us. I love the small things like that.