Well, I can fully admit that getting back into the swing of things after 70+ days of vacation is difficult. I have enjoyed some time with friends and family, getting back to my Crossfit gym, eating healthier (sadly, the whole vacation diet of drinking wine with lunch and eating ice cream every day just doesn't work in the real world…) and not living out of a suitcase.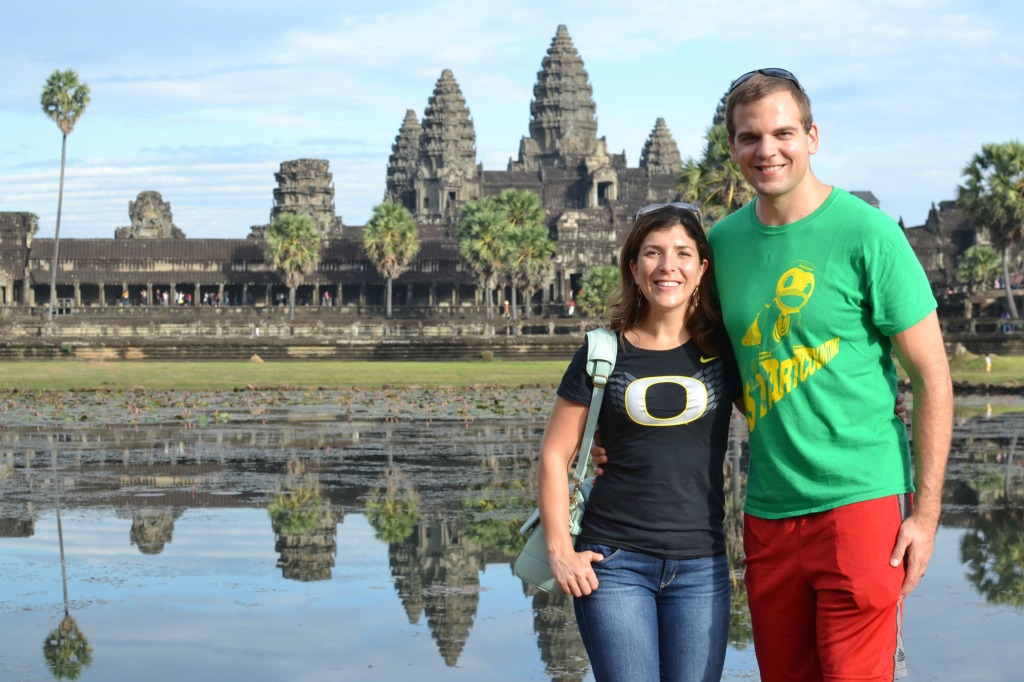 But getting back into my normal routine of reading the news, checking emails, and even writing blog posts has been a little slow on the uptake. So my apologies for leaving you stranded in the new year!
Reviewing some photos from our trip and retelling stories to friends made me realize how much I liked Cambodia. There was so much history, the people were really friendly, and of course the beautiful beaches didn't hurt either. We also enjoyed some really delicious food. Khmer cuisine as it is known in the Siem Reap area is kind of a mix of Thai and Vietnamese. There is a strong emphasis on spices, rice, seafood, coconuts and fresh produce.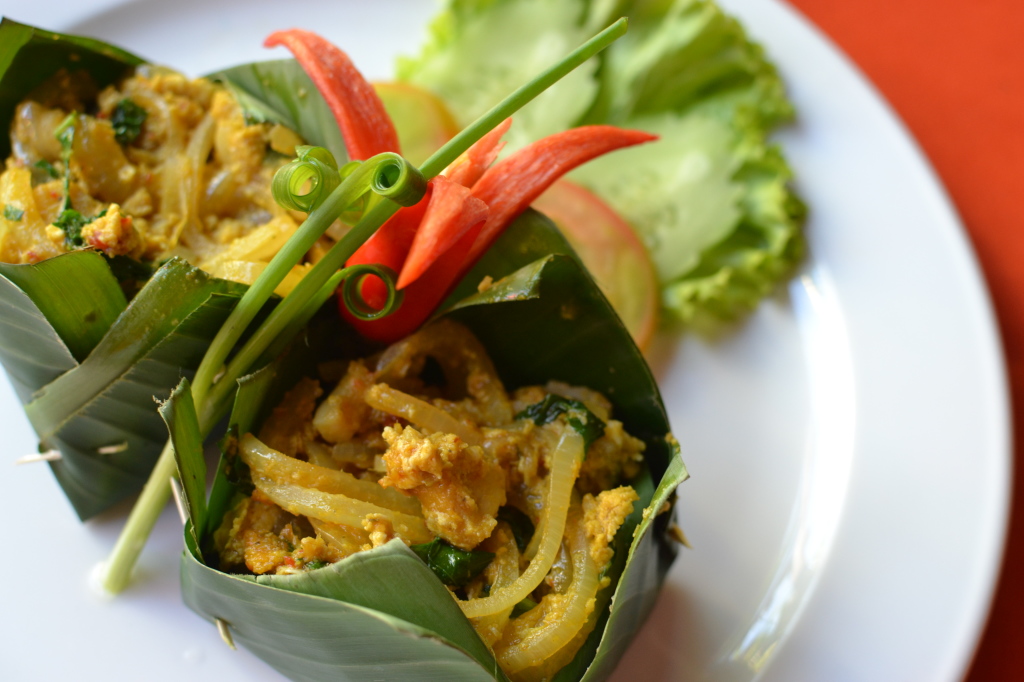 One of the most popular Khmer dishes is Fish Amok, a curry made with coconut milk, egg and kaffir lime leaves. The curry paste is simple and mild (but you can make it as spicy as you'd like!), yet extremely flavorful due to its numerous ingredients, such as shallots, garlic, lemongrass, galangal (or ginger) and turmeric. Unlike other curries, this isn't heavy or overly rich, even with the egg and coconut milk.
After enjoying this dish at restaurants all over Cambodia, I was excited to learn to make it during my cooking class in Siem Reap during a break from the temple visits.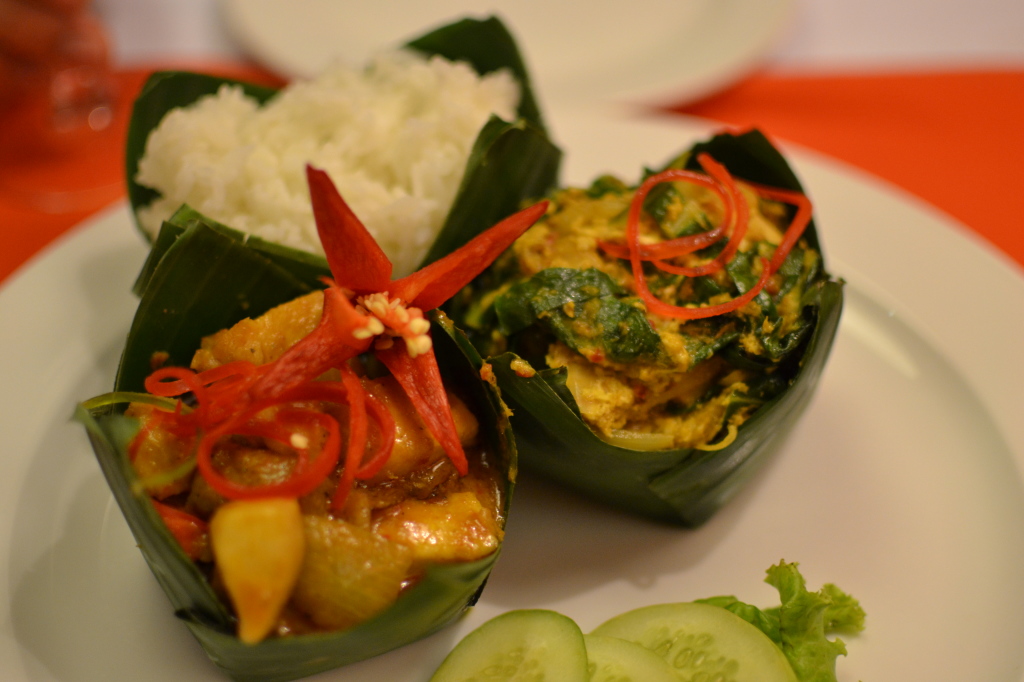 This dish is surprisingly easy – don't let the word "curry" scare you away! It is beautiful in color and presentation, especially if you serve it in the traditional banana leaf "bowl."
While some of the traditional ingredients you might have to find at an Asian super market like Uwajmaya, you can also substitute them for easier-to-find ingredients as I noted below.
If you are interested in checking out some of this tasty yet uncommon cuisine at a Portland restaurant, you are in luck. There aren't many Cambodian restaurants in the Rose City, but these two places are excellent.
Sok Sob Bai – 2625 SE Clinton Street; Hours: Wed-Mon 5-9pm
Mekong Bistro – 8200 NE Siskiyou Street, Suite 107; Hours: Sun-Fri 11am-12am, Sat 11am-2am
Fish Amok
Serves 2
Recipe from my cooking class with Chef Ly at the Golden Temple Hotel in Siem Reap
Ingredients:
Curry Paste
3 cloves garlic, minced
1 large shallot, minced
3 stalks lemongrass, minced – use the soft, inner part of the bottom half of the stalk
1 tablespoon galangal, peeled and finely chopped – use ginger root if you can't find galangal
2 kaffir lime leaves, finely chopped – if absolutely necessary to substitute, use 1 teaspoon lime zest
1 teaspoon turmeric powder
1 teaspoon light brown sugar
1 teaspoon salt
2 teaspoons chili paste
Fish Amok
1 tablespoon vegetable oil
½ teaspoon shrimp paste – use anchovy paste if you can't find shrimp paste
1 cup coconut milk, well shaken
1 tablespoon white sugar
1 teaspoon salt
1/2 white onions, cut into small slices
1 cup fresh spinach, cut into small pieces
¾ pound white fish fillets, cut into small 2" pieces – use catfish, halibut, barramundi, or cod
1 egg
1 tablespoon fish sauce
1 red bell pepper, julienned for garnish
Kaffir lime leaf, julienned for garnish
2 small banana leaves, for plating
Fresh red chilies, minced
Preparation:
Curry Paste
Put first 5 ingredients into a food processor or into a mortar and pestle and pulse/pound until it becomes a smooth paste.
Add the remaining ingredients and pulse/pound until smooth and mixed well.
Note: while the mortar and pestle will give a better flavor, it will also take you about 30 minutes. It would also give your arms some nice definition though!
Fish Amok
Heat the oil in saucepan over medium-high heat.
Add the curry paste and cook for 1 minute. Add the shrimp paste, fish sauce, coconut milk, sugar and salt, stirring to combine. Add the onions and cook until golden brown and tender. Turn the heat to medium and simmer for 2 minutes, stirring occasionally.
Add the spinach and the fish, gently toss in the sauce to get the fish covered. Let simmer for 3 to 4 minutes, or until the fish is just cooked through. Turn to low.
Add the egg and gently whisk until cooked and combined.
Serve the amok in a regular bowl or a banana leaf bowl*. Top with the julienned red pepper, kaffir lime leaf pieces and a small spoonful of coconut milk or cream. Add chilies to taste, depending on how spicy you'd like it. Serve with rice.
It is surprisingly easy to make the banana leaf bowl. This YouTube video is a great example and much better than any written instructions I would give. I love the idea of using a stapler to keep the "box" together but you can also use mini toothpicks like I used.
Note: You can also make this with chicken instead or to make vegetarian, make with cubed pumpkin or butternut squash. I had the latter version several times and it was just as delicious!