Holy cow, is it really Thanksgiving week?! How did that happen? What are you kids up to for the holiday? Hope you'll be eating lots of delicious food and celebrating with friends or family!
Brice and I are heading down to sunny LA for an impromptu mini-vacay, where we'll be joining in a Friendsgiving on Thursday, playing by the beach, and (fingers crossed!) getting food at places like Sqirl and Baroo.
While Brice is always trying to escape the rainy days of Oregon winter, I'm occasionally a fan of the dreary skies. I am all about getting cozy in a big scarf and placing myself next to a fireplace with a good book and warm beverage. As I'm not a coffee drinker, I dig the tea latte trend. Similar to your standard latte, it's got steamed milk mixed with brewed tea rather than espresso. It is creamy, rich and flavorful from the tea. Perfect for a cold day.
I love going into Smith Teamaker's shop in Southeast where they've got big cozy chairs, a fireplace and the best teas anywhere around. Not only can you get a tea flight to try many of their unique blends, but they'll also make you up incredibly delicious specialty lattes like Darjeeling Creme Caramel made with second flush Darjeeling tea, burnt caramel sauce and a pinch of Jacobsen's sea salt. Woah.
Now if you aren't in the mood to get out of your PJs and brush your hair, but you don't want to miss out, you can make yourself a tea latte at home. If you're thinking "Erin, if I'm too lazy to put on real clothes, I don't think I'll be making myself a tea latte," hear me out. I originally thought hat sounded like quite the endeavor, but it is easy and delicious, especially if you've got the right tools.
First, be sure you've got the best of teas, like Steven Smith Tea. Go with whatever flavor tea you like. I prefer black teas so I really adore their Chai, Bungalow and Kandy. For a truly wintery latte, use Smith's seasonal Silent Night, that is like a candy cane in a cup.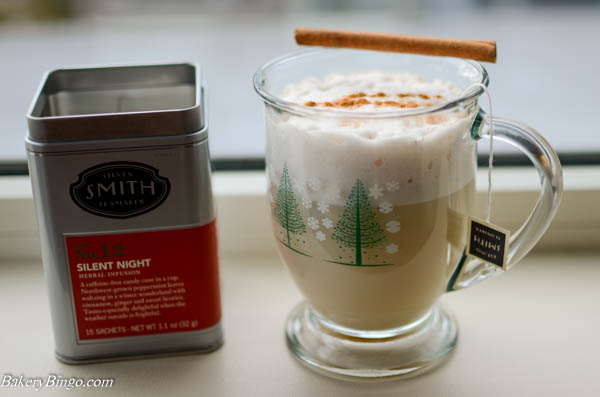 Second, if you are serious, buy one of these nifty handheld milk frothers. It is a lifechanger – so fun and makes such easy frothy milk. And only $13 on Amazon! If you don't want to buy another kitchen gadget, never fear. You can still make a latte at home with just a mason jar or something else with a lid that allows you to shake vigoriously to aerate the milk without getting it everywhere.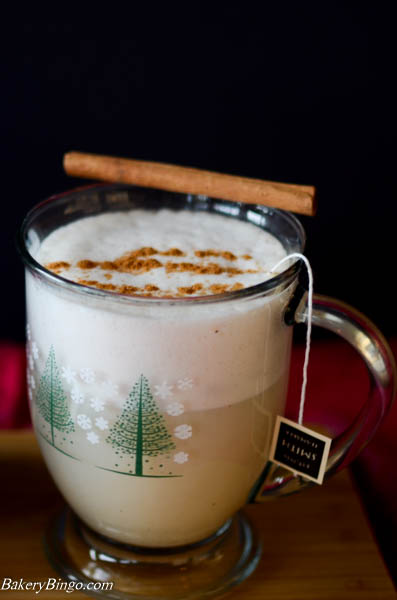 Third, get creative! I tried Smith's Chocolate Mint Latte recipe below, and also adapted to my own "healthier and quicker" option of subbing Splenda for the sugar and cocoa powder for chocolate sauce. So mix and match and do what you please, you really can't go wrong.
Need some more tea for your lattes? Use promo code "bakerybingotea" for free shipping with Smith Tea! The promo for free US shipping will run 11/25-11/29 (Black Friday to Cyber Monday), with no minimum purchase.
Enjoy and stay toasty during the rainy months ahead!
Chocolate Mint Latte
Adapted from a recipe provided by Steven Smith Teamaker
Makes one 12-oz latte
Ingredients:
2 sachets of Steven Smith Teamaker Silent Night tea
7 ounces of freshly boiled water
1 heaping teaspoon of Recchuiuti Chocolate Sauce (or 1 tablespoon cocoa powder)
2 teaspoons sugar (or one packet Splenda)
4 ounces of steamed milk
Method:
Steep both sachets of tea for 5 minutes in boiled water. Cover to keep hot.
Warm milk on stove or in microwave for about 1 minute. Use milk frother for about 30 seconds until foamy.
Add chocolate sauce and sugar. Stir until chocolate and sugar are dissolved.
Pour warm milk over the steeped tea.
Top with cocoa powder if you want to get extra fancy. Enjoy!
—
Disclosure: While Smith Tea generously provided tea for this post, it was not required or paid for. As always, all thoughts are my own.