Brunch.
What's a better way to spend a lazy yet fun weekend morning than with savory egg dishes, decadent treats, delicious cocktails, and of course laughs with friends? (Related side note: my friend Meg got me hooked on the "table cake" idea where you share an order of something sweet so you don't miss out on pancakes or waffles but also don't get a sugar high – genius.)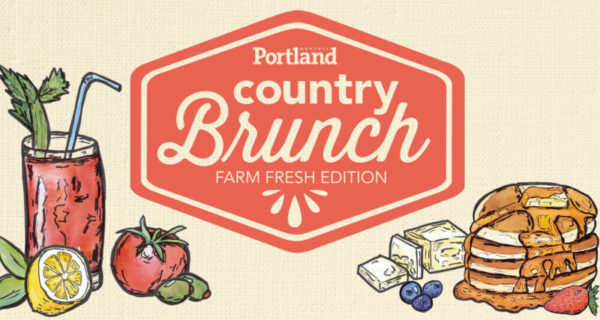 In a top-notch brunch city like Portland, you know an event all about brunch has got to be good. Hence the enthusiasm for Portland Monthly's 6th Annual Country Brunch. I have never been and am always experiencing serious FOMO when I see people's social media accounts that morning, kicking myself that I didn't get tickets. This year, I'm excited to say, I will be attending. 'Bout time, Erin!
What's on tap at the Country Brunch? Obviously tons of food from great brunch joints like my favorites Seastar Bakery and Verdigris. And because as the folks say, "Brunch without booze is just a sad breakfast," there of course is also a Bloody Mary contest.
Plus, this event is a fundraiser for The Curriculum of Cuisine, a really awesome local nonprofit that uses culinary skills as an avenue to teach high school students subjects like languages, health, science and social studies.
See you there?!
THE LINEUP:
Besaw's, Doug Fir Lounge, Fried Egg I'm In Love, Irving Street Kitchen, Lauretta Jean's Pie, La Moule, Harlow Restaurant, Pono Farm Soul Kitchen, Olympia Provisions, Red Star Tavern, The Solo Club, Pine State Biscuits, Raven & Rose, Seastar Bakery, Verdigris Restaurant, and Vivienne Kitchen & Pantry!
DETAILS:
Date: Saturday, May 20th
Time: VIP Entry – 10am | General Admission Entry – 11am
Location: Rossi Farms | 3839 NE 122nd Ave, Portland
Cost: VIP Brunch & Bloodies – $50 | General Admission – $40