Happy week after Thanksgiving! Hope you all had a great holiday!
We had such a great day and had a wonderful time hosting for the first year.
I got really excited about decorating our place. Especially since my mom lent me all of her Thanksgiving decorations to make everything extra festive, like these amazing turkey napkin holders.
We had an insanely good potluck feast. Turkey, cornbread stuffing, corn casserole, sweet potatoes, green beans, brussel sprouts. To make sure we had enough meat, our friend Grant even brought over some brisket. There was a lot of food for our group of 8.
And you can't forget the rolls. My mom has made these every year since I can remember. They are so great – fluffy, buttery and great for with leftovers the day after heated up quickly in the microwave and lathered in butter. Probably one of my favorite food traditions.
We made sure we had plenty of wine too of course. The wonderful folks at CorksCru helped me out with two delicious bottles for dinner – a light red from Germany and a sweeter Italian white. Both were awesome.
And of course, we have our insane dessert spread. I made my favorite Chocolate Bourbon Pecan Pie and probably one of the best pumpkin pies from Butter Baked Goods cookbook. My mom makes crazy ice cream (using her own HoffHens eggs) so I requested she whip up some pumpkin ice cream. It was a perfect topping to the bread pudding I also made. Oh yeah, and there was whipped cream. We had a lot of desserts for just 8 folks.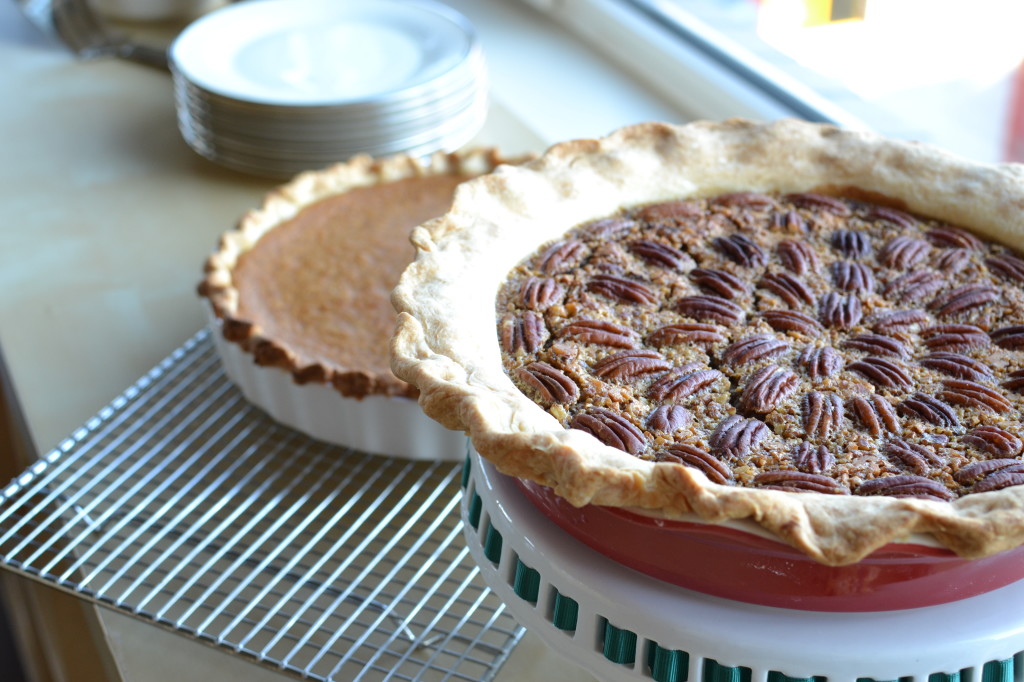 Not just is this holiday about all the great food and festivities (like playing an intense game of Settlers of Catan), it is also about reflecting on everything we're thankful for. And I have plenty to be thankful for.
Brice: Thanks for always supporting me, challenging me and making me smile. And for letting me live my dream of hosting Thanksgiving. You now have a permanent job of turkey carver.
Amazing friends: I really have the best friends in the world. I am spoiled, I admit it. Thank you for all the laughs, musicals, dinner dates, bakery trips, beach trips, football games, scavenger hunts and always being there for me. I love you all.
My family: Yes that might be cliche but it's true. My parents are wonderful and my mom is my cooking inspiration. My brother might be on the other side of the world right now but he's one of the best people I know. I also am thankful to my parents for being open to not hosting Thanksgiving for the first time in probably 10 years so we could do this.
A beautiful new condo: Brice and I entered the scary world of home-ownership this summer. Our condo in the Pearl is beautiful and more than I ever could have imagined.
This blog! This has been such an amazing experience for me. It has been a huge learning curve, figuring out how to write, get my style, use a camera, and everything in between. But it has been so much fun, I have eaten a ton of good treats and I have gotten to meet so many wonderful other bloggers, bakers, PR firms and food lovers. So THANK YOU for reading and keeping this blog going!
Now, back to the food! If you had as much leftovers as me, you've probably tried finding ways to use them. My dad made fantastic whole-berry cranberry sauces but he made enough for about 25 people. So we had a lot to use up some other way, even after all the turkey-cranberry sandwiches.
I found this recipe for Cranberry Sauce Muffins on SeriousEats and thought I'd give it a try. Plus it uses very little additional sugar, oats and whole wheat flour. So they are basically super healthy for the post-big meal day. So why wouldn't you make them?!
The recipe wasn't totally complete – it didn't include all the ingredients that were listed in the directions and it didn't include yield size. So I doubled the recipe then had way too much. So I made both mini muffins and a bundt cake.
I definitely would recommend making the cake. Having more service area made the cake really moist, versus the muffin sides that were a little too brown. Though large muffins would probably work too.
Cranberry Sauce White Chocolate Oat Cake
Adapted from SeriousEats' Morning-After Cranberry Sauce Muffins
Yield Size: 1 bundt cake or 3 dozen mini muffins
Hands-on time: 15 minutes; Total time: 55 minutes
Ingredients:
1 C all-purpose flour
1/2 C whole-wheat flour
1 C oats
1/3 C light brown sugar, packed
1 T baking powder
1/2 t baking soda
1/2 t salt
1 t cinnamon
1/2 t nutmeg
1 1/2 C leftover cranberry sauce (or make your own now if you don't have any left!)
1/2 C skim milk
1/3 C vegetable oil
1 large egg
1 C white chocolate chips (about half of a 12 oz. bag)
Raw sugar for topping (about 1 T), optional
Directions:
1) Preheat oven to 375 degrees. Spray bundt cake pan with cooking spray and lightly coat with flour.
2) In a large bowl, combine the dry ingredients (flours through nutmeg); mix well. In a medium bowl, combine cranberry sauce, milk, oil and the egg; whisk until combined. Fold into dry ingredients and stir until mixed. Add the white chocolate chips; mix again until the chips are well incorporated.
3) Pour into the bundt cake pan. Top with some raw sugar.
4) Bake for 40-50 minutes or until golden brown and a toothpick comes out clean.