One of the first big events of my Feast extravaganza last weekend was Dessert for Dinner, which brought together six of the nation's best pastry chefs for an incredible meal. One of the best parts of Feast, the four-day food and drink festival sponsored by Bon Appetit magazine, are the dinner series. As collaborations between local and visiting top chefs, they showcase their culinary talents in a unique and intimate setting.
This dinner was one that I was particularly excited about as I obviously love desserts and loved the line up of chefs:
Carrie Merrill of Urban Farmer (if you haven't read my interview with Carrie yet, go give it a read!)
Alissa Frice of Frice Pastry
Tim Healea of Little T Bakery
Kristen Murray of Maurice
Philip Speer and Andrew Lewis of Uchi Restaurants in Austin
Plus Talia Baiocchi of Punch magazine, who just wrote a book on sherries, was there to do the pairings.
Dessert for Dinner was hosted at KitchenCru, a community kitchen space and culinary incubator located next to the North Park Block. I had been there a few times before (the awesome Holdfast dinners are there – if you haven't gone to one yet, you should do so!) and given that the space is pretty small, I wasn't really sure where they were going to set up the dinner.
To my delight, they set up shop in the parking lot, with a large tent, streams of lights, and long tables with white tablecloths, creating a simple yet beautiful setting.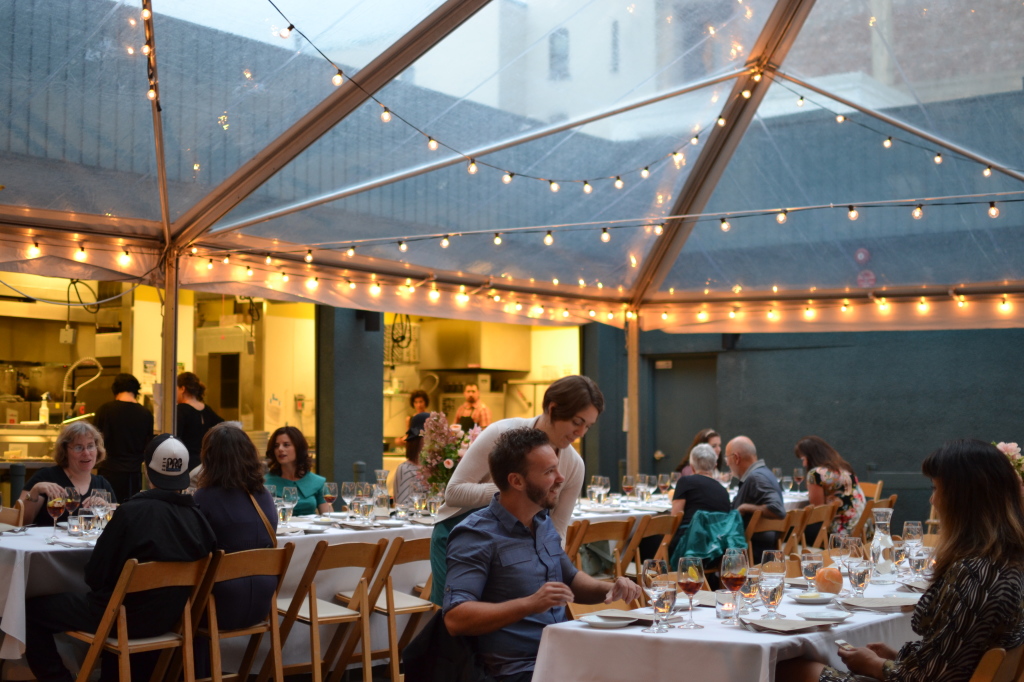 My good friend Maria and I got tickets as a kind of birthday celebration for the both of us, as our birthdays are just days apart in early September.
She was a great date. We had an fantastic time eating a lot of food, drinking sherry, catching up, and making new friends with the other folks at our table.
The dinner was technically 7 courses, which in of itself is a lot. But there was even more than that, because each course was really made up of at least two dishes, one from each participating chef. So needless to say, it was a lot of food! (Oh but don't you worry, I did eat everything even after I had gone to Sandwich Invitational prior. YOLO, right?)
Course #1:
Pigeon Bisteeya from Kristen Murray
Beet Macaron wtih Chevre White Chocolate Ganache from Carrie Merrill
Smoked Hamachi, Yucca, Golden Raisin, Marcona Almond from Philip Speer – this was one of my favorites of the night, especially when all of the elements were eaten in one bite which was extraordinarily flavorful and well balanced.
Course #2:
Figs, Peaches, Heirloom Tomatoes, Yuzo Olive Oil Sorbet from Alissa Frice
An incredible bread basket from Tim Healea – I knew I was going to love this course which included pretzel croissant, coffee rye bread and Schiacciata Con Uva, a light foccacia topped with grapes
Course #3:
Heirloom Tomato Tarts on Italian Puff Pasty from Tim Healea
Smorbrod "Open-Faced Sandwich" with Skagen Oregon Shrimp and Pickled Rock Fish on Little T Spelt Bread from Kristen Murray
Course #4:
Shortrib, Salsify, Tamari from Philip Speer
I wasn't really sure what to expect from this dinner – I knew there would be savory dishes but I assumed they would be all somehow pastry related. This course definitely was just a pure-play on savory but it was fabulous. This is a pastry chef who knows how to cook a steak. Perfectly cooked and a delicious
Course #5:
Squash sorbet served with yellow curry doughnuts and sunflower seeds from Andrew Lewis – I loved this dish
Course #6:
This was one of my favorite parts of the night. Carrie made Lime Mint Sorbet that were served as individual push pops, like you'd get as a kid. How fun is that?!
Course #7: Then came the real desserty desserts!
Chocolate Whiskey Cake, Smoked Lonma Sotavento Chocolate and Hazelnuts and Salted Caramel Ice Cream by Carrie Merrill – this is that fabulous cake Carrie told me about in my interview. It was a rich, flourless cake that was decadent and delicious. EVEN BETTER – You can now get this at Urban Farmer. So get yourself down there to try it out!
Chocolate Cremeux, Pear & Belgian Ale Sorbet and Pear Chips by Kristen Murray
Course #8:
Xocopili Chawanmushi with Coconut and Blackberry by Alissa Frice – this is a Japanese chocolate egg custard
Plum Compote with Cheesecake and Danish Flakes by Tim Healea – such a fantastic way to end a wonderful meal. The cheesecake was light and just slightly tangy, and great with the tart plum sauce.
This was such a fun way to spend an evening. I definitely recommend one of the Feast dinners. They sell out quickly so mark your calendars now! Yes, yes, Feast 2015 is 51 weeks away. But trust me, knowing the Feast team, next year's events will be just as spectacular and you won't want to miss them!