Well, now that we've hit over 100 degrees twice this month, I'd say we have officially made it to summer!
Dining outside is one of my favorite ways to enjoy the warmer weather. Just picture a nice breeze of fresh air while you sip on a crisp glass of rose, overlooking the beautiful views of Mt Hood and the Willamette River. That sounds spectacular, doesn't it?!
Even though we only get to eat outside a few months a year, there are still a lot of great places to do so in this city. Need help figuring out where to go? Here are a few of my favorite places that have stunning outdoor eating areas.
Tamale Boy/Hi-Wheel Wine: Joint outdoor space with fire pit and fun vibe
Occasion: Night out with friends
What to order: Table-side prepared guacamole and some Ginger Lime fizzy wine from High-Wheel
Nel Centro: Beautiful large patio downtown, a little classier feel, with lots of seating and fire pits
Occasion: Happy hour with coworkers
What to order: Wild Mushroom + Gorgonzola Pizza
Tidbit Food Cart Pod: Picnic benches, fire pit and food carts
Occasion: Casual dinner out
What to order: A beer from the beer cart and a wrap from Ingrid's Scandinavian Food
Xico: Hidden oasis with string lights and greenery, serving gourmet Mexican food
Occasion: Date night
What to order: Their house Xico Margarita and an order of the Totopos, house made chips tossed in arbol salsa then topped with queso cotija, crema and cilantro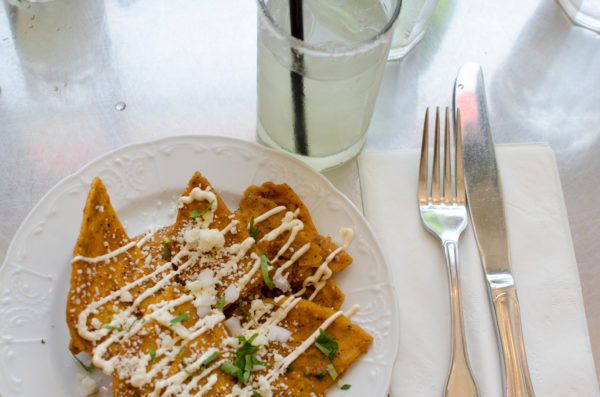 Meriwether's: Gorgeous outdoor garden patio
Occasion: Brunch with mom
What to order: Brioche French Toast with citrus anglaise and pistachio brittle, plus a mimosa with fresh-squeezed juice, because it's brunch after all!
Cyril's at Clay Pigeon Winery: Long picnic tables and even a bocce ball court
Occasion: Glass of wine with a girlfriend.
What to order: Any of their house made unique, seasonal salads.
Altabira: Rooftop patio with a great view of downtown Portland
Occasion: Night on the town
What to order: A house made pretzel from Citizen Baker downstairs + any of the beers from their 16 taps
*Bonus: Verde Cocina just annonuced they are taking over the former North Light space on Mississippi Ave. Talk about a great patio. It will be perfect for soaking up the sun with one of their fresh margaritas. Stay tuned. They say they should be opening any day.
Runners up (because there are just too many great places in Portland!): Teote, Coquine, Muselet, LeChon