Day 2 of the BlogHerFood conference was definitely just as fun and jam-packed as the first day.
There were a lot of wonderful "celebrity" bloggers who came to share their experiences and offer up their advice on items like how to be (or should you be) a brand representative and write about product reviews, how to incorporate kitchen mishaps in your blog posts, and how to take better pictures in outdoor settings. Some of my favorite speakers were Jaden from Steamy Kitchen, Jessica from Sodium Girl, Elise from SimplyRecipes, and Joy from Joy the Baker. All of these ladies were funny, down to earth and had great advice and ideas to share about how they have made their blogs so successful and popular.
That afternoon we finally got to break out of the hotel, experience Seattle and take photos firsthand.  I tagged along with a group of bloggers for the Savor Seattle Food Tour at Pike Place Market.  I love doing activities like food tours (Brice took me on one in Portland on the day he proposed, which was super fun and I highly recommend it!). 
Along the way, I made friends with Amanda, who works for Food on the Table, a clever menu planning/deal finding app.  She lives in Austin, where Brice and I are headed for a long weekend in October, so she was able to give tons of recommendations on where to stay, what to do, and most importantly where to eat.  That is definitely one of my favorite parts of meeting other foodies – you get all sorts of recommendations!  
Amanda and I also bonded over our love of splitting meals – I mean really, that way you get to try twice as many items. After getting tempted by all the delicious food smells and mini samples along the tour, Amanda and I headed to Beecher's, a phenomenal cheese making shop right next to Pike Place Market.
Not only do they make their Flagship cheese (which is similar to a Gruyere) at that site, but they also have a café that serves some of the best macaroni and cheese and grilled cheese sandwiches you will find anywhere.  We went "halfsies" and shared their World's Best Mac and Cheese and their Grilled Cheese with Flagship and "Just Jack" cheeses, basil and tomato, served on crisp fresh bread.  Both were super tasty.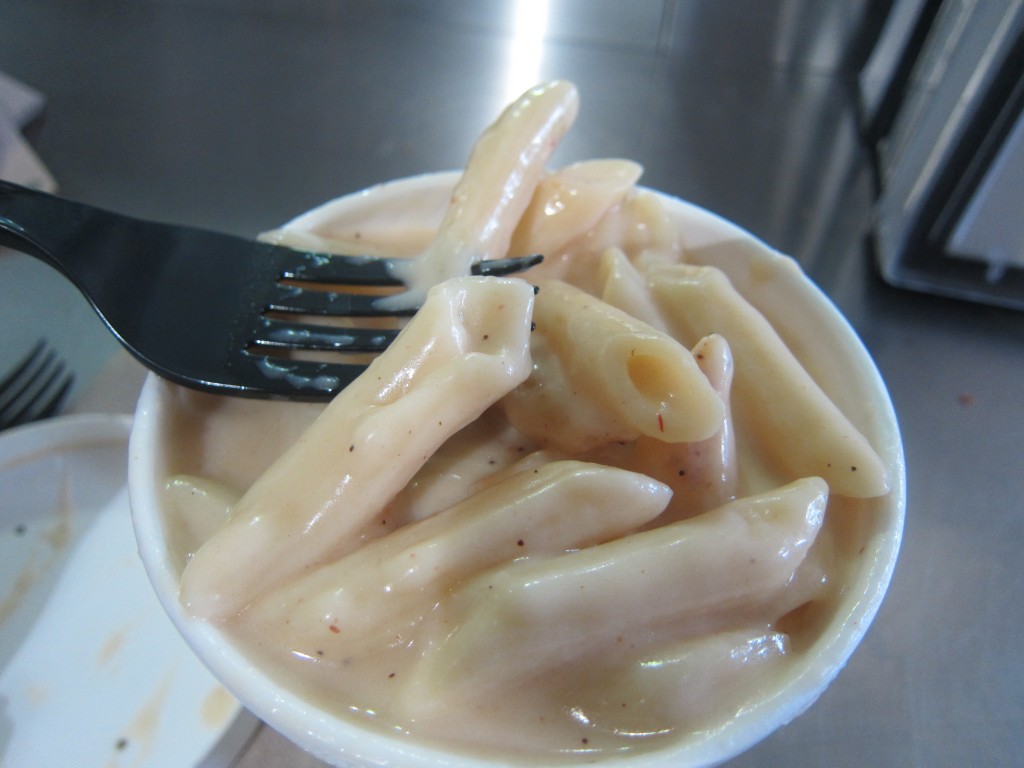 Of course after a rich lunch like that, you need dessert.  So we walked down the street to Le Panier, a wonderful French bakery and picked up some chocolate croissants and palmier pastries. 
AND THEN!! (that was for you, Lauren) … because lots of cheese and French pastries were not enough, I made Amanda wait in a 10-minute line to get some freshly made donuts from Daily Dozen Doughnut Co.  From a small food booth inside Pike Place Market, you can get these incredible mini donuts that are made while you are in line.
I am not that big of a donut person, but oh man, their powdered sugar donut was one of the best things I have eaten in a long time.  Check out this fun article by Serious Eats for more details! 
To top off the day and the entire BHF conference, we had a closing party at Sodo Park, which is a very cool event space combining old wood, exposed beams and modern accents. 
To make me feel even more spoiled, the party was co-hosted by the Pioneer Woman! If you don't know who she is, Ree Drummond aka the Pioneer Woman is probably one of the most famous bloggers out there.  She moved from the big city to the middle of a ranch with her cowboy husband and has written a blog about her adventures.  The blog became so popular, especially after her outstanding cookbook came out, that she recently got a TV show on the Food Network documenting her life on the farm. 
Meeting her was a really fun experience. She was really sweet (and surprisingly tall!) and seemed genuinely fun and friendly, which was wonderful to see from someone who has reached her level of fame.  It was a great way to end a really fabulous weekend!
So, what were my main takeaways from BlogHerFood?  Well in case that question was burning in your brain, here are the answers!
1. The food blogging community is wonderfully supportive. Nearly everyone I met last weekend was truly friendly, open and excited to help others succeed.  If you are thinking about starting a blog, don't feel timid or awkward about asking those who are more established for help and advice.  Based on my experience, they are more than willing to share their thoughts and help where they can.
2. For me, blogging is all about having fun.
This is not my full-time job nor do I expect or plan for it to ever turn into one.  Instead, I started Bakery Bingo as a fun hobby.  So my posts might be somewhat sporadic given everything else in my life.  And the posts might not be super professional or well done due to my lack of any sort of writing or photography training.  But nonetheless I have had a blast with this creative outlet. 
Bakery Bingo is a way for me to share my love of food by writing about my favorite bakeries and restaurants, food events, baking recipes and general culinary news. 
The goal is that whenever you are craving a slice of decadent chocolate cake or wondering where to find the best croissant, you'll be able to turn to Bakery Bingo and have a few more places or recipes to add to your list of options. So hopefully you will find Bakery Bingo to be a fun and useful read but more importantly you will have a delicious time exploring all the places listed!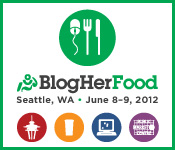 Thank you to everyone at BlogHerFood for a fabulous weekend.  Can't wait for BlogHerFood 2013!