Do you love enjoying delicious fresh food in a sunny, beautiful setting? Ok, dumb question. Who doesn't?
If you are looking for a glamorous, amazing dinner event this summer, check out the Plate & Pitchfork farm dinners if you haven't already. 
I first heard about P&P when I attended the super fun Forklift cooking class/dinner at Grand Central Baking. Erika, the owner of P&P was at the Grand Central event and started describing these fabulous dinners she puts on out at a local farms with food prepared by local chefs. Obviously that sounded like a great time so I knew I had to sign up.
In the "farm to fork" spirit, Plate & Pitchfork brings together farmers, chefs and guests. A gorgeous "dining room" is set in the midst of the host farm (which varies from chicken farms to fields of berries to wineries). When I walked into my first P&P dinner, I really thought I was at a wedding. It was that beautifully laid out.
Next all the guests get a tour of the farm led by the farmer. The dinner I attended on July 1st was at Champoeg Farm, a produce and poultry farm.  AKA lots and lots of chickens. Like about 8,000 chickens!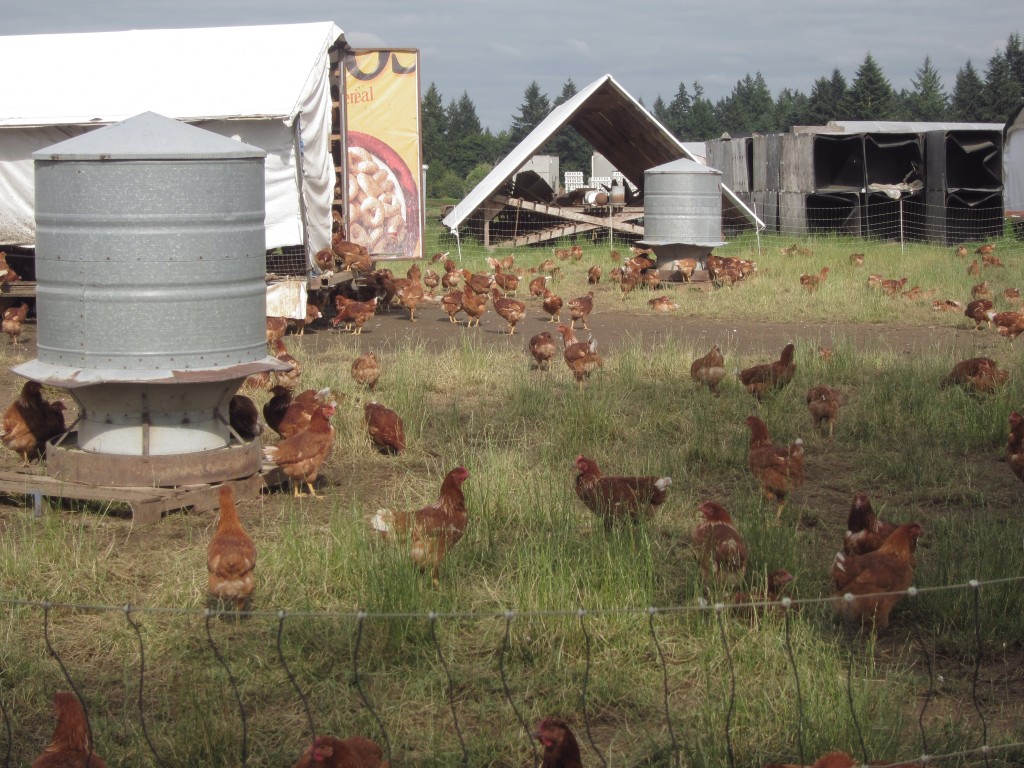 We walked into the farm and there were chickens everywhere. Sure, there was a pasture fenced off for the chickens but a few decided to fly away a bit and investigate the greener pastures on the other side of the fence. That meant there were chickens wandering through the parking lot or waddling down to the dining room area.
With the chickens squaking in the background, we learned about Champoeg Farm, their farming techniques and the differences between all of the confusing, numerous descriptors on egg cartons these days, like "pasture raised," "cage free," "free range," and organic.
Pasture raised means the chickens are in a pasture free to roam and eat whatever they choose during the day. Cage free means the chickens are not in a cage, but they are likely still kept indoors. Free range just means access to outdoors but that doesn't necessarily mean in a pasture. Organic does not indicate pasture raised, but rather it only guarantees that the chickens are housed on certified organic fields and not fed hormones or non-organic grains. Confusing, right? For more info, check out this great article by Mother Earth News.
And obviously the food and drink is amazing. The guest chefs prepare five to seven delicious courses on-site (yes in the field!), featuring the farm's specialities. The freshness in particular food cannot be beat. If the ingredients do not come directly from the host farm, they are locally sourced from another nearby purveyor. Plus meals are all artfully paired with local breweries or wineries.
The beautiful salad served on July 1st was so simple, yet so fantastic. The lettuce from Simington Gardens was picked in the middle of the night prior to the dinner to ensure the sun doesn't wilt the freshly picked greens. It was flavorful and crisp. Tossed gently in a perfectly balanced moscatel (sweet wine) vinaigrette and topped with local sweet blackberries, hazelnuts and sheep cheese.
Each P&P dinner is prepared by different local chefs from Portland's top restaurants like DOC, Grain & Gristle, Firehouse and Gruner. So really you can't go wrong with any P&P dinner you choose. 
Go treat yourself to an amazing dinner celebrating local purveyors, restaurants, wineries and breweries and sign up for one of these dinners!
Plate & Pitchfork
Want to Attend? Seats at select dinners are still available! Check out the schedule and make reservations online now at the P&P website.
Champoeg Farm
Where to Buy: Available at local Portland grocery stores like Zupan's and Whole Foods.
Want Your Own Farm Tour? Champoeg Farm offers tours on select dates.