We have now arrived in Thailand, currently staying in Phuket, which is a small island to the south.
We arrived to the biggest rain storm I have ever seen. Growing up in rainy Oregon did not prepare me for that downpour. Luckily it seemed to only last a day and today we woke up to sunshine and hot weather. Assuming the weather holds out, we will be doing our first open water scuba dive today! Eek. I'm slightly nervous as I get tremendously seasick rather easily and am kind of terrified of open water… Yes, I agree SCUBA is probably not the wisest choice of hobbies with those dislikes but I'm trying it anyway!
Last night we had quite the Thai experience, hitting up Patong Beach. I was a little iffy when we started out having just reread my friend Jane's blog post from last year when she went to Thailand and how Patong was supposed to be seedy. We learned why it has that reputation after strolling along the main drag for about 10 seconds. Advertisements for ping pong shows (if you don't knw what that its, I will have to ask you to look that up on your own instead of telling you!), lots of girls dancing, drinks sold on the street, "lady boys" taking pictures with tourists. It was a madhouse, but also surprisingly fun with all the people watching and craziness to take in.
Unfortunately the food has been really mediocre at best. Hence no photos of that on Instagram since I left Japan. We are venturing into Phuket Town later today which is more of a locals place and less touristy, so I'm hoping we can get flavorful, non-Americanized good Thai food soon.
Now back to Japan stories! For my top 5 meals in Japan:
– Sushi at Nakamaru's in Yamato:
This is my brother and his wife Ashley's favorite sushi place. They have become good friends with the sushi chef who loves practicing his English, talking with customers, teaching them about sushi and having a great time while working. Brice and I both agreed we have never had sushi like that before. Even at some of the top sushi places we have been to in the US. You could immediately tell how fresh and flavorful the fish was.
And the anago, freshwater eel, was out of this world. I have never liked eel before because it was always kind of chewy and a weird texture. This however melted in your mouth, it was incredibly good.
Even small things like the pickled ginger were more delicious than I've had elsewhere. Two big thumbs up for this place.
– This small noodle shop in Nagoya called Yamamotoya. We stopped in the third largest city in Japan for two nights on our roadtrip across Japan. I was told this noodle soup served there was a Nagoya-specialty so I definitely wanted to give it a try. It was a thick miso-based broth with freshly made udon noodles, a poached egg, leeks, cabbage and a Nagoya-flavor marinated chicken. So simple, yet it has so many layers of flavor and texture. That is a soup I can really get behind.
– Cocco's: another one of Marshall and Ashley's favorites.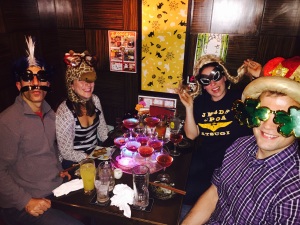 This ia a super fun yakitori place. Basically that just means food on a stick. We got everything from bacon wrapped asparagus, to steak, to butterflied chicken wings. Nearly everything just had salt and pepper yet was so flavorful, it was astounding. I especially loved the chicken meatballs and the various salads they served (sorry, I can't remember what all there were!).
This was another just really fun place. We were served a champagne fountain at one point in the night to celebrate "our first trip to Japan"! And were also given out funny hats and costumes to wear. The place only sat about 12 people, 8 of them at the counter overlooking the grill. The small set up make the meal much more lively. The owner who looks to be in his mid-30s, was previously a businessman in Tokyo, working too many hours like Japanese do. Then he quit to open this bar/restaurant. You can tell he is having a blast now.
– Gogya in Kyoto:
I am pretty much still dreaming about those gyoza potstickers from this place. They were amazing. The dough was so light, the filling was well seasoned and this yuzu-mustard dipping sauce was outstanding. We had to wait about an hour for a table but it was worth it. We also tried some "burnt" ramen where the broth was either soy or miso-based and burnt till it was nearly blackened. It gave it a whole new level of smokey flavor. I'm not sure if I would order it again over non-burnt, but it was really interesting. And the noodles of course were wonderful.
We ended that meal with a great pudding for dessert that was similar to a creme caramel with red bean. If you are ever in Kyoto (or Tokyo since I have just learned they have a location there now too), definitely make sure you check that place out.
– Tempura Kondo:
Brice got us reservations there as a Christmas present from last year when we were in trip planning mode. I have always loved tempura – I mean how can you not? Anything fried is great. So I was super interested in a two Michelin-starred tempura restaurant. How do you make tempura so well that it earns two Michelin stars?! After enjoying a fantastic lunch there, we learned it is because they have the best produce and seafood available, the chef uses extreme precision in  battering and frying everything until perfectly seasoned and lightly fried. My favorites were the shrimp body (we also ate shrimp head!) and some kind of fish that I didn't get the name of ("it has no word in English" we were told).
The atmosphere, even with two stars which might make some places stuffy, was fun and lively. We were surprised to be the only white people in the restaurant, which was more and more obvious when the chef did things like slice our fish for us unlike anyone else in the restaurant! He and the wait staff also walked us through how to properly dip tempura into which sauce – seafood goes with salt and citrus, while only vegetables go in the tempura sauce we all use for everything back at home. It definitely was a new way to enjoy tempura and obvious why it is such an esteemed restaurant.
Unfortunately I forgot to charge my camera before going to that lunch so the pictures weren't great. So you'll just have to use your imagination.
Those are my top five, but I could keep listing delicious, unique foods we ate along the way. Tofu donuts, baby octopus stuffed with egg in the head, waffles filled with sweet red bean paste in the shape of fish, okonomiyaki Japanese egg pancakes. For drinks, sochu like a vodka that was often seved with fruit juice, sake of course (our favorite was Mio, a sweet sparkling), and lots and lots of tea. We certainly enjoyed ourselves!
While the food was all obviously amazing nearly everywhere we went in Japan, I was surprised by how unhealthy it was. Everything seems to be fried or doused in tons of sauce. The main vegetables used in dishes were things like green onions and seaweed, both of which are good but not the biggest variety of nutritional content. I'm sure that it is the case when people travel anywhere and eat out 99% of the time but it seems more striking in Japan to me. While I loved the food, I was also ready for a green smoothie!
Fingers crossed we start finding some good places to eat in Thailand. If anyone has any recommendations, please shoot 'em my way!
xoxo to you all. Don't forget to follow me on Instagram for more photos along the way!