711 NE Dekum St & NE 8th Ave • firehousepdx.com • 503.954.1702
Holy cow, where has this month gone?! Though I'm really excited about it being closer and closer to summer, I am a little sad about it being the end of March because that also means it is the end of Portland Dining Month.
I love idea of PDM and encourage everyone to take advantage of it for the next 5 days! Looking for a place to go? Check out my post from a few weeks past for some recommendations.
Or just head straight to Firehouse Restaurant where I went recently with five of my favorite girlfriends. A big part of the reason we picked that restaurant was that their PDM menu is not restrictive at all. For $29, you get to choose any of their small plates, any salad and any entree. (Or for $25, you can get one of their giant pizzas instead of an entree.)
This was even better because it enabled us to get almost one of everything on the menu since we would all get something different and share. That is yet another reason I love my friends!
Set on a funny corner in the Woodlawn neighborhood of NE Portland, Firehouse is one of the best (and underrated) Italian restaurants in the Rose City in my opinion. Chef Matthew Busetto serves up central and southern Italian comfort food, such as insanely delicious meatballs with tomato and kale, rotisserie chicken, and wood-fired pizzas. The restaurant is set in the historic Dekum Firehouse, like used by an actual fire department. That makes it super fun, and also warm and welcoming. My friend Rachel kept saying that she wanted move into Firehouse she loved the decor so much.
To start off our fabulous dinner, we got a great bottle of red wine. I also got some of their housemade vanilla soda. It was SO good! Similar to a cream soda but much more flavorful and delicious. I had to tell myself not to drink the whole thing all at once.
For the starters, hands down, the best out of the five was the Fried Cauliflower. Flavorful, salty and crispy and served with a side of lemon creme fraiche. We also got bruschetta with fennel and parsley, salt cod fritters, grilled broccolini with anchovy and bread crumbs, and some really delicious arincini.
Next up were the salad courses:
I loved this Farm Greens salad with currants, hazelnuts and shaved goat cheese.
For entrees, we of course got the meatballs with tomato and rosemary braised lacinato kale. They are so fantastic – cheesy, rich and not dry at all. The baguette served with it is perfect to sop up the remaining tomato sauce.
Perfectly cooked wood grilled hanger steak with crispy potatoes and arugula. The potatoes were my favorite part of this dish, partially because I'm not a big steak eater. Lucky for me the next time I go, you can also order just the crispy potatoes with lemon, garlic and grana  as a side dish!
I love their pizza. The crust is thick and has just the right amount of char from the wood-fired oven.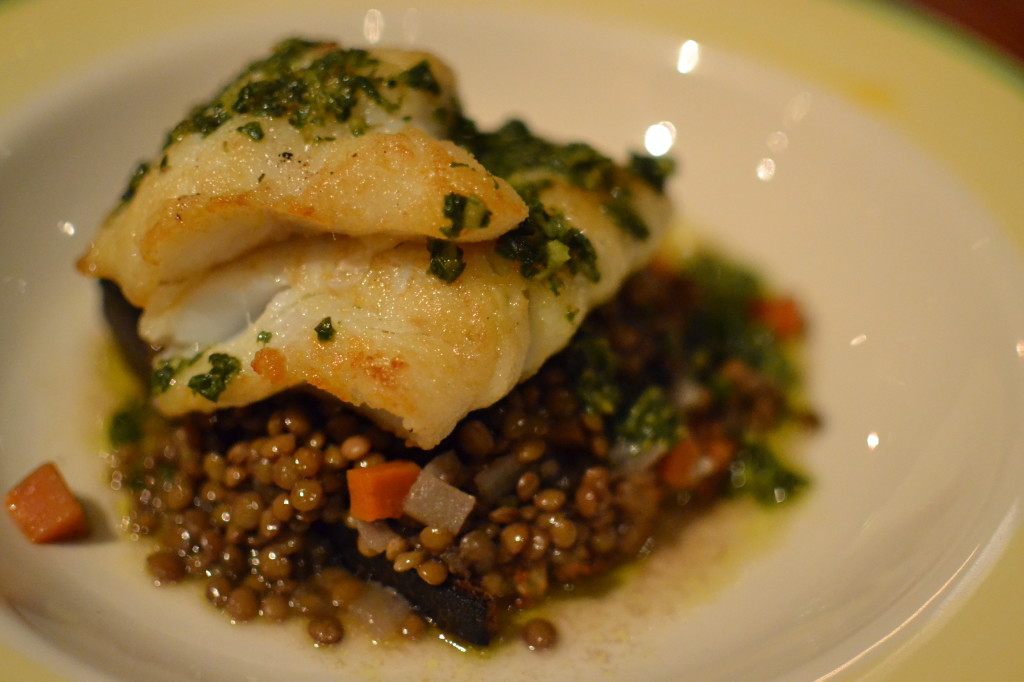 Oven roasted true cod with herbed lentils. That was the one thing all night that I really didn't enjoy. Everyone else liked it, but it seemed like there was possibly some lavender or some other herb that just had a funny taste to me. So instead I stuck with meatballs and pizza.
For dessert, we split the Chocolate Pot de Creme topped with a light whipped cream and salted, candied hazelnuts. I LOVE this. It is super rich and decadent, like a bowl of Nutella pudding. I could eat about 10 of these on my own.
If you are loving the look of this meal but can't make it in the next few days, don't fear! Firehouse is even more awesome in that "every month at Firehouse is Portland Dining Month!" They offer $29 and $25 three-course menus year round!