4082 N Williams Ave & Mason • www.fricepastry.com • Instagram: @FricePastry
Hours: Daily 7am-7pm
There once upon a time was this magical little place in SE Portland called St Jack Patisserie. It was the bakery of the acclaimed restaurant when it existed off Clinton Street. I loved all of it. The freshly baked baguettes, the made-to-order madeleines, the crisp caneles, the feeling that you had just stumbled into a French countryside cafe. Then sadly, St Jack closed its doors and moved to the other side of the river, which was great but they didn't bring the patisserie with them. I was crushed.
Where would I get Pastry Chef Alissa Frice's amazing creations?! She was named a 2013 Eater Young Gun and makes incredible things like this cake for a Feast after party. Seriously this is all cake, how impressive is this?
Obviously she had lots of big things still ahead!
Then like a dream come true, in March last year, it was announced that Alissa and French baker Philippe Garcia were combining forces to create one amazing bakery location. Frice Pastry and Philippe's Bread opened up on North Williams, with exquisite desserts and breads made for the masses as well as for the sandwiches made by Lardo North next door.
While not as large of a space as the St Jack Patisserie, as it only has bar stool seating at the window, it is bright, airy and welcoming.
The pastry case is filled with beautiful croissants, brioche, macarons, scones and other daily offerings.  Alissa's skills are shown off in her elevated desserts, which are as delicious as they are exquisite looking. Plus items like the Nectarine Creme Fraiche Panna Cotta topped with blueberries is served in adorable glass jars that you can take home. What's not to love about that?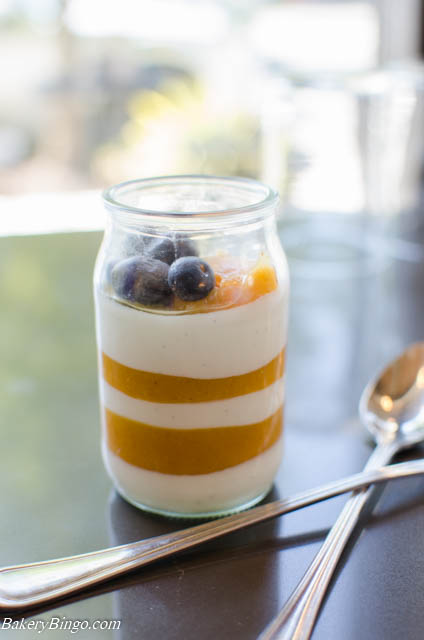 And the baguettes? Philippe definitely does wonders with bread. There is something so special about a fluffy baguette sliced and served with rich butter, Jacobsen salt and a side of house made marionberry jam. It made my day complete.