Somehow, I'm not really sure how, but it has been three years since I started this little blog of mine. THREE YEARS! Holy cow. Seriously, a lot of really wonderful, big things have happened since then: I've changed jobs, Brice and I bought a condo, I traveled to Europe, Australia and Ecuador.
My blog has changed a lot too: I've received a really warm welcome into the Portland blogger community where I've learned a ton and made great friends like Rachel and Jane; I've been invited to super fun events like my first blogger happy hour with Little Green Pickle at the Bent Brick where I met Michelle and Marisa for the first time or that amazing LGP Blogger Karaoke Food Crawl.
Not to mention that my photos and writing have improved a TON. It is sometimes scary and embarrassing to look back at my early posts. But it is also kind of fun to see the transformation, especially as someone who started this blog with no photography, web design or writing experience. And I hope that it just keeps better and better for you!
Bakery Bingo was born during a trip to NYC in May of 2011 when I was on a mission to find the best cookie. So it seemed like fate that I got to celebrate my 3-year blogiversary back in NYC to be at the wedding of one of my best friends.
I went with my other childhood friend Laura who now lives in Atlanta, which made for an even more fun girls weekend in the City.
We stayed in Jersey City, right on the other side of the river from Manhattan since that was where the wedding was located. But it turned out to be great, we got a gorgeous view of the NYC skyline from our room, it was cheaper, much quieter and still incredibly easy to get into the City.
Based off plenty of recommendations from friends who frequent New York, we started our vacation at Eataly. I was pretty much in heaven. The 9 different restaurants were interspersed with aisles upon aisles of gourmet Italian food, rows of cookbooks and tons of people mingling and enjoying glasses of wine. It was a fantastic meal and great way to get the weekend party started.
The weather not just cooperated but was 70 and sunny, perfect for enjoying the city. On Friday, we had a really nice stroll through Central Park before finding a cute French patisserie for lunch, Petrossian.
To work off all that food, we decided to check out SoulCycle. Being a total dork, I was really excited that Olivia who won the Biggest Loser Season 11 was our instructor! She taught a really great class and it was fun having a little encounter with a celebrity. I was even more jazzed when she responded to my Instagram. Ha! (For those of you in Portland, it is SO much like BurnCycle, which I totally love, so you can go check out that spin studio in the Pearl for a taste of SoulCycle.)
That night we got tickets to Matilda on Broadway, which was based on the book by Roald Dahl. The girl who played Matilda was phenomenal, especially since she was only 10-years-old and performing in a Tony-award winning musical. It had great music and was a lot of fun.
Since Laura is a vegetarian, I wanted to find somewhere really fun for dinner that we could both enjoy. After reading a lot on Eater NYC about the best vegetarian-friendly restaurants, I found Dirt Candy, a tiny space in the East Village. This completely meat-free restaurant was not a hippy-fest. In fact, it was quite the opposite, with clever, modern dishes and gorgeous presentations, all featuring vegetables (yes, even the desserts). I loved the Corn! dish with stone ground grits, corn cream and a tempura-poached egg. The Popcorn Pudding with salted caramel corn was a fantastic way to end the meal.
The wedding was gorgeous. It was so wonderful being there and seeing one of my favorite people get married. Even with the rain, the reception location was outstanding, music was great for dancing and there were lots of drinks, so that always makes for a good time too!
My last day I decided to explore Soho. I fully admit that I was initially wanting to be a total tourist and try a Cronut from Dominique Ansel Bakery. The line however was outrageous! Someone just going inside said they had been waiting for over 2 hours for the croissant-donut combo! That is insane. Even if he just won a James Beard award, I still don't know if that is worth it.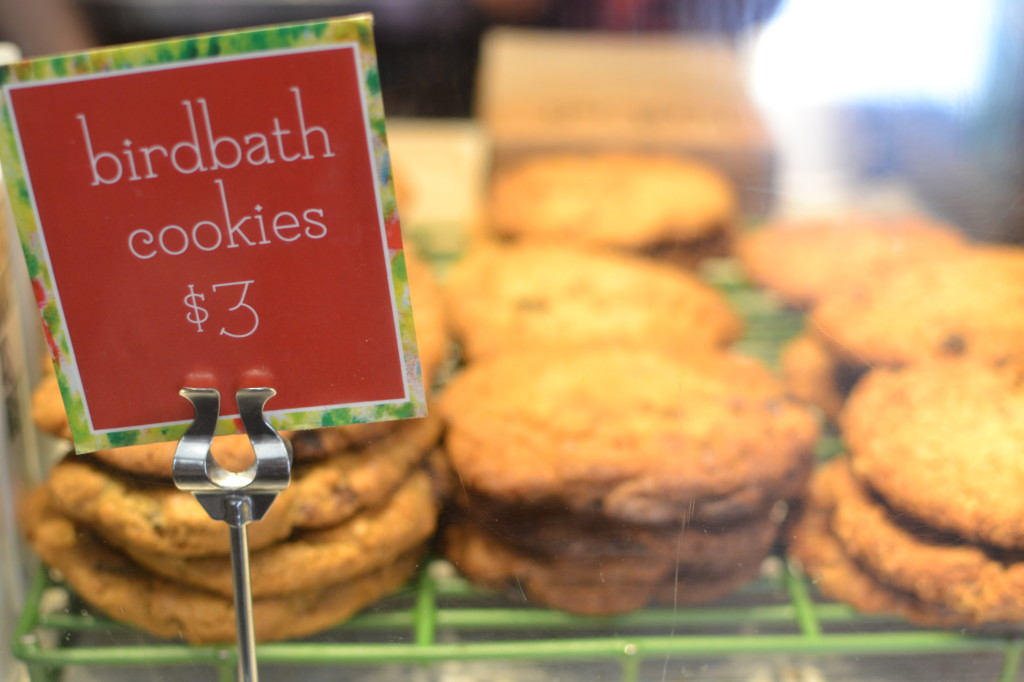 So instead I wandered around until I found another bakery. It didn't take me long before I stumbled into Birdbath Bakery, which turns out is owned by City Bakery, a place I visited during my last trip to NYC. I think this was a sign of the gods giving me a Bakery Bingo anniversary present. The giant chocolate chip cookie I got there was definitely one of the best I've ever had. Buttery, crispy exterior and tons of gooey chocolate in the center.
It was the perfect culmination of a really fun weekend filled with good weather, good food and good friends.