As a kid, I was very into dreaming big about my future career possibilities. From professional skier to dancer to astronaut, I'm pretty sure every job crossed my mind as a great idea.
When I was about six, I was assured that I would make it as a big-time singer. I would make up songs while in the car or in the shower. I can't recall any of the words anymore but I'm sure they were real awful amazing.
As it pretty evident now, I never made it big. Sad times… II probably thought I was as good as this girl, who I'm now obsessed with. I definitely am not.) But don't you worry, despite my lack of talent, I still love to rock out in my car or while doing karaoke, when being tone deaf is a-ok. What's not to love about belting out some old school tunes like Spice Girls or Backstreet Boys (my personal favorites)?
That's a big reason I was so excited when I got an invite from Little Green Pickle, the amazing PR firm in Portland, for a karaoke bus food crawl. I mean really, a food crawl AND karaoke. Count me in for sure. (Case in point: I emailed back about 10 seconds after getting the invite confirming I would go before even checking my calendar, I was just too determined to go.)
So what is this food crawl I'm speaking of? Just the most fantastic idea ever.
Eight bloggers, three lovely ladies from LGP, four mystery stops to top-notch local restaurants complete with food and drink, and an old school bus with karaoke on board driving us around.
Our LGP hostesses were: Chloe (@chloe_pdx), Brooke (@brookeadamspdx), Frances (@frances_pdx)
And our awesome blogger crew consisted of:
Rachel of love, Rachel
Jane of In the Pink and Green
Michelle of Hummingbird High
Pechluck of Pechluck's Food Adventures
Rebekah of PDX Food Love
Renee of What's 4 Dinner Mama
Tiffany and Andrew of Thyme of Taste
I especially love these events because the company is seriously so wonderful. Everyone at LGP is fantastic and so much fun, and it is always a blast getting to know other bloggers. It's also fun meeting folks who I connect with via Twitter or Instagram in real life, like Rebekah who's I've been following in the cyber-world for a while.
And of course, I love these events because the food and drink is always spectacular. This evening was no different.
We started the night off at Oso Market + Bar. I have been dying to check this place out, so I was pretty jazzed that this was on the list. They opened about six months ago, just a block off the Morrison Bridge in SE Portland (it is right next to Dig-a-Pony if you're hip enough to know where that is – trust me, I am too old nowadays to go there, but figure I'd throw out that landmark). It is a beautiful space that combines a bar, restaurant and culinary specialty market, selling wine, cheese, salami and other goodies.
They served us an incredible set of appetizers, along with a fabulous glass of bubbles:
Baked Mortadella Montadito with tarragon mustard, peperoncini, and micro greens served on Little T focaccia: Think a cute mini open-faced sandwich topped with a thinly sliced Italian sausage.
Cremeux Montadito with fig, honey, arugula and balsamic reduction served on Little T focaccia: I loved this one. Definitely would be on my list of appetizers to order again whenever I return.

Bresaola Montadito with tomato-mint jam, Parmesan and basil served on Little T focaccia
Tails & Trotters Chorizo-Stuffed Dates wrapped in bacon with cumin honey and sage oil: These were insanely good. I ate A LOT. I kept telling myself that I need to pace myself and stop eating so many of these, but I just couldn't help it. They were too good.
Ratatouille atop crispy polenta and arugula
I cannot wait to return for a full meal. I'm particularly excited about their Portland Dining Month menu, so maybe I'll squeeze in a trip before the end of March!
We then hopped onto the amazing Old School PDX bus. We were poured a glass of Hawks View Cellars wine and started our adventure. Our trek to stop #2 was pretty quick so we didn't do any karaoke during that ride, but don't worry, we did plan out our songs for the future singing extravaganza.
For our second stop, we ended up at Levant, the gorgeous French-Arabesque restaurant on East Burnside. I have been to Levant once before and really enjoyed it, so I was excited to return. Our group got to enjoy their private back room, which is a really beautiful space surrounded by their wine cellar – if you need a location for a nice business dinner, this is the place!
Our meal at Levant consisted of:
Fava Bean Falafel with zhoug and tahini
Feta and Armenian Cheese 'Cigars' with dried mint, garlic, lemon zest and Aleppo chili

Fried Halloumi with honey and walnuts: These were great. Think a gourmet cheese stick made with a semi-hard goat cheese, lightly fried and then sweetened with a touch of honey.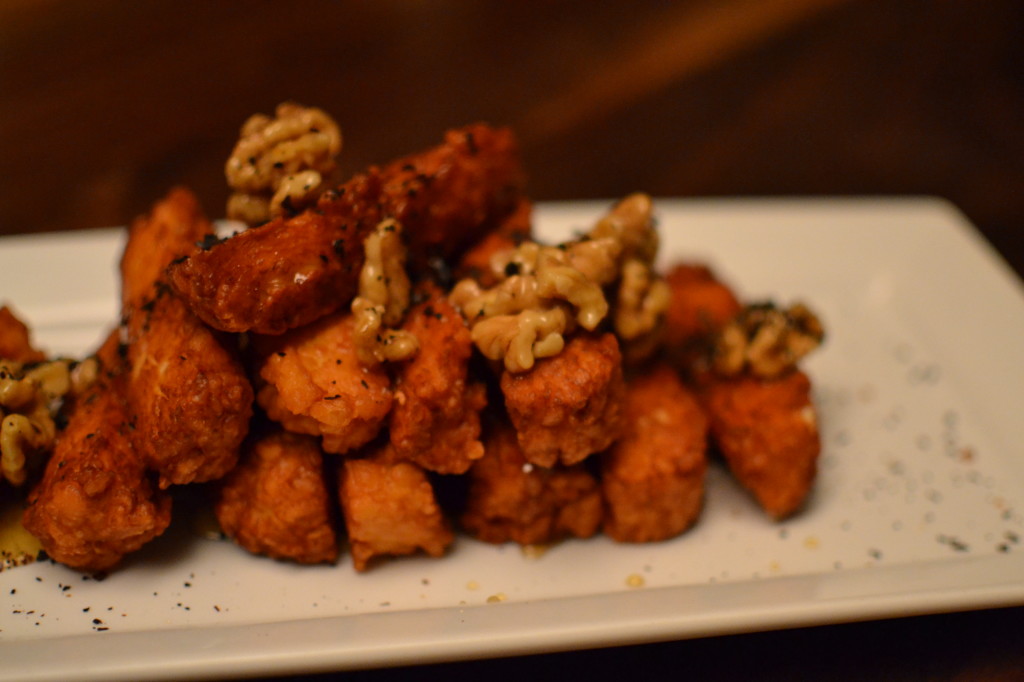 Grilled Beef Kofta with barberries, pine nuts, herb relish and Sumac yogurt
We were also treated to some of their unique house cocktails. I tried The Only Way Up, made with Tarragon Vodka, Pamplemousse Rose, Creme de Peche, Lemon and Seltzer. I am not a huge hard alcohol drinker, but I did really like this – smooth, flavorful and lightly sweet from the peach and grapefruit liqueurs.
Stop #3 was The Bent Brick, a fun spot in NW. Owned by celebrated chef Scott Dolich, this restaurant serves German-style tavern favorites presented American style.
They shared with us:
Meat Board featuring house made country pate, house made coppa rillette, wigwam and Finchville country ham with pickled vegetables
Deep Fried Beef Cheek with fried egg aioli: Ok I admit it, I was a little nervous about this one at first, but man was it good. If you are weirded out by the "cheek" part also, just think of it as a fried short rib. It was crispy on the outside filled with tender meat, then really highlighted by the aioli. Clearly a lot of fried, just ignore any health consequences while you're eating it.
Rye Sourdough Spaetzle pan fried with mushrooms and caramelized onion, topped with Tabasco pickled shallots.

For drinks, I got the Bucket List, vodka, cranberry-thyme shrub, and soda, which was delicious and also really pretty with its giant ice cube with herbs frozen into it.
Lastly, we showed up to Urban Farmer, the steakhouse inside the glitzy downtown hotel, The Nines. As I'm not that big of a meat eater, I haven't been to Urban Farmer very much but after this night, it is going to make it on my regular rotation for dessert. Hands down, this was some of the best dessert I've had in a while.
It didn't hurt that Pastry Chef Carrie Merrill treated us incredibly well and served us about a million desserts (ok, turns out there were only five, but it seemed like a ton more after all we had already consumed that night).
Butterscotch Sundae with warm brown butter blondie, cherries, praline and toffee chip ice cream: A+ without a doubt. They take a chewy blondie brownie, then top it with housemade ice cream, a thick butterscotch sauce and light whipped cream. That one was hands-down everyone's favorite.
Honeycrisp Apple Doughnuts with apple butter and rosemary ice cream: Served warm, these were soft and full of apple flavor.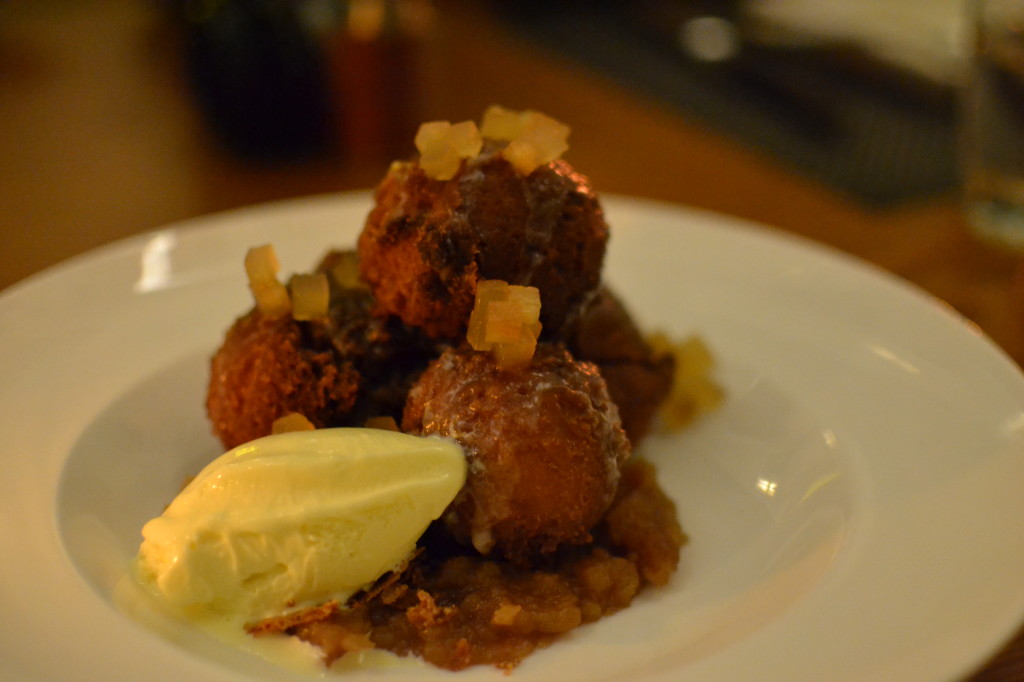 Woodblock Chocolate Pate with dried fruit compote and olive oil ice cream: Similar to a chocolate mousse, this dark chocolate dish was light and fluffy in texture, but it was also incredibly rich, so about 1-2 bites was plenty.
Seville Orange Souffle for Two with creme fraîche chocolate sauce: This souffle was perfectly light and airy with a tangy orange kick offset by a decadent chocolate sauce.
Carmella Affogato with cremeux and Hairbender Stumptown espresso: I was surprised how much I liked this as I do not like coffee at all but something about the mixture of creamy gelato and rich caramel sauce made this one real tasty.

The last dessert I didn't get the name of but it was a creamy creme caramel served with candied candy cap mushrooms. This one I was really skeptical of because who would ever think to put mushrooms in a dessert, but wow, this was crazy good. These mushrooms have a slightly sweet flavor that tastes incredibly close to maple syrup, it even smelled like maple syrup. Once candied, they provided a nice crunch to compliment the creaminess of the custard.
I loved all of these desserts so much and would be more than delighted to return to Urban Farmer for a late night sweet treat in the future.
Once we were sufficiently stuffed, we headed back to the bus for our final ride back to Oso Market. As those were our last few minutes on the party bus, you better believe we rocked it out. Between some I Want It That Way, Adele's Rolling In The Deep, Garth Brooks' Friends in Low Places, and Britney's Toxic, we certainly did our share of karaoking. It was ridiculous and so much fun.
A few BIG thank yous to part with:
Oso Market, Levant, The Bent Brick, Urban Farmer: thank you
My fellow bloggers: thank you for such a fun evening. It was a blast as always to get to know everyone, learn more about your blogs, chat about our lives outside of blogging, and of course sing a ton of songs.
Little Green Pickle: THANK YOU for organizing such a fun event. It was so well organized, such a creative idea, and I feel so grateful to have been included.