Well this week has gotten interesting, hasn't it? As you may know, my full time gig is working at Intel out in Hillsboro. So needless to say, Wednesday got a bit funky for me. After spending a few hours at the gym and grabbing dinner in an attempt to wait out the traffic, it appeared that was a lost cause. Google Maps still showed dark red everywhere with an expectation of 2+ hours home! My friend Rachel and her husband Alex were superstars and generously let us be unexpected house guests super late at night. So at least we didn't need to sleep in our car!
How did you handle the most recent (and hopefully last??) snowpocolypse of 2016? If nothing else, it makes the "winter wonderland" more appropriate of a term, right?
And with this cold blustery weather, I love the idea of holiday tea. As noted here plenty of times before, I've got quite the afternoon tea obsession. One of my favorite traditions is attending holiday tea with my girlfriends. You really can't go wrong with dressing up and gossiping while stuffing your face with cake and mini sandwiches and sipping tea, I say!
While there isn't a ton of time remaining before the end of the year to partake, I've incorporated my top choices for tea below. Hopefully you've got some time available in your calendar to set up a time of your own before the year is up.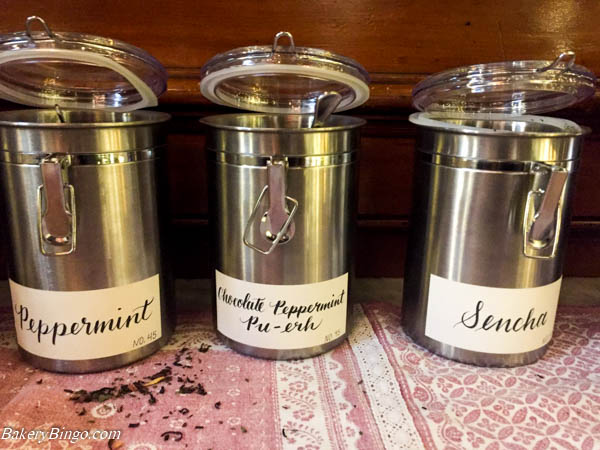 As I can attest, all of these places are also vegetarian-friendly if you let them know in advance! And a friendly reminder from an avid tea goer, don't eat beforehand and don't blame a big meal after. The food served at tea is deceiving – it doesn't look like much but boy will it fill you up!!
Happy holidays, friends!
Headwaters at the Heathman Hotel – Downtown
This is the new tea game in town and it's a Russian tea. So get ready for something totally different. Vitaly Paley, the supremely talented owner of the new Headwaters restaurant, was born near Kiev and is providing Portland with a whole new "Russian Tea Experience." With teas sweetened with blackberry jam rather than sugar and a whole different take on the menu, this is a really fun event. The food was exquisite and unique, with savory items like mushroom stuffed pierogi, blinis (Russian pancakes) with caviar, and an outstanding thick cheese open-faced rye sandwich. The desserts were insanely good, with too many to pick a favorite, but some standouts being a chocolate halva (a tahini-based fudge if you will), a peanut butter layered cake and a steopka cake made with sugar, cocoa and walnut-loaded sour cream, a recipe from Vitaly's grandmother. I would eat that everyday if my waist-line approved.
Now through Jan 1. Daily at 11am, 1pm and 3pm. Call for reservations.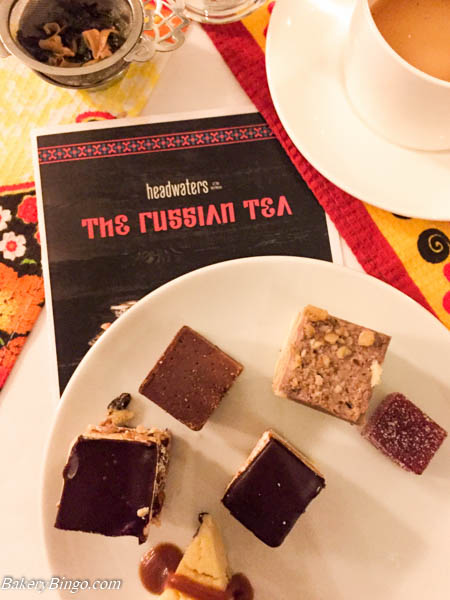 Pix Patisserie – East Burnside
Pix is by far one of my favorite dessert shops in town, with some extremely skilled pastry chefs who make their dishes look like art masterpieces. So it's no real surprise that their tea is a star with items like French macarons (some of the best in the city!), mini eclairs, and thick, creamy chocolat chaud. Of course there are some savory dishes as well, such as quail eggs in prosciutto and salmon tea sandwiches. Teas are from the local Townshend's Tea House.
Now through Jan 1. Daily at 2pm and 3:30pm. Call for reservations. $34 per person.
Gracie's at Hotel deLuxe – SW Portland
For a very traditional tea experience, this is the place to go. With delicious housemade scones and clotted cream, finger sandwiches and tons of desserts, they've got you covered. My favorites were the "Tomato Twiddle" sandwich on white bread and the sticky toffee pudding cake for sweets. They've collaborated with Smith Teamaker on some special teams like the Provenance Black which blends a black breakfast tea with jasmine and black currants. If you're looking for more than tea, they've got of course bubbly and even some tableside cocktails. Plus it is beautifully decorated in holiday cheer, perfect for those photos.
Now through Jan 1. Daily at 3pm, 3:15pm and 3:30pm. $39 for adults, $18 for children 12 and under.
Medley Tea Cafe – Multnomah Village
While I haven't been to this cute little joint for holiday tea, I did get to enjoy an afternoon tea for Rachel's (that same friend mentioned above!) bridal shower this past summer. In addition to picking out your tea flavor of course, guests also get to pick out their own teapots and cups from a gorgeous selection from the large bookcases. The food was wonderful with a variety of finger sandwiches, housemade "tea bread" like a lemon poppyseed or blueberry, berry crepes and brownies. Their scones were the highlight though. Made in house, they are either traditional cream scones or loaded up with fruit and seasonings, then served warm with a side of jam and clotted cream. The English knew what they were doing when they came up with scones, cream and tea.
All year round tea! Daily 2-5pm. Gluten free, vegan and dairy free options available.