I know I say this all the time, but one of the best things about this blog (other than you readers of course!) are the friends I have made because of it. I have no doubt people are sick of me talking about my "blogger friends" because a) they are real friends so why preface it? and b) I talk about them all the time. But really, they are such amazing, fun, wonderful ladies who also love food and great conversation.
I met quite a few of these girls through events hosted by PR firms, but then we just enjoyed each other's company so much we decided to be "real life friends" and host our own events to hang out.
Meredith of Martha Chartreuse and Jane of In The Pink And Green recently decided to host an amazing ice cream social, nicknamed "Sundae Funday" (or as I liked to call it "Sundae Sunday"). It was so much fun – great friends, fun conversations, beautiful weather, and of course delicious ice cream sundaes.
Our fabulous hostesses both made two homemade flavors: Meredith made a Cookies n Cream that would make any Oreo lover swoon, and a delightful summery Peach Ice Cream. Jane made a Cake Batter that had real yellow cake batter mixed in, and an insane Cinnamon Ice Cream with Homemade Candied Bacon.
Read more about our fantastic evening at Meredith's blog.
The toppings are of course a key component to any good sundae. For this party, we spared no expense: fresh Oregon berries, whipped cream, gummi worms, candy bars, sprinkles, you name it, we probably had it.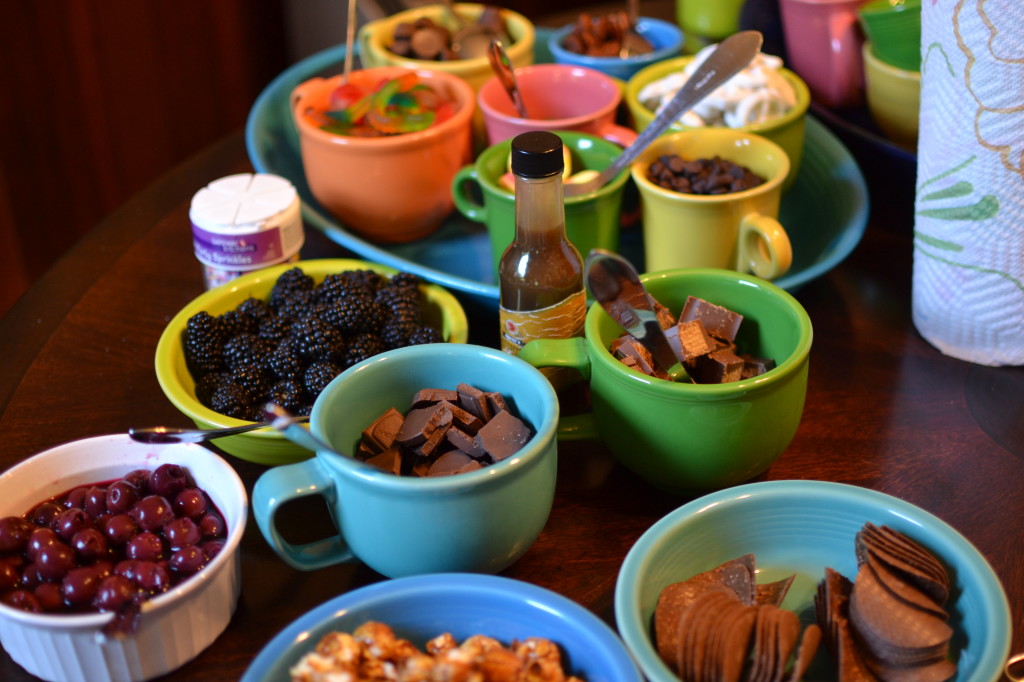 I really wanted to make something new and fun for the event. I was scouring through my cookbooks trying to come up with something when I came across a recipe for homemade marshmallows. It reminded me of these crazy shakes my friends and I used to create at University of Oregon's Hammy's dorm ice cream parlor. We would throw in chocolate ice cream, peanut butter and marshmallow fluff. It was absurd but so so delicious.
As soon as I had that memory, I knew I should make marshmallow fluff for Sundae Funday.
This stuff is not only great on ice cream sundaes, but also on top of a slice of toast with peanut butter (aka the Fluffernutter) or even just as an accompaniment to a few fresh berries. I had to take one for the team and sample all three for you before posting this entry. It is a rough life, someone has to do it.
Marshmallow Fluff
Recipe adapted from Bon Appetit
Ingredients:
1C sugar, divided into 3/4C and 1/4C
4 egg whites
Pinch of kosher salt
1 teaspoon vanilla extract
Instructions:
Combine 3/4C sugar and 1/4C water in a small saucepan over medium-high heat. Attach a candy thermometer to the side of the pan. Simmer until temperature reaches 240 degrees, occasionally swirling the pan and brushing down the sides with a wet pastry brush, but not stirring.
Mix egg whites, salt and vanilla in a stand mixer with a whip attachment. Whip on high until frothy. Slowly add 1/4C sugar. Whip until medium peaks form. Reduce speed to medium, while covering the sides of the mixing bowl with a towel, slowly add the hot sugar syrup from Step #1 into the meringue in a slow, steady stream. Once fully added, increase speed to high and whip until stiff peaks form.
* Use your own judgment! Want it a little more sugary? Add a bit more! Want a stronger vanilla flavor? Go for 1.5-2 teaspoons! Vary the amount of time the mixer is going to change the consistency of the fluff. If you like a more liquidy version, only whip it for 3-4 minutes. If you want a thicker version, keep it going for 5-6 minutes.