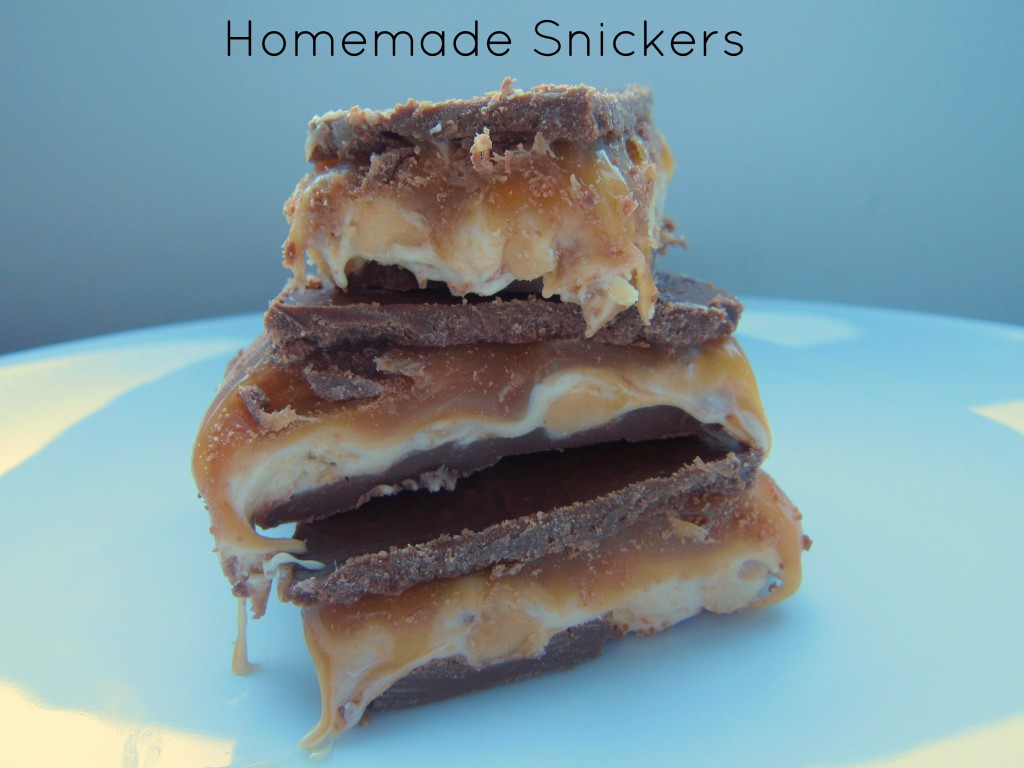 Chocolately, peanut butter-y, nougat-y amazingness is what this is.
There really isn't a better way to put it. It's homemade Snickers.
They are melt in your mouth delicious. Ok, truth be told, they melt rather quickly, so they will melt on the plate too. But nonetheless, they are fantastic.
And super easy to make! Don't be intimidated by the seemingly long recipe – it is relatively quick and pretty much requires only melting ingredients and spreading them in a pan.
But people will love them and think you're super clever for making homemade candy bars! 🙂
Homemade Snickers Bar
(I lightly adapted my recipe from How Sweet Eats, who got the recipe from Nikki, who lightly adapted it from an old Taste of Home recipe)
The recipe primarily requires use of a double boiler to keep the ingredients from burning while melting on the stove. In the spirit of making homemade items, no need to buy a double boiler, all you need are 3 metal or glass bowls (like Pyrex) and one small saucepan that will fit snuggly under the ingredient bowl. Fill the saucepan with about 1-2 cups of water then place the bowl on top (the water shouldn't touch the bowl). Turn stove on to medium heat until the water is simmering. The steam from the water will melt the chocolate without burning.
Yield: About 12-15 depending on how small you want them (they are pretty rich)
Hands-on Time: 45 minutes; Total Time: 1 hour, 15 minutes
1. Spray 9×13″ pan with cooking spray. Line the pan with parchment paper and spray the paper with cooking spray.
2. Prepare the bottom chocolate layer:
1 1/4 C milk chocolate chips
1/4 C creamy peanut butter (I used no sugar added)
Melt ingredients together in a double boiler, then pour into the baking dish and spread until even. Let cool and harden completely. (I placed the dish in the freezer for about 10 minutes while working on the next layer.)
3. Prepare the nougat layer:
1/4 C unsalted butter
2/3 C granulated sugar (reduce to 1/2 C if using regular peanut butter with sugar)
1/4 C evaporated milk
1 1/2 C marshmallow fluff
1/4 C creamy peanut butter (I used no sugar added)
1 1/2 C salted peanuts, chopped
1 tsp vanilla
Melt butter in a double boiler. Add in sugar and milk, stirring occassionally until dissolved, about 5 minutes. Add fluff, peanut butter and vanilla, stirring until smooth. Turn off heat and fold in peanuts. Pour over bottom chocolate layer and let cool completely.
4. Prepare the caramel layer:
14 oz soft caramels
1/4 C whipping cream
Melt caramels and whipping cream in a double boiler until smooth, stirring occasionally,  about 10 minutes. Pour over nougat layer and let cool completely.
5. Prepare the top chocolate layer:
1 1/4 C milk chocolate chips
1/4 C creamy peanut butter
Melt ingredients in a double boiler, then pour over caramel and spread until even. Place in freezer for 30 minutes to harden before cutting.
Keep refridgerated until serving to prevent melting and extra gooey-ness that ensues.