So yes, about 95% of my life is based around food. Either eating or drinking at that moment, watching cooking shows, reading about chefs and cuisine, or just generally daydreaming about my next meal. But there is that 5% where I promise I am doing something that doesn't involve food. (Full disclosure: I might be an accountant which makes people think I'm good at math, but those numbers are just a rough estimate 🙂 )
One of those times recently was a few weeks ago when I took my dad on a hot air balloon ride!
I was struggling to come up with a Father's Day present as I usually do, since I am really terrible at coming up with gift ideas. I feel like gift certificates aren't very personal and I'm sure if I tried getting my dad something practical, he would either have already purchased it himself or it wouldn't really be a fun present. Somehow the idea of a hot air balloon ride came up while brainstorming.
I had been wanting to do this for a long time and knew my dad would love it. I asked him which weekend days would work for a morning adventure then shared a few weeks later what we would be doing.
Fortunately my dad was really excited, even with the insanely early start (we had to be in Newberg – about 45 minutes from Portland – at 5:30am!).
We met the Vista Balloon Adventures crew and helped get the balloon inflated and ready to go.
Next we climbed into the basket and off we went.
We slowly floated above the trees and fields, getting a gorgeous view of the sunrise over the Willamette Valley wine country. All of us in our balloon were surprised by how incredibly un-scary it was. Despite being almost 2000 feet up, I had no nerves and felt completely safe. Even one of the other passengers who said she was terrified of heights agreed that it was just peaceful up there.
Because there were 5 other balloons, we got a lot of great photos along our journey.
At one point we past over a small river so our pilot let out some of the hot air so we floated close to surface of the water. Then he turned the burner back on to send us back up, perfectly timed so we skimmed over the adjacent treeline.
Near the end of our journey we floated over the small town of St Paul. I was in St Paul just a few weeks prior for their annual rodeo over July 4th weekend, so it was extra fun seeing the arena and the 425-person town from above.
After about an hour in the air, we slowly landed in a giant field and were met by our "chase van" who drove us back to our cars.
But of course, because as I mentioned above 95% of my life is about food, we were also greeted with an incredible homemade breakfast. It was quite the spread, with everything from breakfast egg burritos and potato casserole to cheesecake and raspberry tiramisu, plus champagne and mimosas. It was a wonderful way to end a really nice morning.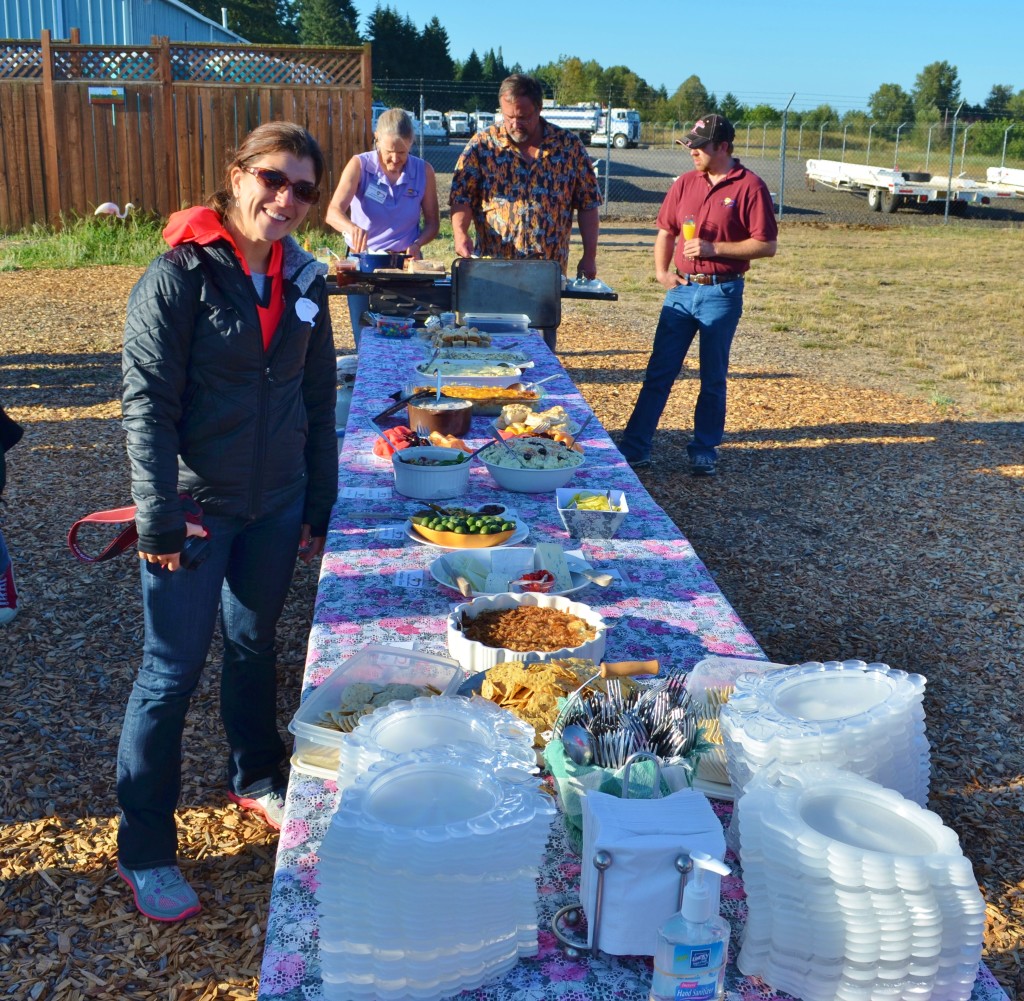 If you're interested in a hot air balloon ride, I completely recommend it, especially the company we used, Vista Balloon Adventures. They operate every morning Friday – Monday from April 1st through October 1st.