2935 NE Glisan St & 29th • kernskitchenpdx.com • 503.477.7779
Hours: Breakfast Mon-Fri 7am-2pm; Sat-Sun 8am-2pm; Dinner Mon-Sat 5-9pm
Whenever I tell people that I do Crossfit, I often get asked if I also follow the Paleo diet. (If you don't know what that is, you're basically supposed to eat like a caveman with only grassfed meats, vegetables and limited fruit. Sounds boring, right?) Usually my response is to laugh, I write a blog about bakeries after all. So no, I definitely do not cut out sweets, chocolates, and certainly not carbs.
If anything, I pretty much eat as many of those things as possible.
Especially the whole carb thing. Breads, crackers, pastas, pizza crust. Bring it on.
When I was a kid, I never really liked pizza but I LOVED the crust. Fortunately for me, my brother was the perfect pizza-eating companion. He'd eat the cheesy, pepperoni-filled section, and then I'd get the whole doughy crust all to myself.
To this day, super fluffy crust is still my favorite part of a pizza. That's why I really loved the pizza at Kern's Kitchen.
The new neighborhood restaurant in NE hosted a free pizza night last week to celebrate its opening, and I took full advantage of it. Sisters Starr Medici and Amy Starr Thomas and their husbands Nick and Rand beautifully renovated the space where Bakery Bar used to be located. With a warm and welcoming interior and giant patio space, Kern's Kitchen is a great space for brunch, grabbing some well-deserved post-work drinks, or for a casual dinner of Southern-inspired entrees and housemade pizzas.
After trying five kinds of pizza (I took one for the team and ate a ton), my favorite by far was the Bacon and Blue, which admittedly I didn't even think I would like. Made with tomato sauce, mozzarella, smoky bacon, caramelized onions, blue cheese and a touch of honey on top, it was rich, flavorful and had a wonderful sweetness at the end from the honey. All that on top of super thick-crust doughy goodness.
If you aren't in the mood for pizza, they have a great menu of salads, appetizers and entrees, including Carlton Farms pork ribs, slow roast brisket dip, and creamy Mac 'N Cheese.
Start with the Fig Farm Toast – grilled artisan bread topped with fig jam, lemon ricotta, sweet and hot peppers, arugula and honey. If you like deviled eggs, give their Smoked Deviled Eggs a try. With a super smokey flavor and kick from the added hot peppers, they are not your average deviled egg.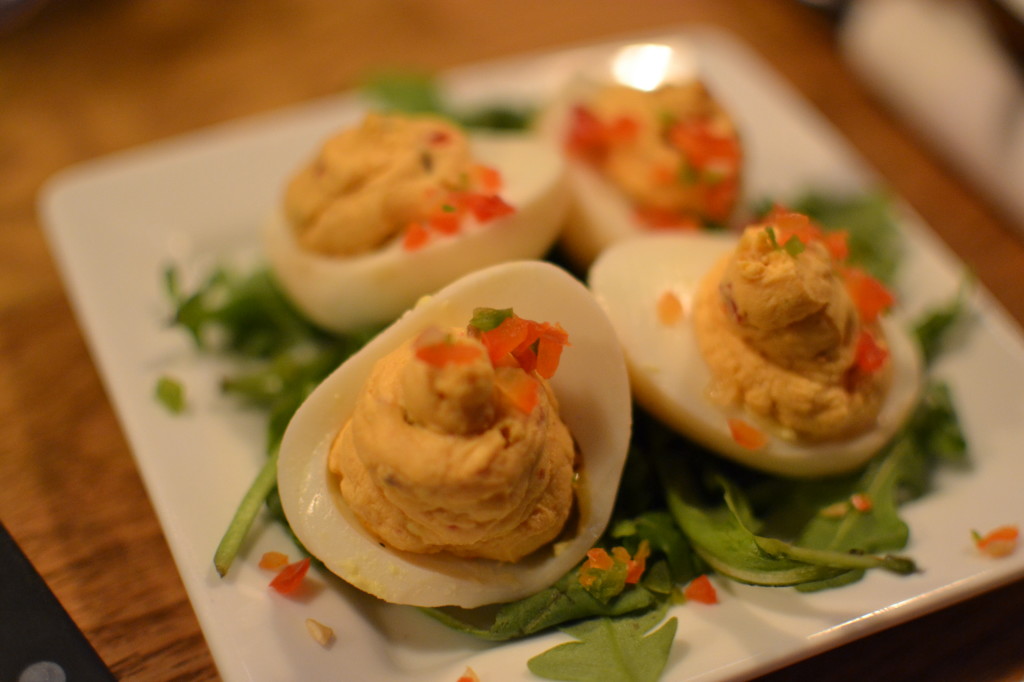 The entire dessert menu is pretty fantastic. A multitude of Ruby Jewel Ice Cream Sandwiches. Decadent, flourless Salted Chocolate Truffle Cake served with whipped cream.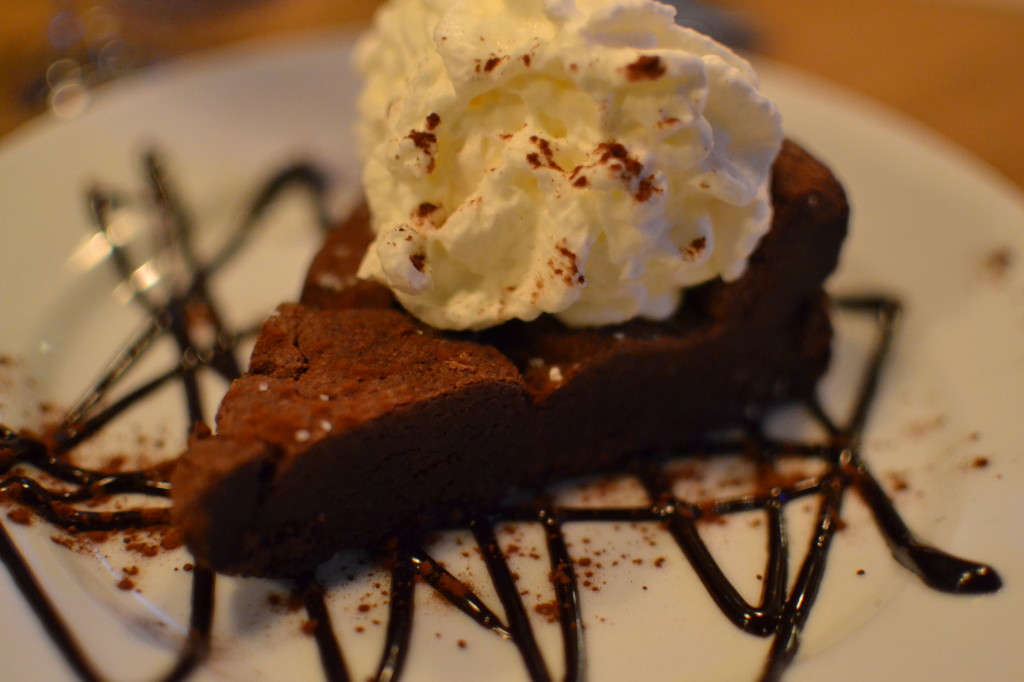 The Apple "Pie" is a lot of fun – pizza crust that is also dessert? It's like a dream come true. This one tastes just like an apple pie, with ricotta, mascarpone, caramelized apples, tart cherries and a bourbon caramel sauce.
But my favorite was the Bourbon Butterscotch Pudding with a large scoop of whipped cream on top. Not that I needed more food after eating about an entire pizza myself, but I could have had another two or three of these puddings…
Now that I've eaten my way through most of their dinner and dessert menu, I need to check out their brunch. With homemade pastries and things like a Bacon Caramelized Onion Scramble with kale, I definitely need to head over soon.