6 SE 28th Ave, Portland • langbaanpdx.com • 971.344.2564
Hours: 5 weekly seatings – Thurs 6pm; Fri & Sat 6pm and 8:30pm
So it is official. We are in Japan and on sabbatical. It is really happening! More to come on our adventures here soon. If you don't already, follow me on Instagram for more real-time photos of our trip! I also have a fun hashtag #MckAsia.
I guess it seems fitting that I writing this post for you on Lang Baan while in Asia (soon to be in Thailand). And also fitting that this is totally a belated post (since I went there in September) as it was a belated birthday party for my friend (her birthday was in July).
Lang Baan is the pop-up supper club of PaaDee, which is my favorite Thai restaurant in Portland. They have gotten a lot of press as of late, including the Oregonian's 2014 Restaurant of the Year and mostly recently Portland Monthly's Best New Restaurant! Not too shabby!
My girl friends and I decided our friend, Rachel's birthday would be a great excuse to go check Lang Baan out. They only do 5 seatings a week, and you have to have reservations, so it definitely requires some planning ahead. Plus with all of these awards and press, I was nervous that we would never be able to get a reservation, especially for a table of 6. But much to my delighted surprise, they had availability on the exact night we were looking to go! Success!
You enter Lang Baan through a fake bookshelf that is actually a door to the secret back room. So fun.
When we got inside, we were greeted by friendly staff who took us to our table. While there are only one to two seatings a night, I was surprised to see that unlike multi-course restaurants like Beast, Lang Baan is set with not communal tables.
Once we were all seated, we were walked through the menu and asked if we wanted the $45 or $65 course menu, as well as the optional wine pairing. For the extra $20, you got an added salmon course and sea scallop added to one of the entrees. As it was required that everyone get one or the other, we chose to all go with the $45 course.
That week's menu was inspired from the Hatyai region of Thailand, which is about 300 miles south of Phuket.
We started our meal with Miang som, which was shrimp topped with orange, shallot, chili, lime, ginger in a roasted coconut sauce. It was a fabulous way to start our meal.
Next up was the hands-down favorite of everyone's – Khao grieb pak mor sai gra cheek (you got that, right?). It was a house made rice noodle stuffed with sweet radish, shrimp, coconut, peanut served with garlic oil and Thai chili. It was like a light dumpling, really flavorful and just a tad spicy.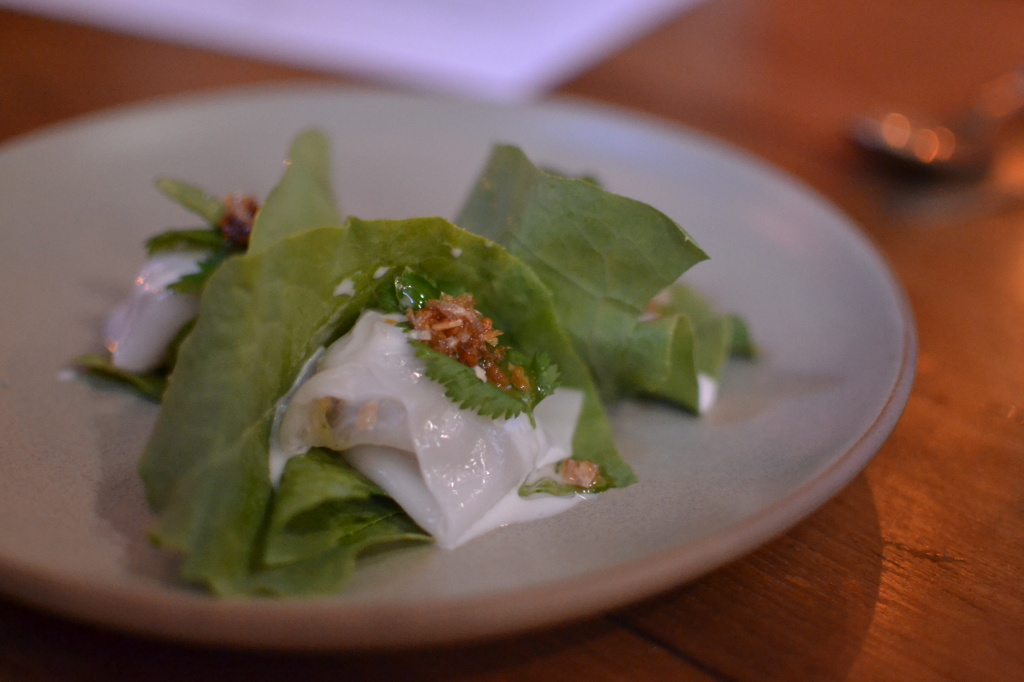 The next few dishes were all served family-style. My favorite of that course was the Hatyai style fried chicken with shallots. What's not to love about fried chicken?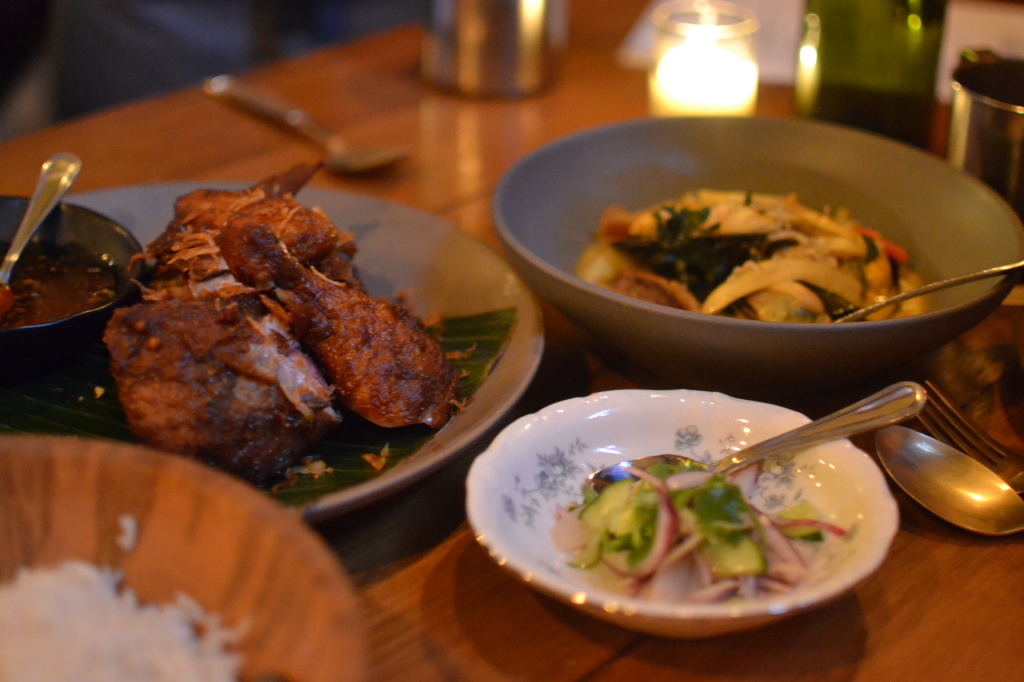 I loved the final dish, Kanom tuay. This little dessert was described as a Thai cupcake of pandanus and coconut cream. I was expecting an American-style cupcake, but it was more like a custard cake that was served in a cup (get it? Cup – cake?).
Overall the food was creative and really delicious. There were a few courses that didn't wow us, like the oxtail and beef cheek soup. But with as many dishes as we were served, I'm not surprised that one or two weren't as outstanding as some of the others.
Lang Baan is a fun experience with unique food that you can't find in most Thai restaurants.
Getting meals like this make me even more excited to visit Thailand and experience the food there. I'll be sure to report back on any similarities!