2150 N Killingsworth St & N Gay Ave • www.milkglassmrkt.com • @milkglassmrkt
Hours: Tues-Sun 9am-4pm
I am on the continual look out for cute coffee shop/sandwich joints. I don't know if it's because working from home has made me more inclined to pop into places like that to work for the day or for an afternoon break. But I am a big fan of anywhere with delicious food and a cozy, casual atmosphere. Enter Milk Glass Mrkt.
Its North Portland size is quaint but charming, from the modern design and big windows overlooking the west-end of Killingsworth to the cute marketplace filled with Woodblock chocolate, housemade granola and other treats.
In the two years it's been open, Milk Glass Mrkt has been a food press darling. From high praise in the Portland Monthly to being named by Bon Appetit as one of the country's Best New Restaurants, they are off to a good start.
Karen Brooks (obviously) knows what she is talking about when she named their flaky cheddar biscuit egg sandwich as one of her Favorite Dishes of 2014. It is what breakfast dreams are made of. A little hard to eat, but well worth it.
With a background baking at the Woodsman Tavern, co-owner Nancye Benson obviously knows a thing or two about pastries. They've got a killer rotation of flourless cookies, like chocolate chip peanut butter or double chocolate chunk. Their freshly baked macaroons are on point. And oh the bread!
My current favorite is the Veggie Sando, with beets, greens, spicy carrots, cashew butter and miticrema all on a thick slice of their crispy yet fluffy focaccia. Just typing this makes me want to go back in immediately.
But don't be fooled into thinking they can only do baked goods. Their salads and soups have also won me over.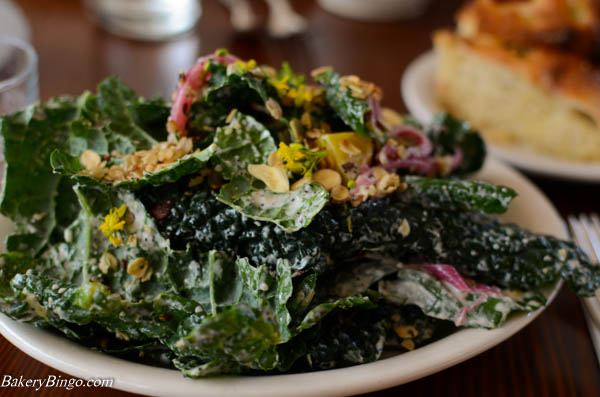 To make this place even more magical, they've got beer, cider and even radler on tap! Grab a glass or even a bottle of wine.
The only downside is there isn't much in the way of seating, so no hanging out here at all hours. But there are a few 4 and 2-tops, making it a perfect spot for a short chat with friends over a great meal.