Even though I'm a born-and-raised Oregonian, I still get a little over the rain around this time of year. And Brice even more so, he really can't handle the grey, gloomy days for that long. So we typically just plan a "get sun" weekend – it doesn't have to be anywhere exotic or super exciting, just somewhere warm and sunny. But this year has actually been a really mild winter so far, right? I mean, sure we had that "snowpocolypse" event for a few days, but that's fun I think. Otherwise we've have a lot of surprisingly nice winter days.
Because of that we decided to cancel postpone our sun-time vacation which was originally scheduled for last weekend. I'm extra glad we did because then I got to do some other fun things in Portland, like a long hike in Forest Park, a great cooking class on whole grains baking on Sunday (which I'll post about soon!), and a really awesome popup dessert event, Flight Dessert Bar.
Obviously when I heard about a multi-course dessert-only meal with drink pairings, I knew I had to attend and fortunately I have amazing friends who like to indulge in sweets with me.
Flight Dessert Bar was created by Chef Nate Hamilton, who recently moved to Oregon from Wisconsin, where he was the head chef at Harvest, a farm-to-table restaurant. He mentioned to us that although he was more on the savory side of the kitchen, he also really enjoyed making desserts. Now, with this popup, he is able to create unique, seasonally-inspired dishes that blur the line between savory and sweet. (Though don't be fooled, there is plenty of sweet!)
Flight Dessert Bar sets up shop at Bluebird Bakers, an adorable cookie bakery in NW, after they close for the day. Plus, with just 24-seats, it has the feel of a fun VIP event.
The night we were there, we showed up a little late and nearly all the tables were already full. Despite my friends and I all bought tickets separately, somehow they knew we were a party of four.
Promptly after we sat down, we were greeted with a champagne cocktail with campari, vermouth, lemon and curcao and our first course.
The title for last week's desserts was "Variations on a Theme: Chocolate" – right up my alley.
Course #1: White chocolate panna cotta, grapefruit, campari, toasted pistachio, brown butter
Course #2: Bittersweet chocolate crostini, hickory smoked bacon, roasted plum, brie, cinnamon
Course #3: Cocoa rubbed short rib ravioli, ancho chile, black pepper, venezuelan chocolate-bbq glaze
It was really great having a savory dish in the middle of all of the sweets. I loved the sauce but wished they would have had more of it on the plate!
Course #4: Chocolate pavlova, scotch, vanilla, honey, foie gras ice cream.
This was our overall winner. Don't let the ice cream freak you out, it was fantastic, rich and creamy.
Course #5: Milk chocolate cremeux, pretzel tuile, buttered popcorn gelato, Rogue Ales chocolate stout jus
This was my second favorite. I loved the different textures and the sweet and salty mix.
Course #6: Dark chocolate "jaffa cakes," blood orange marmalade, earl grey, olive oil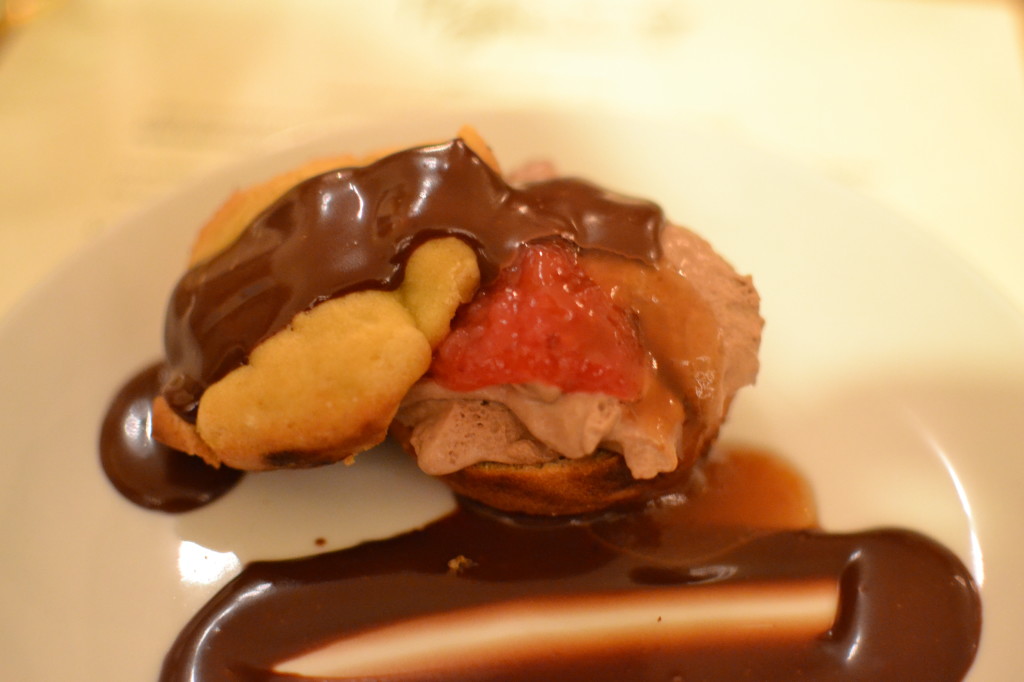 To my surprise, five out of the six pairings were beer, rather than wine or cocktails. I'm not usually a beer drinker but I thought they did a great job with the selections. Drank with the respective dessert course, the beer was really improved. I especially liked the Portland Brewing Rose Hip Gold which was served with the chocolate pavlova course, the bright notes in the beer brought out the sweetness in the honey and vanilla in the dessert… And that's saying a lot from me, who really doesn't like beer!
Though admittedly we overall still did a terrible job finishing all the beer. My friend Lauren was the only real beer drinker at the table and she just didn't have it in her that night to drink for four!
If you go, the biggest suggestion I have to make is don't eat before hand! The courses are pretty large, and they don't mess around with their drink pours, so you'll definitely need an empty stomach to enjoy it all. (Though one of my dining companions was nicely given a to-go box for some of her uneaten portions.)
For more information, menu and tickets, check out their website at www.flightdessertbar.com.
If you go, let me know what you think and what kind of desserts you got to try!