Monika from HipCooks graciously allowed me to post the recipe for the delicious potato salad we made in our cooking class last weekend.
So give it a whirl, it tastes great, is super quick and easy to make but is definitely a crowd pleaser!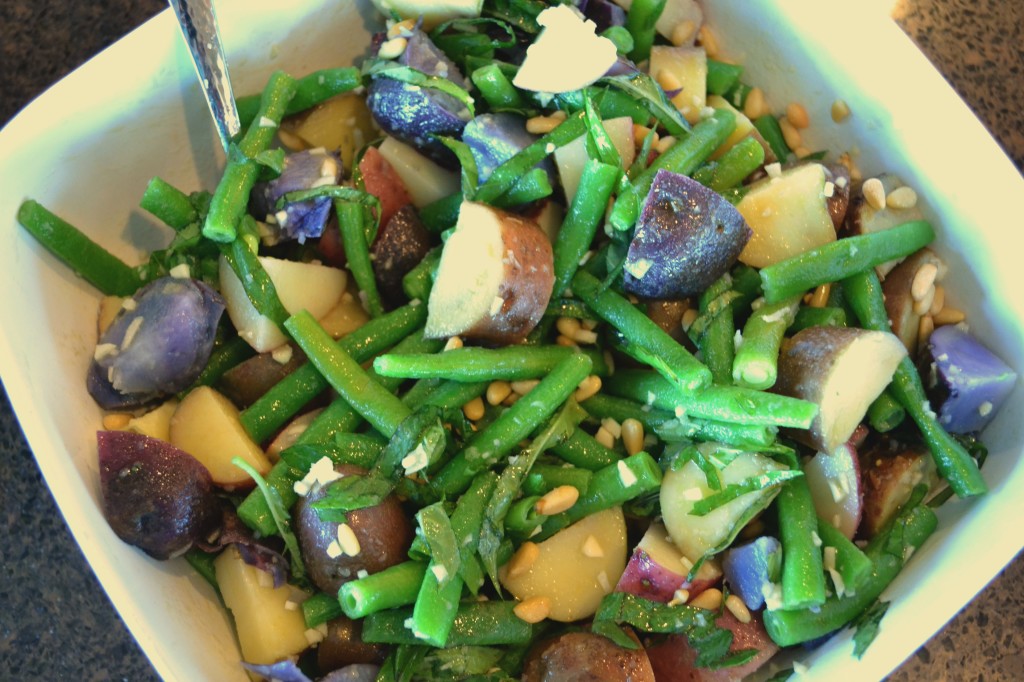 New Potato, Green Bean, Basil and Pine Nut salad
This salad is a perfect for barbecues and potlucks. Plus it is simple and quick to make!
Serves 6
Ingredients:
8 new potatoes, multicolored – use baby red potatoes, Peruvian purple and young yellow potatoes; unpeeled and quartered
1/2 pound green beans, frozen or fresh, cut into 1″ segments
5 cloves garlic, minced
1 bunch basil, chiffonaded
1/4C pine nuts, toasted (about 4-5 minutes in the oven)
Extra-virgin olive oil
Sea salt (I suggest Jacobsen Salt)
Directions:
Cook the potatoes in a pot of boiling water for about 4 minutes. Monitor carefully, since potatoes go fast. When they are almost done (when you can just barely stick a fork fully into the potatoes), add the beans for 2 minutes until bright green and still crunchy. (Skip this step if you are using previously frozen). Carefully pour into a colander and then immediately shock in cold water to halt the cooking process and prevent mushing. Drain, and put into a salad bowl.
Prepare the salad by adding the garlic, basil and pine nuts to the potatoes and beans. Sprinkle sea salt along with a few turns around the bowl with extra virgin olive oil and mix until well combined.
Don't forget the all important step of tasting. Need anything else? More of something? This is where you get to make your own spin on the salad – taste the salad until you are happy with the flavors.
Serve on its own or over a mixed greens salad, lightly dressed with lemon and olive oil.