My friend Hannah's mom has pretty much my dream life, entertaining and cooking for everyone she loves. Tina and her husband, Fred have a beautiful vacation home in northern California where they invite friends and family to come stay throughout the summer. Tina cooks incredible meals every day for all of her guests – crepes for breakfast, various snacks and goodies all through the day and course after course for dinner.
Everyone gathers together to have dinner out on this large wood table outside, enjoys the fantastic food and great company. It is definitely the picture perfect scene for the phrase "food brings people together."
For dessert, every time I have visited she makes this rich chocolate cake with chocolate butter cream frosting. I am not really sure where the original recipe is from but it has forever been known in my mind as Tina's Chocolate Cake. It always brings back great memories, and plus it tastes really good. Especially when topped with some fresh strawberries and homemade whipped cream.
I recently convinced Hannah to find me the recipe and made it for my friend Rachel's birthday. It is a really easy cake to make, but is always a crowd pleaser.
So go ahead and make this cake and remember that food is so much better with good friends and family to share it with.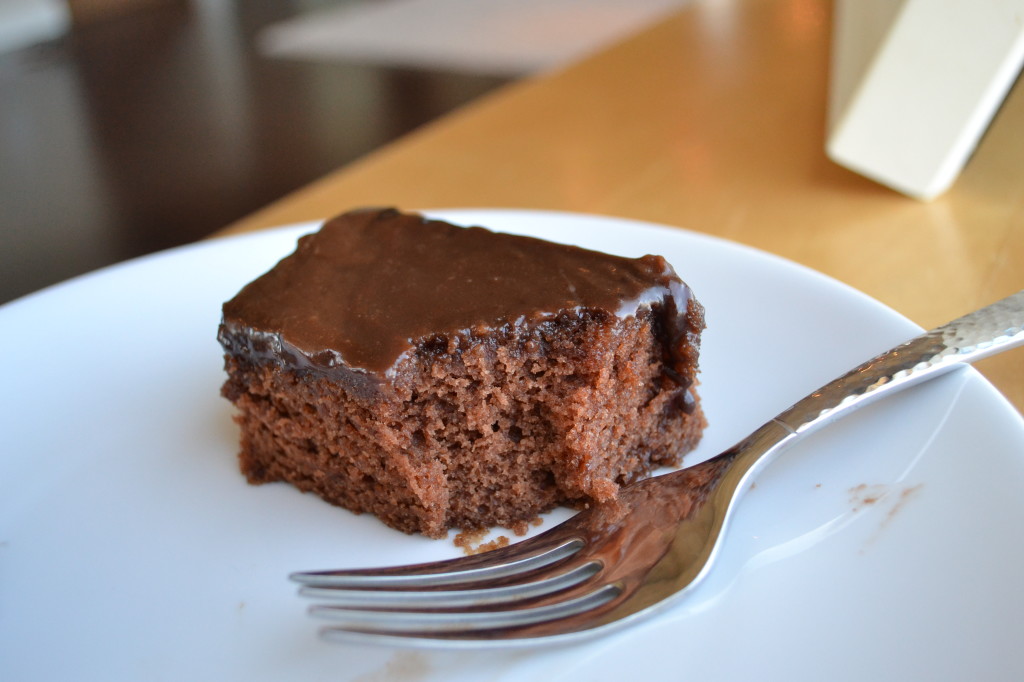 Tina's Chocolate Cake
Hands-on Time: 25 minutes; Total Time: 35 minutes
Cake Ingredients:
2C all-purpose flour
2C sugar
1/2t salt
1t baking soda
2 sticks unsalted butter
1C water
3T cocoa powder
2 eggs
1/2C buttermilk
1t vanilla
Preheat oven to 350 degrees.
Sift flour, sugar, salt and baking soda together in a large bowl. Set aside.
In a medium saucepan, heat butter, water and cocoa over medium-low heat until butter has melted. Stir occasionally.
Add butter mixture to flour mixture. Stir until combined.
Add eggs, buttermilk and vanilla to above mixture. Stir until combined.
Pour into a 9×13″ or two 8″ cake pans, sprayed with cooking spray or butter.
Bake for 20-30 minutes or until a toothpick in the center of the cake comes out clean.
While baking, prepare the frosting.
Frosting Ingredients:
1 stick butter
3T cocoa
6T milk
3C powdered sugar
1t vanilla
In a small saucepan, heat butter, cocoa and milk over medium-low heat until butter has melted.
Remove from burner and add powdered sugar and vanilla. Mix until combined.
Spread onto cake with a spatula.
Lick the bowl clean. 🙂