1740 SE Hawthorne Blvd & 17th Ave • oui-presse.com • 503.384.2160
Hours: Mon – Sat 7am – 6pm; Sun 8am – 5pm
Ever since I got this new job at Intel, I have been working from home a decent amount versus going into the office. It is one of the great perks of working for Intel, given that I live downtown and hate driving, especially out to Hillsboro. But the actual idea of working at my actual home isn't always my favorite, between not having social interaction and getting distracted by house chores. So I'm constantly on the hunt for a great coffee shop to work from.
There's something so great about working from a nice little cafe. If the ambiance, food, drinks and people are right, it is can just truly make my day and makes staring at my computer seem totally ok, if not quite enjoyable.
When choosing my coffee shop of choice, it typically is one near my house for obvious reasons, but sometimes I like to venture out especially if I have another appointment or meeting elsewhere in town. Last week, I was going to a food photography class taught by the lovely and talented Erin Scott, who just published her first cookbook Yummy Supper. The class (which was fantastic – I learned a ton!) was hosted at the home of Diane Morgan, the President of the Portland Culinary Alliance, which was hosting the class. Since Diane lives in SE Portland, I figured that was the perfect excuse to work from a new coffee shop for a few hours prior. I kept hearing great things about Oui Presse off Hawthorne and was excited to make it my work space for the afternoon.
Oui Presse is part coffee shop, part bakery and part newsstand. All good things!
I love their magazine selection, especially since you don't see that much these days. I fully admit I do most of my reading on the Kindle or computer, but there is something so wonderful about picking up a physical book, newspaper or magazine, in particular while in a great cafe.
They have a great, bright space right off Hawthorne with tables outside that are perfect for people watching and lots of seating inside, perfect to get some work or reading done.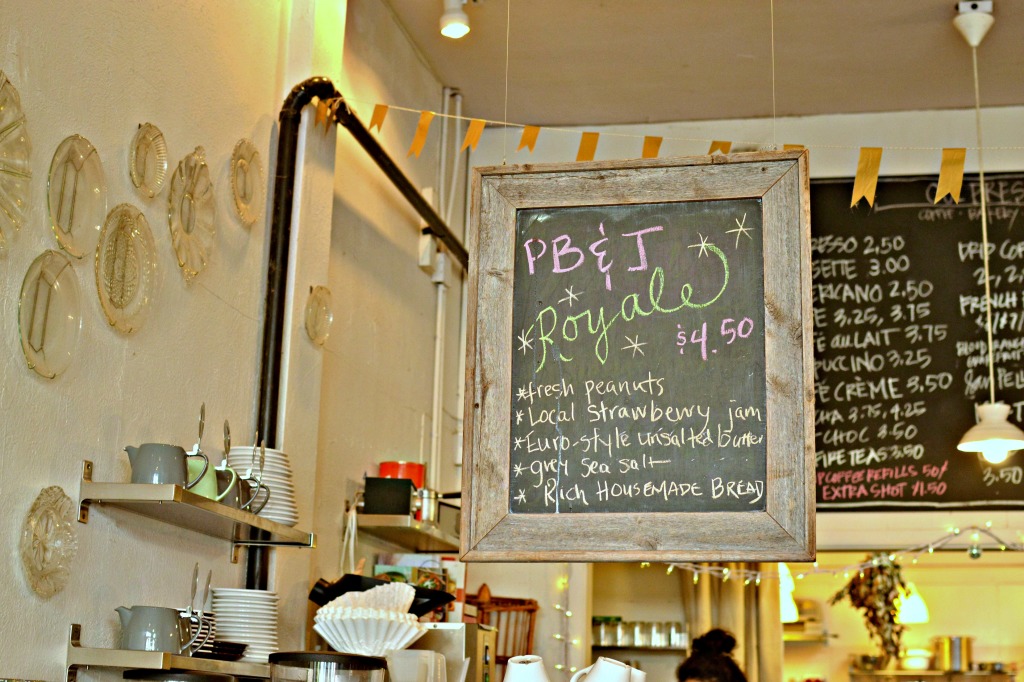 They make all of their own cakes, cookies and breads. And how good does that PB&J sound?! Definitely not just for kids. They also make soups from scratch. AND they have homemade ice creams. Seriously, this place is way more than a coffee shop.
I opted for a delicious chocolate chip cookie and an iced tea, which was made from local Foxfire Teas. The cookie was incredibly buttery, chocolately and wonderfully crisp on the outside but with a soft center.
In my dreams, I am able to just spend every morning, not working, leisurely reading every cooking magazine imaginable while enjoying a warm chai latte and delicious homemade baked good from a place like Oui Presse. Oh and then stick around for a PB&J. Wouldn't that be the life?