16025 SW Regatta Lane, Beaverton • Oyatsupan.com • 503.941.5251
Hours: Mon-Sat 7am-6pm; Sun 9am-3pm
Happy Monday! How was your weekend? I enjoyed a little getaway up to Seattle where we ate some delicious food (particularly at Sitka + Spruce), saw a few good friends, checked out the cool Terracotta Warriors exhibit and enjoyed some much needed SUNSHINE! Seriously how great was that sun?!
Back in 2014 (eeks, how has it been that long already?!), Brice and I ventured around Asia, exploring the culture and eating a ton. One of my favorite food explorations was the Japanese bakeries – complete with racks upon racks of doughy treats, all in self-serve. You'd pick up a tray and tongs and just go to town. Sweet doughnuts, savory pastries, white breads, little desserts with funny googly eyes or seasonal themes like Halloween creatures. While they weren't always the most delectable of bakeries, often times overly sweet or bready, it was definitely fun.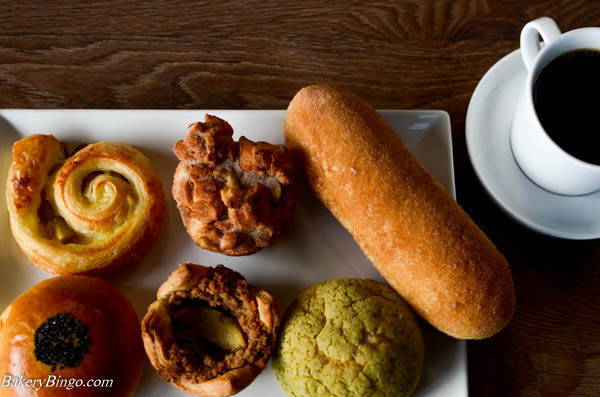 So not surprisingly, hearing about the new Oyatsupan bakery in Beaverton made me super excited.
Just like in Tokyo, they've got racks of fresh baked treats and the self-serve approach. Unlike some of the places I visited in Japan however, their baked goods are not dry or boring, but freshly baked and flavorful.
Traditional treats abound like melonpans – sweet rolls with a thin layer of cookie crust; fluffy bread rolls stuffed with anything from custard cream to red bean paste; and cinnamon and sugar toasted doughnuts. On the savory side of things, check out their Kare Donut, Japanese curried beef stuffed inside a bread roll which is then deep fried and coated in Panko crumbs.
Their most Instagram-worthy item is the Choco Cream Cornet, a little tunnel shaped roll with chocolate cream filling and a cute little "face." Just like in Japan.
What to Get:
Matcha tea pan: fluffy, matcha infused dough topped with a crispy cookie crust.
Apple custard croissant: flaky, buttery croissant rolled with fuji apples and custard cream
Kare savory donut: see above!
Other Fun Facts:
The space is big enough so you can eat in, grab a cup of coffee or Japanese green tea and hang out for a bit
They've even got a drive thru! It's open Mon-Fri 7am-6pm. But trust me, going in and using the plastic trays and tongs is way more fun