So, in T-Minus 12 days, I'll be competing in my first legit Crossfit competition. Yikes. I'm a tad freaked out but in theory it should be a fun time.
I have been doing Crossfit (at CF Pearl District) for about 2 years now and absolutely love it. It is challenging, fun (in a crazy sort of way) and an amazing group of people.
Plus it is a great way to balance out all of the food I eat to make this blog a reality (ok, ok, I would still eat this much regardless of the blog).
This picture pretty much sums up my life.
So clearly, no I do not follow the Paleo diet like a lot of other Crossfitters, as evidenced by this insane four-course lunch I had at Nostrana last weekend.
I joined the Portland Culinary Alliance for this incredible meal. For those who don't know about PCA, it is a really great local networking and educational organization for current or aspiring culinary professionals.
They host wonderful events like the Kyra's Bake Shop demo and happy hours to new restaurants like Din Din Supper Club. (If you're a food blogger, culinary student, cookbook author, chef or interested in a career in the food and wine world, consider joining!)
Nostrana's chef Cathy Whims organized a beautiful four-course lunch, celebrating the life of Marcella Hazan, the famed Italian cookbook author and one of Cathy's mentors. (OregonLive wrote a great article about Cathy's memories of her.)
Marcella, who passed away in late September, will always be remembered for teaching Americans how to cook simple, delicious Italian food. No fuss or overdoing it, just highlight top-quality ingredients.
It is no wonder Cathy Whims looked up to Marcella so much. That is exactly her style of cooking at Nostrana: "Simple food from honest ingredients."
It was great to be a part of this lunch, to learn about Cathy's time studying from Marcella and of course to eat this incredible food.
First Course – Three kinds of Crostini: gorgonzola & pine nuts; whipped house mortadella and pickles; walnuts in parmigiano butter
Primo – Lasagna con le Verdure with red kuri squash, carrots, broccoli, and parmigiano. This is actually from Marcella's Italian Kitchen cookbook – I am going to have to try it myself, though I highly doubt it could be anywhere near this good.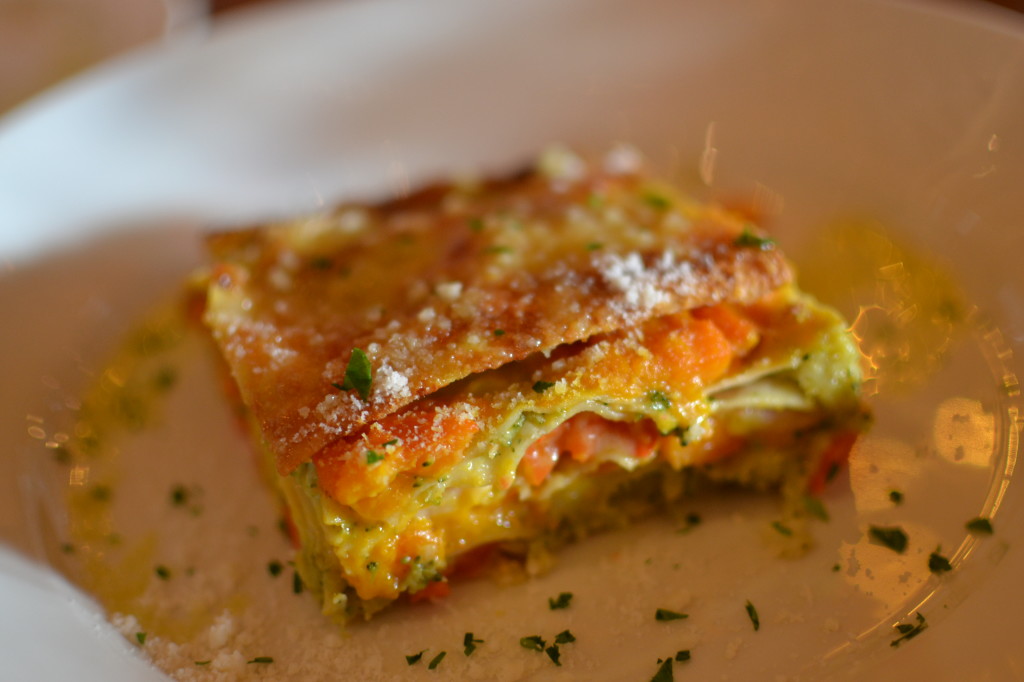 Secondo – Drunken Pork with fried polenta, roasted fennel and romanesco. This was fabulous and I don't usually like, or even eat, pork. The meat was rich, tender and flavorful.
I kept telling myself not to eat the entire plate since I really didn't need four full plates of food for lunch. But no luck there. It was too good.
All of the courses were paired with delicious, local Apollini Vineyards wine. Owner Alfredo Apollini shared a little bit about his family's history of winemaking which stretches over 150 years and about each wine we had that day.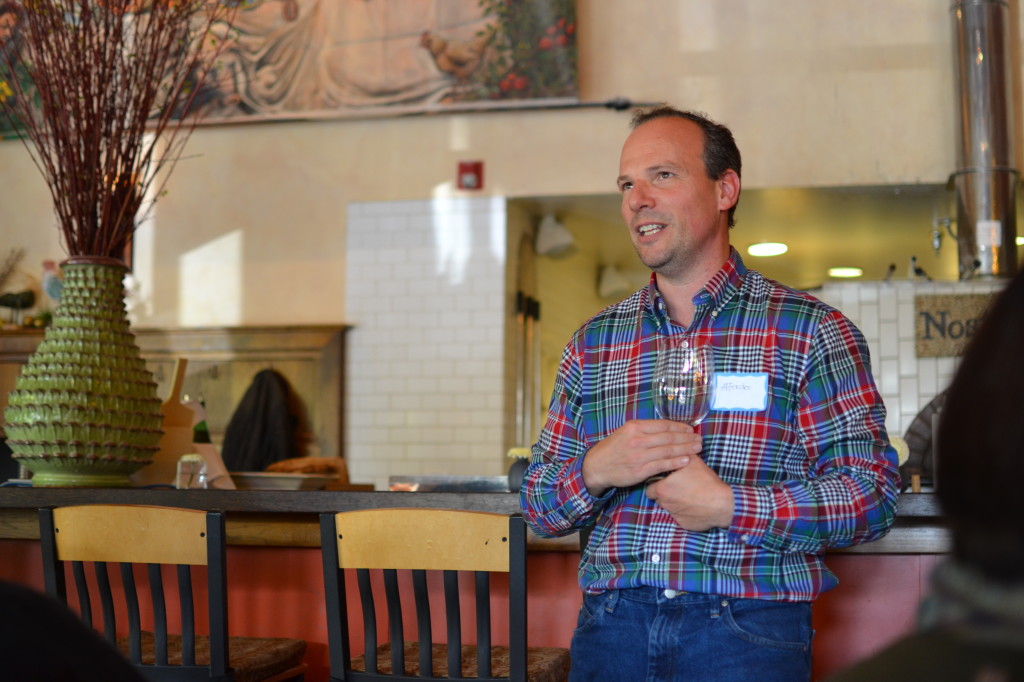 Dolce – Walnut Cake with satsuma, quince and currant compote. To finish off the meal, we had a light dessert to highlight the final pairing: a sweet, ice-wine style Dolce Vino Viognier.
What a wonderful way to spend a Sunday afternoon.
I promptly went home and took a nap, with dreams of more glorious meals like that one.