126 SW 2nd Ave & Pine • PineStreetPDX.com • @pinestreetmarketpdx
Hours: Daily 8am-10pm (Coffee at 8am, brunch from 9-11am)
Brunch is now open daily at Pine Street Market, downtown's hippest food hall!
What is a food hall, you may ask? Don't get all worried thinking I meant food court. I mean, no one over the age of 17 wants to eat Sbarro and Panda Express in a noisy mall. But lucky for me and you, Pine Street Market is nothing like that. Instead picture a beautifully renovated historic building filled with outposts of the top restaurateurs in Portland, like Marukin, serving up ramen straight from Japan and Pollo Bravo from the Portland mastermind John Gorham. This culinary marketplace is the latest hot spot for lunch, dinner and now brunch!
Top picks you don't want to miss:
Shakshuka from Shalom Y'all: This sister restaurant of the Pearl's MEC, also owned by John Gorham, serves up this rich, flavorful Israeli breakfast dish with tomatoes, peppers and baked eggs served with handmade pita.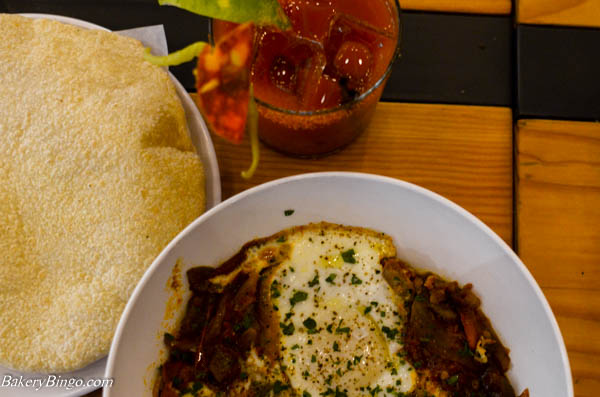 Signature Toasts from Trifecta Annex: Ken Forkish is the man who knows how to make bread. So no wonder his toasts are out of this world. I am a big fan of the giant slices of fluffy Country #2, toasted to perfection and topped with housemade butter and seasonal apple butter.
PB and Awesome smoothie from Kure Juice: Apparently non-sandwich versions of PB&J doesn't mesh with everyone, but I am perhaps the number one fan so this smoothie was my dream come true with peanut butter, protein powder, and fresh strawberries.  If it's not your thing, try the Hump Day, only found at Pine Street and made with dragon fruit and coconut water.
Need more? With OP Wurst serving up breakfast sausages, Kim Jong Smokehouse making savory Asian specialties, and of course plenty of morning cocktails and Brass Bar coffee, you'll not go home hungry.