733 NW Everett & 8th Ave ● RemedyWineBar.com ● 503.222.1449
Hours: Tues-Wed 4-9pm; Thurs-Sat 4-10pm
Two weeks ago, to close out our super fun long weekend in Eugene, Brice and I got to enjoy a special dinner at Remedy Wine Bar, courtesy of Little Green Pickle. I was eager to check out their new menu put together by Chef Lucas Parsley, who joined the Remedy team in February.
Now that I'm getting a little older, the idea of staying out past 10pm and drinking the night away just doesn't sound so appealing. And a hangover? No thanks. What sounds like an amazing evening to me nowadays is a nice glass of wine, some delicious food and good company to share it with. Ok, I'm boring, I get it.
But really, a good wine bar? That's where it's at in my mind.
Remedy fits the bill. Classy, beautiful space but not stuffy or pretentious. Delicious variety of food. Extremely friendly service, which is even more important for someone like myself who knows so little about wine (all I know is that I like heavy bodied reds and fruit forward whites – I sound sophisticated, right? – don't ask me anything about regions or types of wine).
Remedy's Wine Director Josh Wiesenfeld has hand-selected some great wines for their list. Most of them aren't too expensive for a casual evening, with plenty in the $8-$12/glass range, which I appreciate.
Like any good party, we were greeted with a glass of Berdie Amor Cava Rosat from Spain, to go also with the spiced nuts, marinated olives and foie gras ganache spread over yummy little shortbread crackers.
I am also in firm agreement that wine and cheese are just a perfect pairing. Not a crazy statement by any means. But just a few years ago, I actually wasn't much of a cheese fan. Then I was introduced to good cheese, and it was like my life changed. The Cheese Monger at Remedy, Norine Mulry curated a glorious cheese plate to go with our 2013 Patrice Colin Coteaux du Vendemois white wine. (All I can say about the wine was that I really liked it and would definitely order it again.)
As for the cheese, I loved the variety of blue cheese, soft cheeses, and aged cheddar. Brice was especially excited to learn about the world of cheese mongering as a profession. We all agreed that something like the Master Sommelier for cheese would be fun. We assume questions would include things like "what is the name of the cow who made the milk for this cheese?"
The big highlight Chef Lucas is bringing to Remedy is the new dessert selection. His experience leading the pastry program at Fleetwood's in Hawaii is evident in his creative, beautifully presented desserts. Our trio included a Sheep's Milk Pound Cake with Rhubarb Compote, a creamy Grapefruit Oil Custard and incredibly rich and delectable Dark Chocolate Bundino topped with chunks of sea salt. Oh man, they were all amazing.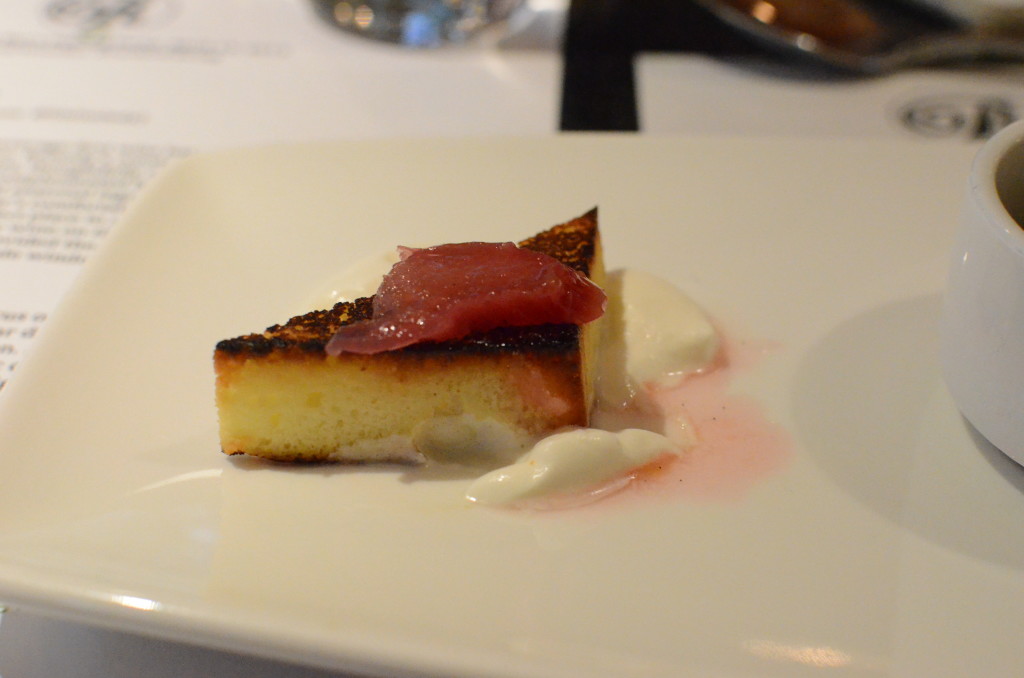 I have long believed that Portland needs more great late-night spots where you can get a high-quality dessert and drink without feeling awkward because the restaurant wanted to close up shop or give that table to a couple doing a full dinner. With Remedy now offering a trio of mini desserts, in addition to all the other great things mentioned above, it might just be my new go-to place.