1603 NE Killingsworth Street • SeastarBakery.com + HandsomePizza.com • @SeastarBakery + @HandsomePizza
Hours: Seastar Mon, Tues, Thurs, Fri 7am-12pm; Sat + Sun 8am-1pm
Handsome Pizza Mon, Tues, Thurs, Fri 12-9pm; Sat + Sun 1-9pm
If in some freak scenario, I need to select one building where I have to live the rest of my days, I have found the exact perfect place – One Stop, a recently renovated block in North Portland.
With one of my favorite tea cafes, Tea Bar, La Taq for Mexican snacks, and Prospect Bottleshop where I can get some cider, I was already digging this space. Then came the Seastar Bakery and Handsome Pizza combo. I have now died and gone to heaven.
Seastar was opened up at the end of the summer by Katia Bezerra-Clark and Annie Moss, both of whom are alums of Tabor Bread, one of my all-time favorite bakeries. While they've got some killer pastries and cookies, their focus is on incredible house-made breads using whole-grain, unique flours like red fife or kamut.
Then comes the toppings. Their "advanced toasts" are not to be missed. Below are a few of my favorites.
All the breads are made in their beautiful wood-fired oven. Perhaps the best part is hearing the fire crackling in the background and seeing employees chopping wood. Seriously, Portland, could you get any more charming?
Once lunch time comes around, the place transforms into a pizza parlor. Handsome Pizza slings delicious pizza with creative toppings and fluffy crust, served alongside salads that would make anyone eat their veggies. The Tissa Stein, named after Tabor Bread's owner, got my vote. It was made with salt-cured black olives, roasted onions, mozzarella, chile, garlic and za'atar spices.
No wonder I've been there so many times since discovering it. And yes, I have in fact spent one full day in the cozy spot. I arrived early to grab breakfast and get some work done – and enjoy some Tea Bar lattes from next door – then stayed through lunch to eat some pizza. Talk about a perfect food day that I will happily recreate anytime.
Poached Pear Compote on Red Fife Wheat Toast topped with coconut-honey butter, labneh and honey-rosemary walnuts. If you are having a rough morning, just get this for breakfast and your own day will turn around.
Soft Scrambled Egg on Focaccia. This might sound simple but with roasted onion, a perfectly ripe sliced tomato and melty parm, it's a step above.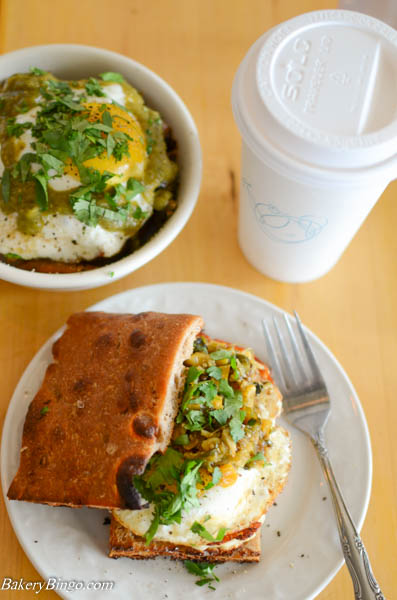 Rajas with Cornbread. This was an unexpected bowl of goodness, somewhat like an inside out tamale topped with roasted sweet and hot peppers, and oven-fried egg, tomatillo salsa and cilantro. Perfect for a rainy day.
Grilled Halloumi with a sweet tomatillo-zucchini chutney. This semi-hard Cypriot cheese might scare some people off who don't know exactly what it is, but don't make that mistake. This was one of the best dishes served on their salty, fluffy focaccia. Be sure to add the fried egg!
Coconut Financier. Oh man, I was swooning over this little cakey macaroon. With crispy edges and a chewy center, there is just a hint of coconut but enough for a rich flavor. This is even better served warm.
Carrot Bundt Cake with Peanut Butter Glaze. Who woulda thought carrot and peanut butter would make such a delightful little combo? This is the perfect delicious little cake for one (trust me, you won't want to share).