Happy belated 4th of July to you all!
Between celebrating Independence Day and winning the Women's World Cup, what a great few days for the U.S.! I started the weekend with a patriotic pub crawl through inner SE with some lovely friends. We visited Commons Brewery, Oso Market, Cyril's at Clay Pigeon Winery, Base Camp Brewering and White Owl Social Club where we drank cold beverages, ate delicious snacks, and played a ridiculously fun scavenger hunt that included tasks like finding someone with the first name of a U.S. President and naming all 50 states.
The Fourth included a low key barbecue. On Sunday, after a nice hike through Forest Park, I joined my friends Maria and Mel to cheer on the national soccer team at Bazi Bierbrasserie, an awesome bar on SE Hawthorne that closed the side street for a big viewing party.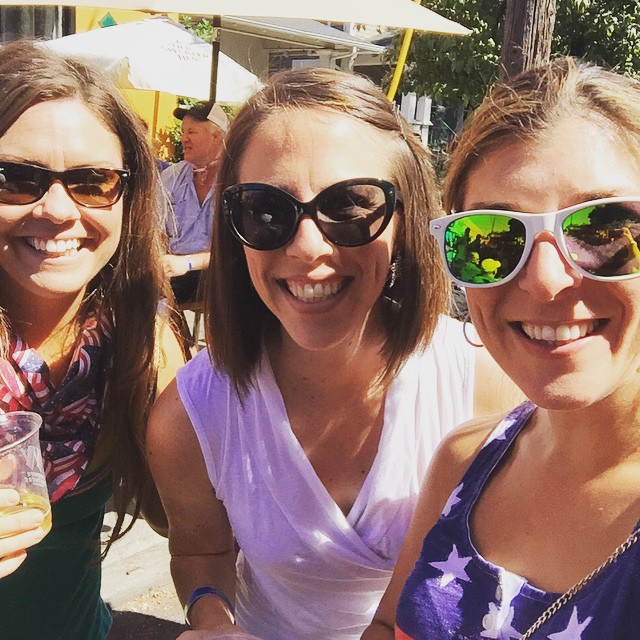 Hope you all had a great holiday weekend as well!
Now onto another fun summertime event! Mark your calendars for the Sauvie Island Center's Annual Barn Dance! SIC is a local non-profit that I've been involved with since 2012. With a mission of teaching children about food and farming, SIC brings more than 2,000 children a year out to the Sauvie Island Organics farm to learn about vegetables and the land. Most of these children come from low-income schools and only make it out to the farm via scholarships made possible from donations and fundraisers.
On Saturday, August 1st, SIC will be celebrating its 10th year of operation with its annual summer fundraiser event. With delicious food prepared by New American's Chef Aaron Dionne, local beer and wine, a silent auction with lots of great items, tours of the farm, activities for kids and of course real-deal square dancing, it will be a super fun night.
Option 1: Get fancy with a table
Your table will be set for 6 with linens, fun factory china, wild flowers and cold beer and wine. You'll skip the buffet line and enjoy family-style service.
Cost: $450 for a table for 6 – only $75 per person! Kids are welcome at the tables too! Kids' tickets are only $5 and are not counted in the 6 per table.
Option 2: Casual picnic on the lawn
Bring your picnic blanket, grab a spot on the lawn and enjoy a fun, casual evening out with friends and family!
Cost: $35/adult; $5/child
Buy your tickets now and see you there!
—
More about Sauvie Island Center:
What grows on a farm? We believe kids do. At the Sauvie Island Center we provide elementary school students the opportunity to explore a working farm, helping them to make the connection between the food they eat, farming and the land. We believe that when children understand where their food comes from, our whole community benefits.  
Spending a full day outdoors, exploring the Sauvie Island Organics farm and the natural area at Howell Territorial Park, can be a transformational experience for many kids. It might be the first time they realize that the food they see in a grocery store starts a farm. Moreover, many new studies show that when kids are involved in gardening activities, their consumption of vegetables increases. We see it play out every day on the farm, and know when kids can plant, harvest and cook the vegetables themselves, they are much more likely to eat (and enjoy) them.  This puts them on track to become healthier adults, which strengthens our whole community.
This year more than 2,000 children will participate in our program.  More than half of them attend high poverty schools.  Thanks in part to the generous support of Portlanders and our business community we are able to offer scholarships to these low-income schools, affording them a visit that otherwise would not be possible.