Hello from Bangkok! We have been enjoying some downtime of sorts. We rented a condo via AirBnB and it has been really nice to do some cooking of our own, laundry, hit the gym. Basic, boring life type stuff that is needed after 4 weeks of travel. We have also enjoyed time exploring the city of Bangkok, eating a lot of great food (much more so than Phuket!) and taking a really fabulous cooking class (more on that soon).
I can't believe we have another 5 weeks to go! We aren't sure where we are off to next – maybe northern Thailand, maybe Laos, maybe Cambodia. I'll keep you all posted!
Pastry Chef Brandon Weeks, who has worked at places like Bouchon Bakery and Newberg's The Painted Lady, recently reached out to me to tell me about his new dessert venture called HunnyMilk. It is an awesome idea – handmade ice cream and fresh donuts made to order. He's got a whole variety of ice cream loaded with chunks and drizzles.
Some possible concoctions I'm particularly excited about are "The Man Cave" with salted caramel ice cream, whisky brownies and beer toffee; "Spoon Me" with caramelized white chocolate ice cream, butterscotch blondies and fried chestnuts; and "The Gobble Gobble" with heirloom pumpkin spice ice cream, chocolate gingerbread and fleur de sel white chocolate ganache.

Seriously if you give the menu on his website a read, you'll be dying for his place to open as well.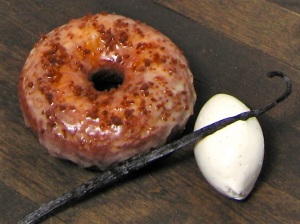 Brandon was kind enough to answer a few questions about HunnyMilk, his background and of course sweets. If you agree with me that this sounds like a great addition to Portland, go give him your support via his Kickstarter page! It closes December 5th so donate now and you'll get some delicious treats when HunnyMilk opens in Spring 2015.
How did you get started in the pastry world? What is your background?
I wasn't one of those people who learned to love cooking at grandma's knee as a child. I grew into loving it the more I did it. I ended up going to culinary school here in town on a total whim. After seeing one of their cheesy commercials, my roommate and I took a tour of the school and I was pretty floored with the possibilities. After graduating, I landed an awesome externship working at Thomas Keller's Bouchon Bakery, which really got my career off on the right foot. Then, after working a stint in Chicago at Charlie Trotter's, I made my way full circle back to Portland, working a lot with cheese and other pastry chef positions at restaurants here in town.
Tell us more about HunnyMilk. Where did the idea come from? What inspired ice cream and donuts?
HunnyMilk is all about bringing out the best in what I believe are the two most perfect forms of dessert. When I put together plated desserts in restaurants, nine times out of 10, the ice cream is the star, and it's all about finding complimentary bites to go with it. With each cone, I want the satisfaction of a well thought out plate in a humble, hand-held form. With donuts, it really bums me out that pretty much nobody is doing it correctly. Everywhere you go just fries everything in big batches and leaves them sitting out all day. The whole point of fried foods is eating them hot and fresh, and unfortunately donuts got left out in the cold. When I make donuts for people, it's so fun to see their eyes light up because most people haven't actually had a warm one before. I really wanted to take both of these hot and cold desserts to the next level, and be able to appeal to everyone's appetite, whether it's sunny or raining outside.
How'd you come up with the name?
Originally, I wanted to open a cheese, wine and dessert bar and call it Milk and Honey – a play on the basic primordial ingredients of sweetness and milk. I still might open that concept down the road, but the simplicity of just doing very simple things like hand-held desserts sounded slightly more appealing. I've grown tired of the typical "This and That" style of naming restaurants, so I just called it HunnyMilk. Seems more playful, like Winnie the Pooh and his pot of honey he's always dipping into. Very childlike, which speaks to the appeal of the menu – very "nom nom" kind of stuff.
What can we expect from HunnyMilk?
You can expect treats made with love by me, personally, right in front of you. I want you to leave feeling satisfied by what you choose, not just intrigued by something that just sounds interesting. You can expect to want to finish your dessert, and not feel gross after it's over. You can expect coffee that's actually potent and rich. Expect to become addicted, and have a hard time picking a favorite flavor!
What is your favorite ice cream flavor and topping?
Oooh, anything that involves peanut butter, like the PB-miso cookies or magic shell! The toasted milk meringues on the coffee ice cream are pretty magical. There's something so mysteriously delicious about it. But in the summer, I really dig on the fruity flavors. I love how every few weeks something new is coming onto season I've been waiting all year for!
When you aren't working on HunnyMilk, what else are you up to? How do you like to spend your down time?
Eating out, definitely. I've got my favorites for all the staples in town: tacos, burgers, sushi, ramen, croissants, brunch, and of course, a nice sit-down dinner. I love spending as much time as I can out on the lakes and beaches of Oregon, boating, fishing, frolicking, camping, etc. Mini road trips in the summer, and hunkering down with a hot toddy when the rain hits. When the going gets tough making sugary things for people all day, you can find me getting a "massage sandwich": a half hour of hot tubbing, an hour massage, followed by another half hour soak / sauna. I live a rough life. But somehow, I manage.