I have been saying for quite a few posts now how great the cooking class I went to was. So I'm finally here to tell you about it!
I admit, I was a little nervous about signing up for one. In Thailand, there are hundreds and hundreds to choose from. Seriously at the hostel in Chiang Mai, I counted 23 brochures from cooking schools in the tiny area. And that is just the ones that gave brochures to the hostel. Plenty more could be found online. So there were a lot to choose from, how do you know which one is better than others?
Plus, a lot just offered the typical Thai cuisine like Phad Thai and Mango Sticky Rice. Now don't get me wrong, I love both of those dishes. But I was afraid the classes might be hokey and not geared towards people really wanting to cook.
Nevertheless, I signed up for one that had a nice looking website and great reviews on TripAdvisor. Sompong Thai Cooking School is truly family-owed with the school being a part of their home. The instructor, Koy's mother and aunt run clean and set up everything for the classes, Koy teaches and her cousin and nephew help instruct.
Koy spoke excellent English, having learned in school and working in hotels prior to opening this cooking school. She loved sharing cooking knowledge and kindly answered any questions we had. Her cousin had insanely impressive vegetable carving skills. We were shown how to make a tomato skin rose. My was horrific, his was beautiful and took him about 30 seconds.
The class was really small which I loved – only 6 people including myself. There were two girls from Canada, a Finnish woman who lives in Bangkok now while her husband is doing an exchange program, and a couple from southern India who were interested in opening a Thai restaurant back home so they were learning all they could.
We first got a tour of the local market which I loved. We learned about different kinds of chilies, eggplants, basil and other Thai ingredients. We met several vendors including a coconut vendor, who sells whole coconut, coconut milk, coconut cream and coconut milk. New fun fact: if you want to just drink coconut juice, use a young coconut but an old one is better for the milk and cream. To make coconut milk, the man shreds the coconut, skin and all, and then adds water and strains it via a large press. For coconut cream, the milk just gets pressed again, extracting thicker liquid.
My group of other students was great. We had lots of interesting conversation while we each minced vegetables and herbs and pounded curry paste by hand.
The class was very hands-on, watching Koy first and then trying it ourselves. Our menu included Phad Thai with chicken, shrimp and tofu; Papaya Salad; Panaeng Curry made from scratch with chicken; and for dessert, Caramelized Bananas with coconut sauce. Everything was truly delicious, some of the best food I have had in Thailand.

I was shocked by how easy homemade curry paste is. Sure, at first we made it by hand with a mortal and pestle. That is not easy. After 10 minutes, we had not made it a smooth paste by any means. We still had at least 20 more minutes of arm-tiring pounding. Fortunately Koy then told us that was just for us to see what it is like by hand and we could actually use a food processor, like most families do these days. So much easier!
After adding just some coconut milk and herbs, as well as chicken, we had our curry. Simple as that! And super delicious.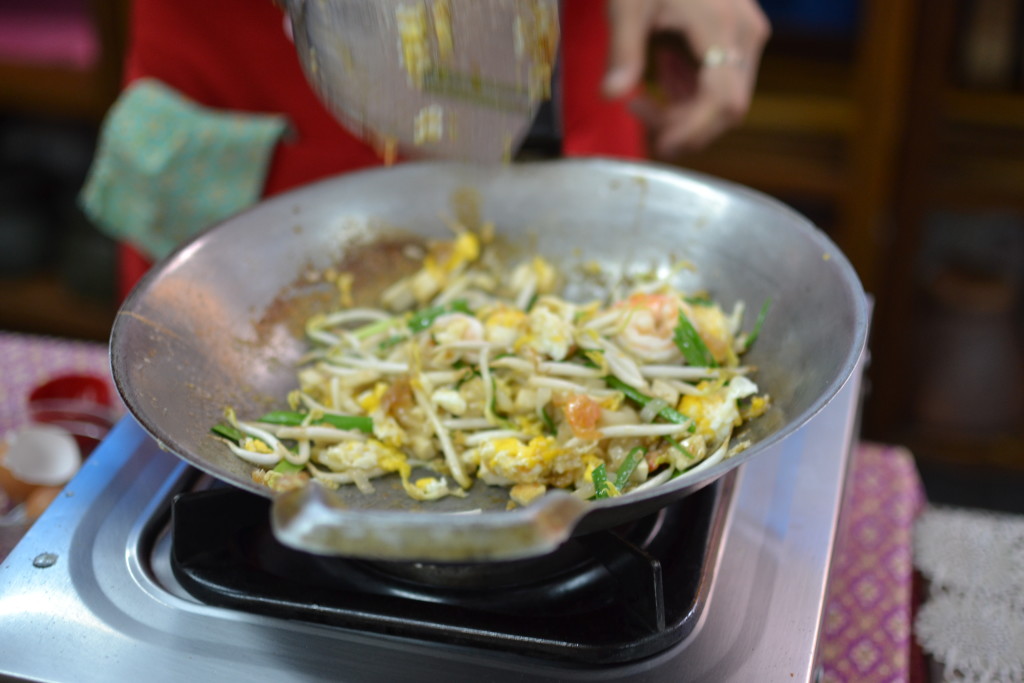 I was really impressed by the quality of instruction, the hands-on learning and how much I learned. I am super excited to go home and make these dishes again.
If you go to Bangkok and like cooking, I definitely recommend Sompong!
They also were generous enough to allow me to share some recipes with you. So if you can't make it to Thailand, you can still enjoy some delicious Thai cuisine! After trying these recipes, let me know how they turn out!
Note: A lot of the ingredients you can find in the Asian section of most grocery stores. For those more specialized ingredients, I provided some easy substitutes. But for the most authentic ingredients, I recommend stopping in at Uwaijimaya in Beaverton or Fubonn on SE 82nd.
Thai Style Fried Noodles (Phad Thai)
Yield: 1 serving
Ingredients:
70g thin rice noodles or glass noodles
4 prawns, shelled and deveined (or chicken)
1 egg
1 Tbsp extra firm tofu, cubed
1 Tbsp dried shirmp
1 Tbsp salted Chinese radish, chopped
2 Tbsp roasted peanuts, chopped
1/2 Tbsp garlic, chopped
1/2 Tbsp shallots, chopped
1/2 C green onions, cut to 2 inch sections
1/2 C bean sprouts
3 Tbsp cooking oil
2 Tbsp water
4 Tbsp Phad Thai sauce (see below)
Cilantro
Ground white pepper for taste
1. Soak the noodles about 20 minutes in room temperature water.
2. Put oil in a wok (or large saute pan), add garlic and shallots. Stir fry on medium heat until fragrant.
3. Add the prawns, salted Chinese radish, dried shrimp and tofu. Stir fry until the prawns are cooked. Put everything on one side of the wok so they don't overcook.
4. Crack the egg into the wok and stir until done. Put on one side of the wok.
5. Add noodles and water. Stir until noodles are soft and cooked.
6. Add Phad Thai sauce and stir until noodles are dry (so water has evaporated).
7. Add the bean sprouts and green onions. Stir everything together until fragrant. Turn off the heat.
8. Transfer to a serving dish and sprinkle ground white pepper and peanuts on top. Serve with slice of lime on the side and cilantro leaves on top.
Phad Thai Sauce
Yield: 4 Tbsp
Ingredients:
1/2 tsp chili powder
1/2 Tbsp white sugar
1/2 Tbsp palm sugar (use brown sugar if you can't find palm sugar)
1 Tbsp fish sauce (vegetarian version: substitute soy sauce)
1 Tbsp tamarind paste (use vinegar if you can't find tamarind)
1 Tbsp oyster sauce (vegetarian version: sub mushroom sauce)
In a small cup, mix all seasonings together. Set aside.
—
Golden Banana in Syrup – Kluay Khai Chuam
Ingredients:
8 golden bananas – "Kluay Khai" (Note: these look like baby bananas and should be almost ripe – yellow with a bit of green. If you cannot find golden bananas, substitute for 4 regular bananas)
2 C water
1 C sugar
1 tsp lime juice
2 Pandamus leaves (substitute 1 vanilla bean if you can't find Pandamus leaves)
1 C coconut cream (or milk)
1/4 tsp salt
1 tsp rice flour (or corn starch)
1. Peel bananas (slice in half if using regular-sized bananas). Put in water so they do not turn brown.
2. Prepare sugar syrup by adding water, sugar and pandamus leaves to a medium saucepan and bring to a boil.
3. Add bananas into sugar syrup on low heat.
4. While the bananas are cooking, make the coconut cream topping. Mix the coconut cream, rice flour and salt in a wok. Mix well. Turn on the stove to medium heat and stir until thick. (If using coconut milk, add 2 tsp of rice flour to get the right level of thickness.)
4. Once the bananas have changed to golden brown in color (about 15 minutes), squeeze lime juice into the syrup to protect it from crystallizing.
5. Serve the bananas in a dish with the coconut cream on top.