12590 SW 1st St & Watson, Beaverton • 503.643.5388
Hours: Mon-Thurs 4pm-1am, Fri-Sat 4pm-2am
One of the biggest downsides when I quit my job as an accountant for McCormick & Schmick's Restaurants a few years back to take a job at a tech company in Hillsboro was that I would have to leave the amazing food scene downtown. We had so many incredible lunch options – from all of the food carts (my favorites being Nong's Kao Man Ghai and Addy's Sandwich Bar) to the more leisurely sit down lunches at Andina, Paragon and the Heathman. There was never had a bad lunch.
Working in the Hillsboro area is almost a complete opposite experience, especially now that I'm at Intel in the small town of Aloha. Set off the glorious TV Highway, you can find plenty of fast food, lots of greasy chain restaurants, and some sketchy-looking Chinese food. Not exactly my idea of a good time.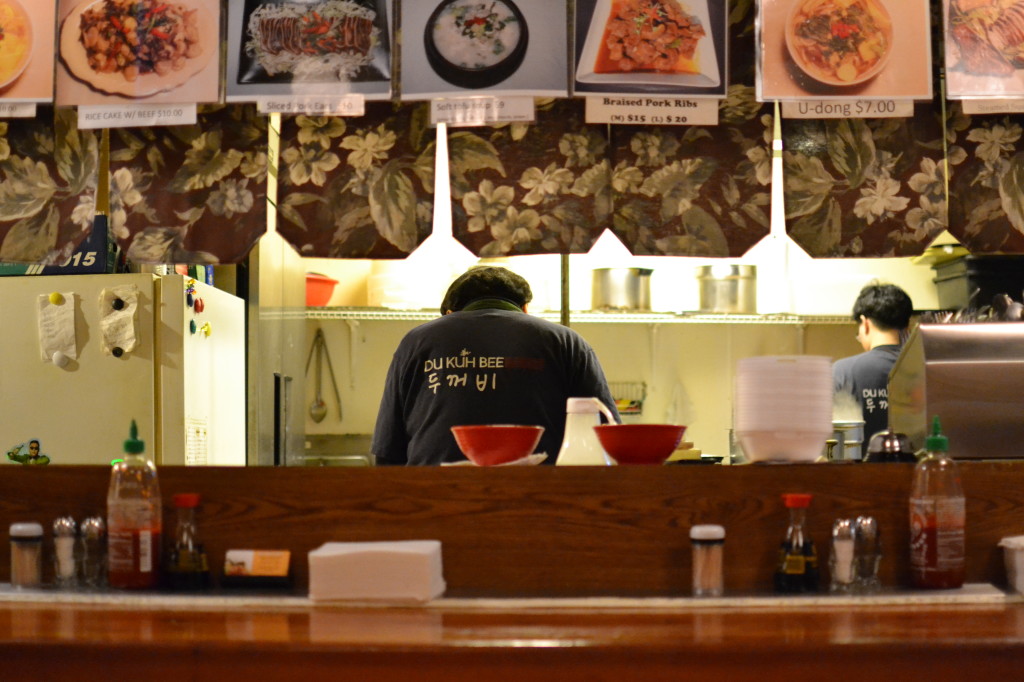 So if I ever hear someone mention a quality restaurant in Hillsboro or Beaverton, my ears perk up. That was what happened a few months back when I heard about Du Kuh Bee, a Korean restaurant in old town Beaverton that was touted as having some of the best noodles. Sadly, like most good places around the westside suburbs, they are not open for lunch but I realized it would be a perfect place to meet a friend for dinner on my way home.
Du Kuh Bee is situated just off busy Watson Ave, kitty corner from Beaverton's other really great restaurant, decarli. Squished between another, better marked Korean restaurant and a nail salon, I was a little confused where I was going when I walked in the door. It is a no-frills, hole-in-the-wall narrow space with about 20 seats. But don't let that deter you!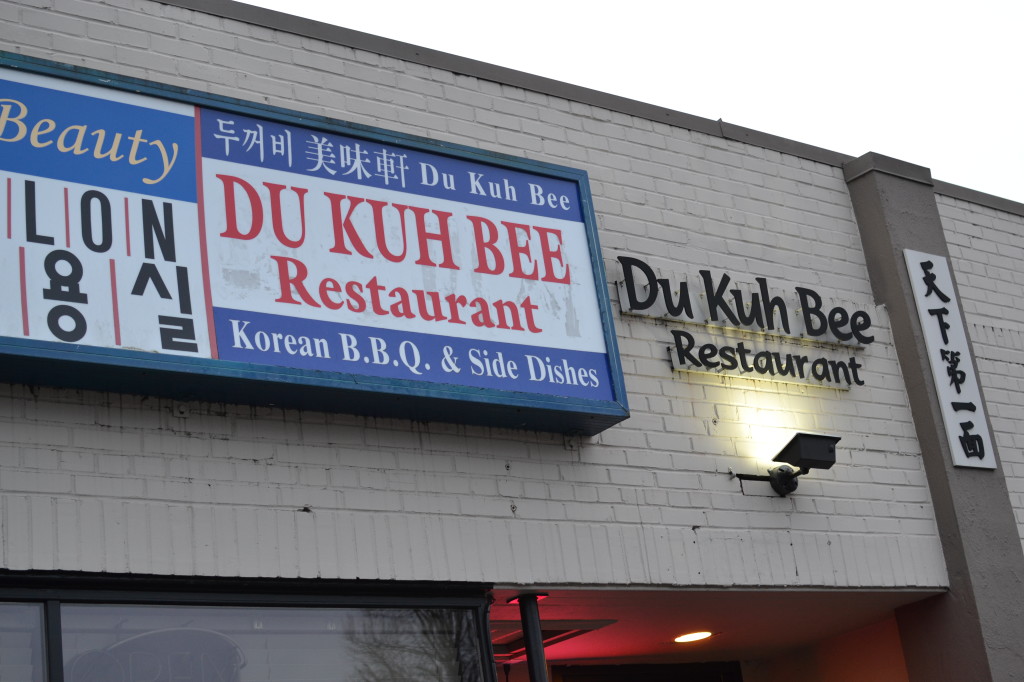 Fortunately we were seated near the open kitchen so I could take in the scene. Large produce boxes filled with vegetables, the staff of about four people working hard prepping cabbage for kimchi and other dishes, and of course the Korean newspapers and decorations.
What was really exciting about our seats was watching the pasta chef in action. The traditional Chinese process of making hand pulled noodles is incredibly impressive and reminded me of the Cat's Cradle string game I played as a child. Obviously that doesn't do this difficult task justice, so watch this video from Serious Eats for a really good demonstration instead.
My good friend Courtney who was my dinner date for the evening and I decided to go all out and try the Korean wine to drink. I had never had Korean wine nor did I really know what to expect, but their menu included a nice note that you could sample it first. We took full advantage and tried the plum and the black raspberry. The plum wine was like a thick, sweet white dessert wine. A little too syrupy tasting for me. The black raspberry however was a rich, fruity red that was perfect to balance out the spicy meal we were about it eat.
For food, we started with their steamed pork dumplings.
We of course got their namesake Du Kuh Bee hand pulled noodles. The wheater noodles were thick and tender, then stir fried with pork and lots of vegetables. It was as good as we had heard and expected.
The braised chicken was incredible. The chicken was served on the bone in a rich, super flavorful spicy chili sauce atop cellophane noodles and chewy hand made short-cut noodles.
It was a complete toss up as to what was my favorite since both dishes were so great. In fact, the food was so good I kept eating until my stomach hurt because I just couldn't stop.
So whether you live or work near the restaurant doldrums of Beaverton or just want to make the trek for some damn good Korean food, you won't go wrong here. While the majority of the hot new restaurants are out on the eastside, Du Kuh Bee will convince you that the suburbs have their perks too.
*Side note: I also found out while writing this article that Du Kuh Bee was originally owned by Frank Fong, who now owns Frank's Noodle House in NE Portland. As is obvious by the name, they serve the same style of hand pulled noodles but unfortunately you can't see the process in action there.