Man, a lot has been going on the last few weeks. Usually I feel like winter is the slow time of year with everyone hibernating a bit to wait out the dreary, drizzly days but instead this March has been one of the busiest with most nights having some sort of event, either for work, a blogger event, or just trying to get to the gym. It's been a bit of a struggle keeping up with everything!
That made this past weekend really great – I spent almost of it sleeping, getting much needed exercise, catching up with friends, and planning our crazy adventure to SE Asia for next fall. (I have spent most of my time researching where to eat, go figure!)
But because I can never have a weekend with out a to do list, I also wanted to finally post something about the Toast the Farm event I went to a few weeks ago!
As I've mentioned on here once or twice before, I'm on the board of a really fabulous local non-profit, the Sauvie Island Center, which brings children from most high-poverty schools to the farm and teaches them about vegetables, farming and the land. Our spring fundraiser, Toast the Farm was a really fun night with good food, wine and beer to raise support for SIC. One of the things that made the event even more wonderful was that this year, we teamed up with Diane Morgan, who wrote the James Beard award winning Roots cookbook.
Roots is a gorgeous, 432-page compendium with 225+ recipes of known roots like beets and ginger and unfamiliar roots like yuca, salsify and burdock root. It might be a little intimidating looking but Diane writes her recipes for the home cook so they really are approachable.
This event was perfect timing as well because I was looking for a birthday present for my mom and knew she'd love this book. (To prove how small Portland is, I have actually known Diane for a really long time since I was good friends with her son in high school. But I was still really excited to get the cookbook autographed. She is a James Beard award winner after all!)
Back to the event! Toast the Farm was hosted at the International Culinary School at the Art Institute of Portland. All of the food was prepared by the Garde Manger class which is taught by Chef Cory Schreiber, who is well known for founding Wildwood Restaurant twenty years ago. The students took recipes from Diane's book and prepared an exquisite menu of hors d'oeuvres and desserts, all featuring root vegetables. Such a perfect tie-in to the Sauvie Island Center.
My favorite was the Porcupine Meatball which highlighted water chestnuts (which admittedly I didn't ever really think of as being a root vegetable till this night, is that sad?). The pork was rolled in rice, steamed then served with an Asian-inspired sauce.
For carrots, we enjoyed a Moroccan carrot and chickpea salad made with dried plums and toasted cumin vinaigrette.
I loved these little soup shooters – chilled beet soup topped with dill and creme fraiche.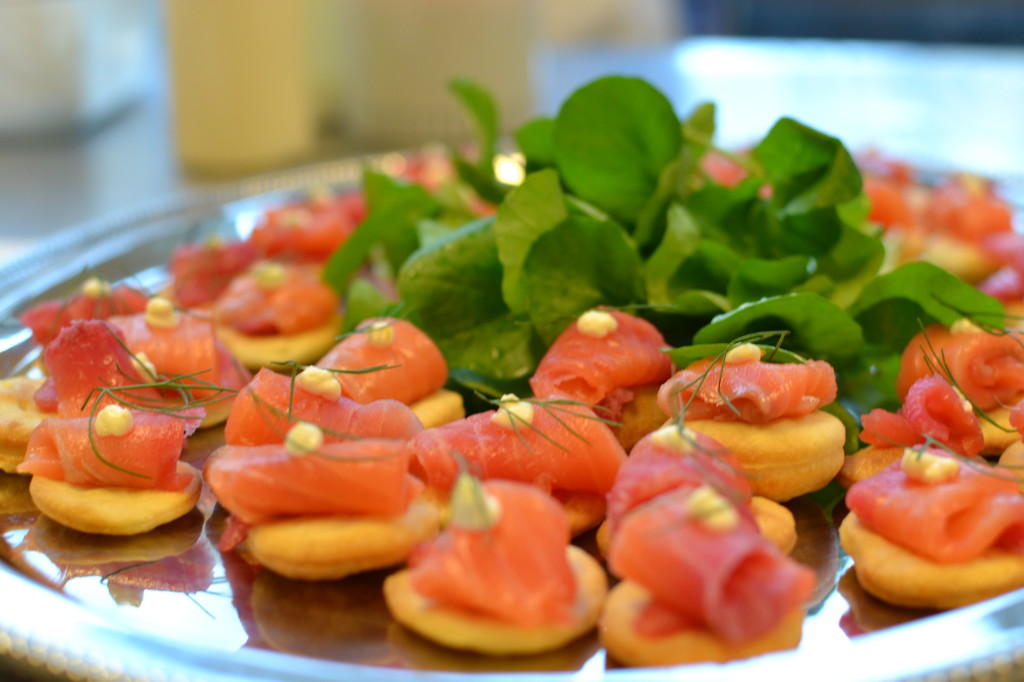 Horseradish, beet and smoked salmon gravlax.
This dish was really fantastic as well. Shanghai braised beef with these turnips that were out of this world. I don't remember exactly what they did with those turnips, but I definitely never thought they could taste that good!
Note to self: always charge your camera's battery BEFORE going to an event! Sadly my camera died before the dessert course so I had to shoot those with my phone. Definitely not as pretty but trust me, the desserts were killer.
I loved this Ginger Panna Cotta. Rich, creamy custard with a full ginger flavor and topped with toasted, lightly sweetened coconut for some added texture.
They also served brown sugar ginger ice cream in mini ice cream cones that were delicious and adorable.
The red velvet cupcakes with cream cheese frosting were made with beets rather than food coloring. I found the Roots recipe for these cupcakes on this Huffington Post article. Definitely give it a read for the interview with Diane as well.
The crisp chocolate crinkle cookies featured one of the more unusual roots of the evening – galangal, a ginger-lookalike that is found in Thai, Indonesian, and Malaysian cooking.
It was a really fun evening of good food, good drinks and all supporting a good cause. Now I really need to pull a "I bought you this as a present mostly so I can use it" and borrow my mom's copy to make that ginger panna cotta…