726 SE 6th Ave & Alder St • Trifectapdx.com • 503.841.6675
Hours: Daily 4 – 10pm (as of Jan 2014, expected to be open for breakfast/lunch once 6th Ave construction ceases)
Oh man, it has been a busy few weeks for me. That whole "year-end as an accountant" business has kept me running around like a maniac a little bit (ok, by running around, I mean staring at a computer screen for many, many hours in my grey cubicle). But fortunately I'm pretty much done now. And that means, it is vacation time!
I'm off to Park City for an awesome girls weekend. Lots of skiing in Utah powder, celebrity stalking at Sundance Film Festival, and general relaxing are all on the agenda for the next few days. I am counting down already – just a few more hours till our plane takes off!
Despite all the craziness the last few weeks, I was able to squeeze in a dinner outing with two blogger friends, Rachel of Love, Rachel and Jane of In the Pink and Green. We decided to try out the new Trifecta Tavern, owned by Ken Forkish of the Ken's Artisan Bakery amazing-ness.
I love Ken's Artisan baguettes and pastries, so I had no doubt that I would like Trifecta. And sure enough, they didn't disappoint. Especially because every course was served with bread. That is a perfect way to win your way to my heart. Carb overload? Perhaps. Totally worth it? Without a doubt.
Trifecta is situated on a somewhat sketchy looking street, just off the Morrison Bridge. Admittedly, it isn't the most trendy neighborhood or beautiful part of town, but once you step inside Trifecta you are whisked away from all that. The interior is warm, cozy and spacious. Four-person booths line the walls, opposite the large bar, open kitchen, and wood-burning oven.
Service is always a really important aspect to a dining experience in my opinion, and our night at Trifecta was wonderful. Our waitress was friendly and helpful with her recommendations. Food was brought out quickly. I also totally loved that the water was served in a giant growler, which were left on the table (since I drink a ton of water, I always like that).
So onto the food, the menu was enormous. I am not sure why, but I was expecting the menu to be somewhat limited, with just a handful of appetizers and a selection of pizzas or something like that. However I was beyond wrong. There were so many small plates, entrees and sides that all sounded delicious. It took us a good ten minutes to narrow down our choices.
Caramelized brussel sprouts with a spicy sausage.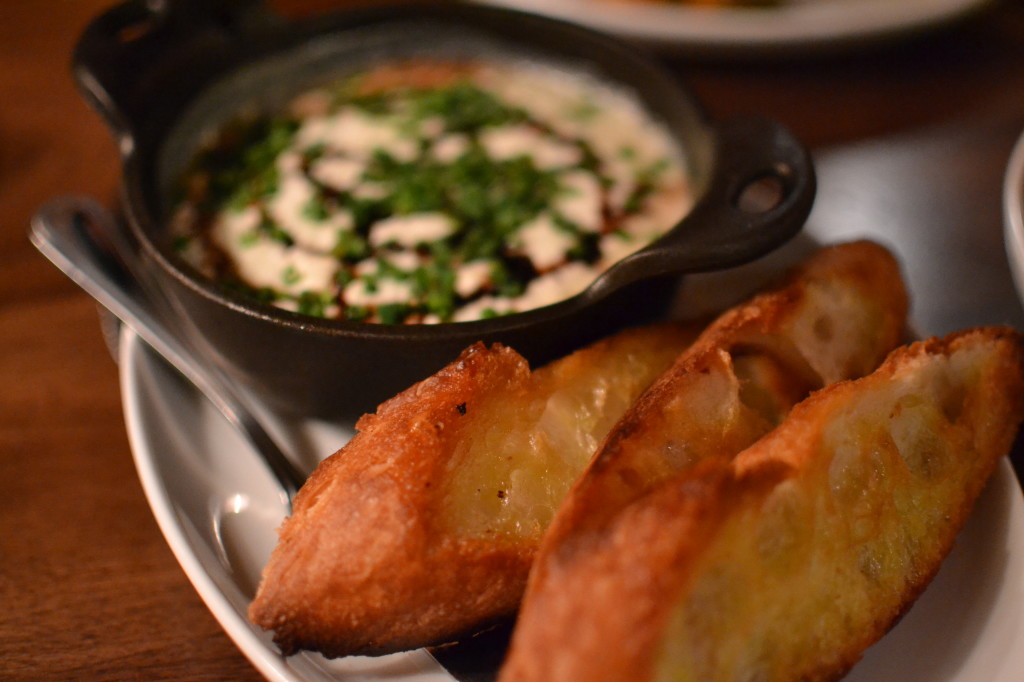 Warm ricotta cheese and grilled bread.
Mussels in a white wine sauce.
Housemade sausage, caramelized onions and peppers, and a giant loaf of baguette. Genius.
After stuffing ourselves with dinner (ok, ok mostly bread), we made our way to the dessert menu. With Pastry Chef Eve Kutterman, who was formerly at Castagna, at the helm and it being owned by Ken Forkish, I knew the desserts would be great.
Fortunately, Rachel and Jane were also excited about the desserts, so we got three to share.
After a week of an insane chocolate craving, it was finally satiated with their bitter chocolate souffle. It was perfectly baked, light and airy with warm, incredibly rich chocolate inside. Then topped with toffee ice cream. My only problem was that it needed more ice cream.
Rachel, to my sweet tooth horror, had never had carrot cake. So I sort of insisted that she get that. Instead of the typical cream cheese frosting, it was served with a not-as-sweet sour cream frosting.
Lastly, we got the baked lemon tart with a financier crust and bitter almond ice cream. The name and description was a little misleading, it was more like an almond cake with lemon slices on top. But nonetheless it was really great. It paired especially well with the souffle since it was buttery, tangy and not too sweet.
For my favorites, of course being a total carboholic, I loved all the bread. But other than that, I'd probably pick the brussel sprouts. And the chocolate souffle, oh man that was good.
To finish off the night, Trifecta even delivers your bill with fresh, sea-salted caramels. Such a delicious way to end the night.
Hopefully the pastry side will open up soon, so you can get pastries, breads and that incredible souffle at all hours of the day.