I am totally loving this Butter Baked Goods cookbook (I wrote more about it here PLUS there is a giveaway for the book on that post. Don't miss your chance for a free copy! Winner will be announced on Monday, November 4th!).
I've already made a ton out of this cookbook and everything has been really great. I've made pumpkin muffins, banana chocolate chip bread, some cookies, and now…the Vunderbar.
Rosie Daykin, the book's author and baker/owner of the Butter Baked Goods storefront graciously allowed me to share this delicious recipe for Vunderbar with you!
It's basically a bar mixed up with all my favorite things: chocolate, peanut butter, Rice Krispies, more chocolate. It kind of is like a Muddy Buddy bar – you remember that delicious sugary snack mix made with Chex cereal?
I think Rosie sums it up well in her cookbook: "Trust me when I tell you that it's insanely good. Unless you don't like peanut butter and chocolate. Then it's bloody awful."
But really my question would be, why in the world would you not like peanut butter or chocolate? Both are amazing ingredients. Little gifts from above.
So you can see just how pretty this cookbook is, here is the recipe straight from the book. (Because some of the ratios didn't come out so well, it's also copied below.)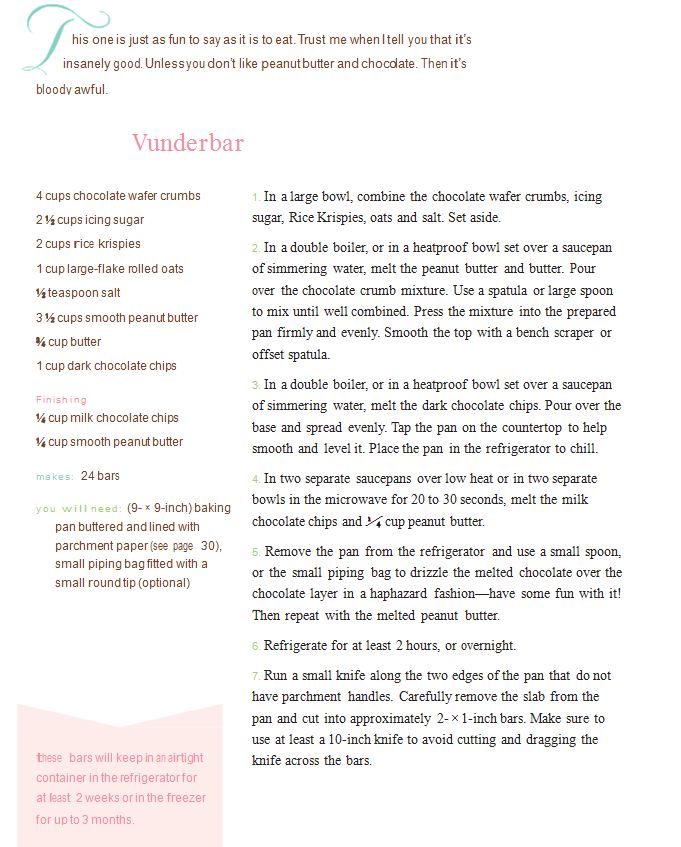 Vunderbar recipe
from Butter Baked Goods
Ingredients:
4 cups chocolate wafer crumbs (I couldn't find these, so I just used chocolate graham crackers all smashed up, which worked just as well)
2 1⁄2 cups icing sugar (aka powdered sugar here in the States 🙂 )
2 cups Rice Krispies
1 cup large-flake rolled oats
1⁄2 teaspoon salt
3 1⁄2 cups smooth peanut butter
3⁄4 cup butter
1 cup dark chocolate chips
Finishing:
1⁄4 cup milk chocolate chips
1⁄4 cup smooth peanut butter
Instructions:
1. In a large bowl, combine the chocolate wafer crumbs, icing sugar, Rice Krispies, oats and salt. Set aside.
2. In a double boiler, or in a heatproof bowl set over a saucepan of simmering water, melt the peanut butter and butter. Pour over the chocolate crumb mixture. Use a spatula or large spoon to mix until well combined. Press the mixture into the prepared pan firmly and evenly. Smooth the top with a bench scraper or offset spatula.
3. In a double boiler, or in a heatproof bowl set over a saucepan of simmering water, melt the dark chocolate chips. Pour over the base and spread evenly. Tap the pan on the countertop to help smooth and level it. Place the pan in the refrigerator to chill.
4. In two separate saucepans over low heat or in two separate bowls in the microwave for 20 to 30 seconds, melt the milk chocolate chips and 1⁄4  cup peanut butter.
5. Remove the pan from the refrigerator and use a small spoon, or the small piping bag to drizzle the melted chocolate over the chocolate layer in a haphazard fashion—have some fun with it! Then repeat with the melted peanut butter.
6. Refrigerate for at least 2 hours, or overnight.
7. Run a small knife along the two edges of the pan that do not have parchment  handles. Carefully remove the slab from the pan and cut into approximately 2- × 1-inch bars. Make sure to use at least a 10-inch knife to avoid cutting and dragging the knife across the bars.
Disclosure: I was sent a free copy of the Butter Baked Goods cookbook but all thoughts are my own. I am not required to write about this cookbook or bakery and will receive no compensation for doing so. I am writing about it only because I truly enjoy the product.