4943 NE MLK Jr Blvd & Alberta, Suite 101 • tulabaking.com • 503.764.9727
Hours: Mon-Sat 7am-6pm; Sun 8am-3pm
I got to spend my Monday evening with a few really wonderful Portland bloggers and Lisa Hill from Lisa Hill PR checking out Tula Bakery Cafe in North Portland. I have driven past Tula numerous times since it's on the way to my friend Hannah's and also to where our Sunday kickball games took place, but I had never stopped in.
Now clearly, if you read this blog at all, you know that I eat gluten, sometimes a lot of it. So I don't need to eat gluten-free but I'm always down to try a new bakery, regardless of the dietary restrictions on their menu.
And let me tell you, Tula is the kind of place you could do a blind taste test and no one would guess it was gluten-free.
Just like any other bakery, they have a beautiful pastry case filled with delicious pastries, cupcakes, muffins, you name it.
But their menu is filled with so many delicious savory options, not just sweets. Like owner Mieke Johnson (who owns Tula with her husband Caleb) told us, if you eat gluten-free, you sometimes want more than only cupcakes in your diet. I don't see anything wrong with this, but I guess not everyone just wants to eat dessert all day, every day… I guess sometimes you need more nutrients or something. And for those who are gluten intolerant, options aren't always that plenty.
So that's where Tula comes in. You could stop in multiple days in a row and not double up.
Paninis, soups, salads, pizzas, dips, and really incredible focaccia breads are all part of their line up. My favorites of the savory options that we tried were:
"Bread, cheese and plant based things panini" with parmesan, asiago and romano cheeses, pesto, balsalmic-roasted tomatoes, arugula and tempeh.
Mediterranean Layered Dish with spinach, tomatoes, garlic, eggplant, red pepper, red onion, pesto-glaze and hummus. Served with a side of grilled olive loaf.
Salami Pizza made with Olympic Provisions Salami
Rosemary Walnut Currant Bread – seriously this focacccia bread was so good! Gluten free or not, I would eat an entire loaf myself. Truly.
Now, of course I really loved the sweets too. We tried the Chocolate Hazelnut Roll which was like a Nutella stuffed donut. Yum. But I particularly liked the Cranberry Raspberry Tart in Almond Flaxseed Crust. It was crisp, fruity but not too sweet, and was perfect for a cold night with a mug of tea.
Tula is a 100% gluten-free facility so no wheat products of any sort are allowed in Tula. To ensure that, nearly everything is made in house, like the soups, salad dressings and sauces. Plus "that adds a little extra love to everything we serve," Mieke mentioned to us. Even their coffee syrups are made in-house!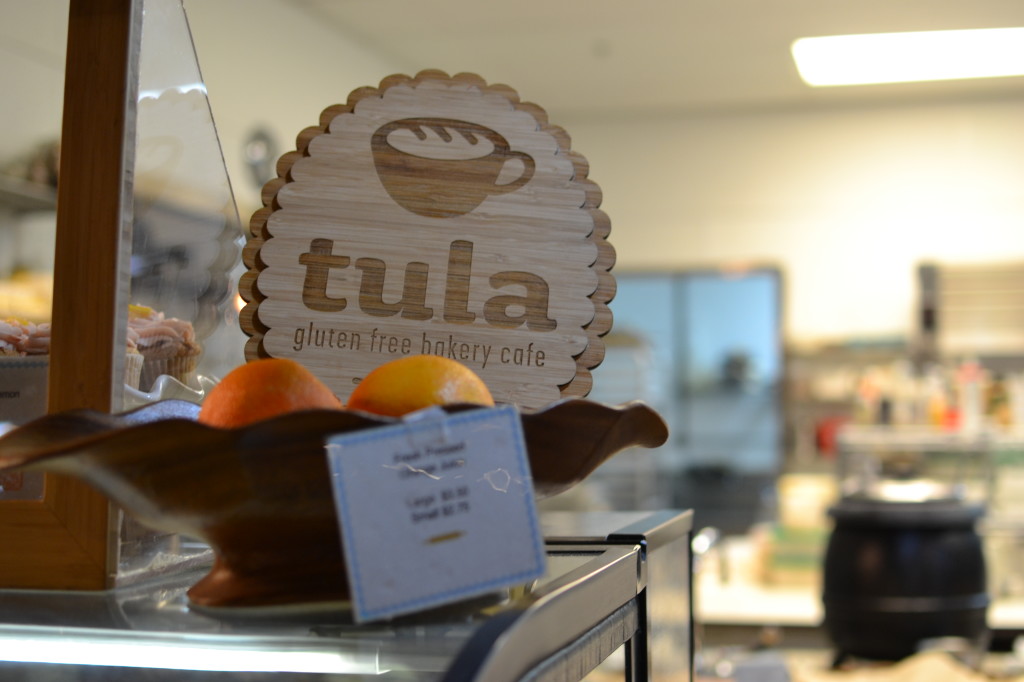 Speaking of coffee, Tula has more than just great food too. If you're looking for a morning beverage on your way into work, give Tula a try. Mieke and Caleb want Tula to be high-quality coffeehouse with talented baristas. Their coffee is made with small batch specialty roaster, Lone Pine Coffee Roasters, based out of Bend, Oregon.
Also served are the always delicious Steven Smith Teamaker teas and Hot Lips all-natural sodas. As for my ultimate favorite morning drink, Tula makes a super creamy, rich chai tea that is supposed to be out of this world – as it isn't anywhere near my way to work, I have made it is a point to stop in on an upcoming weekend to check it out. I will keep you posted.
Tula sells a few packaged goodies to take home, like banana bread and their par-baked focaccia bread, which can be refrigerated or frozen until you're ready for it. It's perfect for gluten-free sandwich bread, or for that dinner party you're hosting with a couple gluten-free guests, or just because it's delicious!
Tula is all-around a really local bakery/cafe/restaurant/coffee shop (I couldn't choose just one word to describe their shop). Even though I don't have to eat gluten-free, I know I will definitely be back soon.
It was so great hanging out with these ladies! While you're browsing around the internet, check out their awesome blogs as well.
From left to right:
Mieke, owner of Tula Gluten Free Bakery Cafe
Rachel of love, rachel
Kristen of Winning Without Gluten
Sara of Salt. Walt. Coffee.
Sarah of Will Run for Pasta
Spencer of 12 oz Beehouse
Myself
Lisa Hill of Lisa Hill PR