Whole Foods Greenway • 12220 SW Scholls Ferry Rd, Tigard
Grand Opening Event: Wednesday, May 21st at 8:30am
Regular hours: 7am – 10pm
The other day, Brice and I were walking home from the gym discussing what to make for dinner that night. Brice really wanted some oysters, but had no desire to shuck them himself. I personally am not a fan of oysters (way too slimy) so I wasn't going to help in that venture, so instead I suggested that we stop in at Whole Foods where I had no doubt they would crack open some oysters for us. That is the kind of superb service I always seem to encounter there – friendly staff who are willing to provide whatever you need.
There are plenty of times I choose to shop elsewhere to save a few bucks, but I fully admit that I prefer Whole Foods, especially since I more or less detest grocery shopping. The quality of their produce, abundance of local products and super nice staff just make for a much more enjoyable shopping experience.
And they keep making it better it seems, like at the new Whole Foods in Tigard, which has all sorts of exciting things to improve grocery shopping even more. I got to a sneak peek of the store in the Greenway shopping area and was incredibly impressed.
Like other Whole Foods, there is the same focus on high-quality, all-natural, organic products. I especially love how they feature so many local vendors. According to Kristen, our tour guide and the Greenway store's Marketing Team Leader, each store has their own purchasing department, so they can bring in their own finds, not just what the corporate purchasing department has on stock.
Some of the great Oregon vendors that you can find at this Whole Foods include Olympic Provisions, Ruby Jewel, Heidi Ho Organics vegan cheese, Blue Fox Farms, Bowery Bagels, and of course a ton of local wineries and breweries.
There were also lots of nice small touches to make it feel like a locally-owned store, rather than just a corporate one. The in-house "restaurants" were named Fanno Creek Pizzeria and Monte Toro (bull mountain in Spanish, which is the nearby area name). The art display outside the entrance was done by Mary Woodward Elementary School second-graders. So cute! (Plus they are also getting a $2,000 School Garden Grant!)
The Greenway store also has a large bulk selection with over 350 products with a Grind Your Own Nut Butter section. Plus this store has the most amazing addition ever – a hazelnut and chocolate chip butter. It's like a make-your-own-Nutella. I like that it's in bulk so in theory, I could get a small size and not feel guilty about it. But more realistically, I'll get a ginormous one and die happy.
The Greenway store is one of the first Whole Foods that has fish smoked in-house. We got to sample the salmon candy which was brined for 24 hours and then smoked for 2. It was still warm, had a great balance of sweet and salty, and really delicious.
Their fish department is also doing a "Fry to Order" station where you can select whatever you'd like in the case, get it fried up to perfection and served with a side of fries to take home or enjoy in the store's cafe.
Like a lot of places in town these days, you can fill your growlers here. They will have both a rotating selection of beers and two wines (!) to choose from. Bring in your own jug or pick one up there.
These awesome labels of their beer selection are drawn by local graphic artists… by hand! So impressive: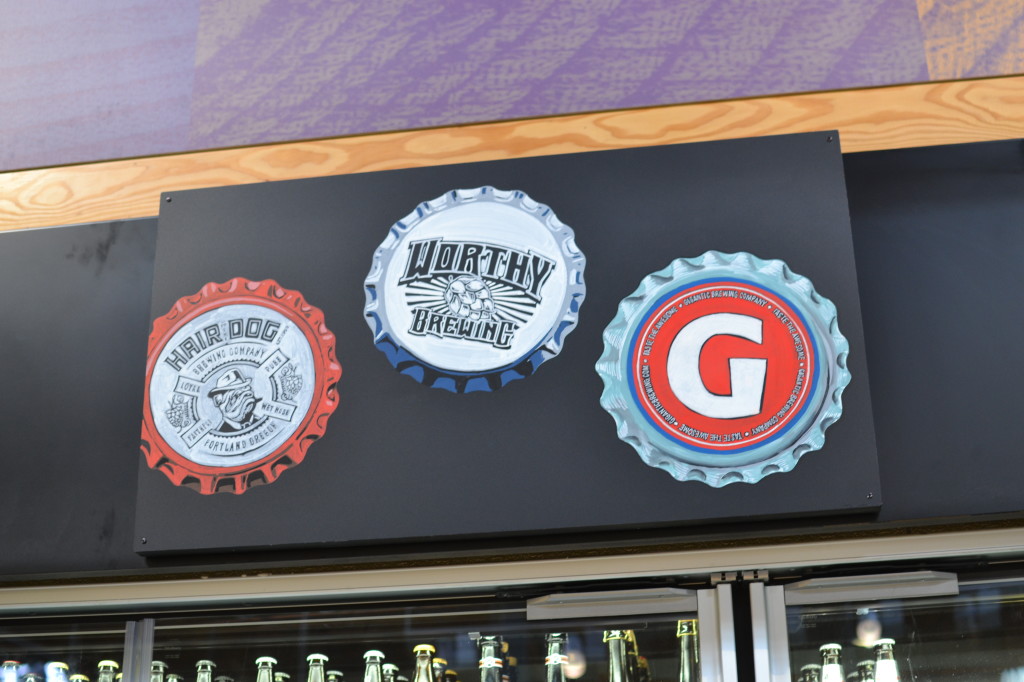 One of the best things about this new store? Their amazing patio area. With a fire pit, ceiling heaters, covered roof and tons of seating, it seriously would be an awesome place to hang out, no matter the weather. Well, I guess if it is a monsoon like we had yesterday, you might want to stay inside. But no worries, the inside is just as nice! There are big comfy chairs, lots of tables, bar stools and a TV.
Join them for their grand opening bread breaking at 8:30am on Wednesday, May 21st! It should be a fun event with gift cards from $10 to $100 handed out to the first 100 customers, savings on tons of products, wine tasting and live music from the Southridge High School Jazz Ensemble! Instead of a ribbon cutting, there will be a 4-foot long loaf of challah bread broken to welcome shoppers!
Also check out Marlynn from Urban Bliss Life's post about the new store for other fun details and gorgeous photos!
*Disclaimer: I was invited to see the new Whole Foods as part of a media tour, but was not compensated for this post and my comments are, as always, my own. I really did just like all the cool stuff going on in this store!